Have you ever been job hunting and saw a listing for an internship, only to realize they are looking for someone to do the job of multiple people while getting paid peanuts in comparison to the skills required? Well, if you haven't, go check out esports organization Version1 and Minnesota RØKKR's job listing for two content interns.
This job listing for interns has come under a lot of fire for wanting to take advantage of interns, so much so that esports organization is planning to update the listing.
Version1 "intern" job listing.
The job listing was shared by MiDNiTE, the director of content for CDL Minnesota RØKKR and Version1. At the time of writing, the original job listing for the intern positions have already been taken down but you can still view it via this link.
For 12 USD an hour, the "interns" who successfully get the job will need to create and post 10 to 15 content pieces a day. This indicates interns would be drafting, scripting, creating and executing content on social media alongside other pieces of content, for 40 hours a week...
Even for a full-time professional with years of experience, this might be difficult to achieve. The response on social media to these intern positions for Minnesota RØKKR and Version1 has been overwhelmingly negative.
MiDNiTE took to Twitter to explain that: "The 10-15 pieces of content needs to be better explained. Every piece of content you make can be posted to multiple platforms and counts towards the 10-15. We're updating the job description to clarify."
Check out Version1's replies below.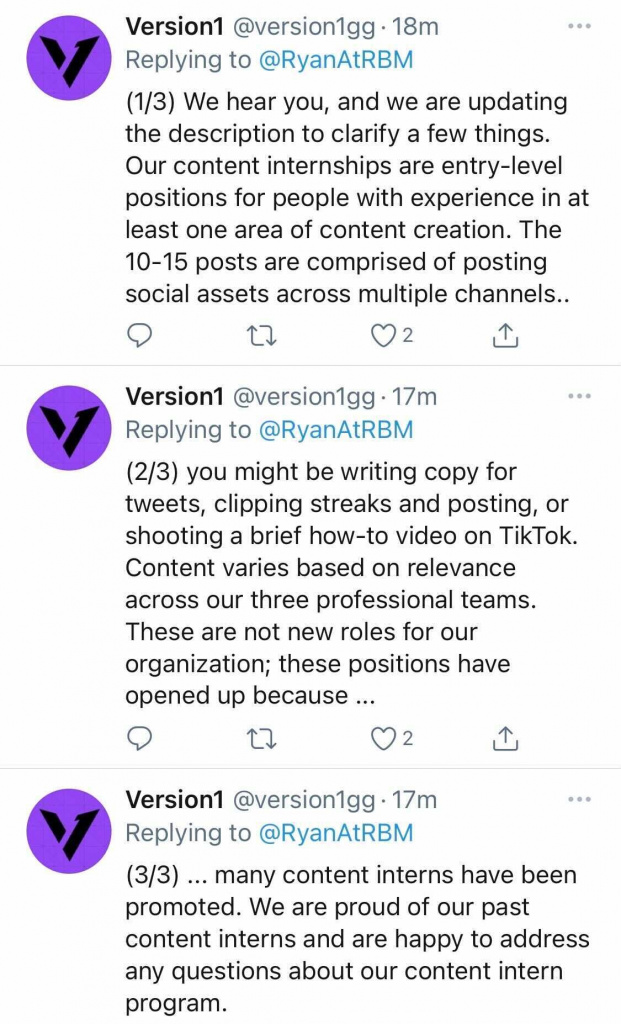 (Picture: Version1 via Twitter)
Despite this update, it still looks like the intern could be doing the job of several professionals for 12 USD an hour. 
Job responsibilities listed are:
Shooting video
Editing video
Graphic design
Animation
Creating content concepts for social channels including Twitter, YouTube, TikTok, Instagram, Linkedin et al
Creating content series ideas and then fully executing them
Documenting team events
Devising tweets and social posts
That's honestly a massive number of responsibilities for an intern, especially since the person would be working for such a huge esports organization in Version1 and Minnesota RØKKR...
At the time of writing, an updated job listing has not been posted while social media is ablaze with negative comments towards this "intern" post.