On the 13th of August, Fortnite offered the ability for mobile users to buy V-bucks - the game's in-game currency - through the Fortnite app at a discount, circumventing the Apple store, and thus the 30% cut the mobile magnate normally takes on purchases. Apple swiftly removed Fortnite from the iOS App Store in retaliation, citing breaches of their App Store guidelines. Google followed suit in the following hours, also removing the Battle Royale from their own store. Epic Games fired back by filing legal papers:
Nor was it the Fortnite developer's only response. A tongue-in-cheek parody of Apple's own Macintosh advert from the all-too appropriate year of 1984, dubbed "Nineteen Eighty-Fortnite," was released around the same time as the legal filings, and tore into the tech-giant's Orwellian tendencies.
What makes the legal filings more than just the expected lawsuit, is that Epic Games are not seeking "monetary compensation" or "favorable treatment for itself, a single company." Instead, they are filing an antitrust case, alleging that Apple have an unlawful monopoly via their stranglehold on App distribution and payments among other issues. Here are some of the more salient points:
"This case concerns Apple's use of a series of anti-competitive restraints and monopolistic practices in markets for (i) the distribution of software applications ("apps") to users of mobile computing devices like smartphones and tablets, and (ii) the processing of consumers' payments for digital content used within iOS mobile apps ("in-app content"). Apple imposes unreasonable and unlawful restraints to completely monopolize both markets and prevent software developers from reaching the over one billion users of its mobile devices (e.g., iPhone and iPad) unless they go through a single store controlled by Apple, the App Store, where Apple exacts an oppressive 30% tax on the sale of every app. Apple also requires software developers who wish to sell digital in-app content to those consumers to use a single payment processing option offered by Apple, In-App Purchase, which likewise carries a 30% tax."
The filing itself goes significantly more in depth - it's 65 pages long - and is as much a narrative for the public as it is legalese for the courts. Legalise and PR it may be, but it certainly doesn't pull punches. Alarmingly for Apple - and now Google in a similar filing -  Epic Game's punches may have a significant amount more weight than the company might expect
Bryce Blum, Founding Partner of Esports Law, offered some of his thoughts on the Apple filing, noting there were over 4 pages used to provide a thorough overview of Apple's marketplace control and alleged anti-competitive practices. "I'm not an antitrust expert, but [that] sounds like an insane level of market control," Blum stated, going on to say "on first read, it's pretty damning."
Other commentators have pointed out an antitrust case being brought against a tech-giant over monopoly issues isn't without precedent, either. Microsoft ran afoul of a similar antitrust case in 1998, over the monopoly Internet Explorer presented at the time. Microsoft lost that case and failed to appeal.
The lawsuits also come at a time when tech-giants are under increasing scrutiny over their business practices and issues of monopoly. Apple and Google were both part of a recent congressional hearing over their market power in the US, where they were lambasted for abusing their market control to "crush competitors and amass data, customers and sky-high profits." All of which is hauntingly similar to what Epic Games is positing in their legal filings against both tech-giants.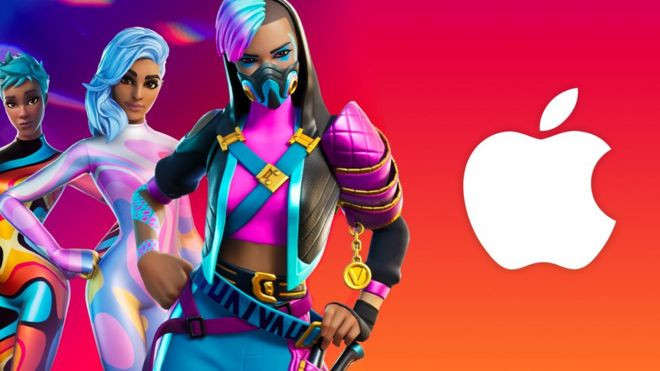 (Picture: Epic Games / Apple)
If Epic Game's case is as damning as it potentially appears, then this could be a watershed moment for the gaming industry, particularly as it pertains to mobile developers and consumers. Epic have made sure to stress that they are looking for structural changes and oversight to mobile marketplaces, not monetary recompense. In short, if Epic's antitrust lawsuits are successful, mobile gamers may well be seeing significant price-cuts in-game and out and greater competition between app-stores - or at least cheaper V-Bucks.
Mobile gaming has gained a reputation as predatory, in part because of these issues - constant in-app purchases, gated content, ongoing allegations of loot-boxes as a form of gambling. While these antitrust lawsuits do not solve, or even address, some or all of these problems, cheaper apps and greater competition can only be a positive for consumers and developers alike. 
Neither is it the first time Epic has picked this particular fight - they're competing with Steam and GoG on PC for the role of premier games marketplace there, too. While Epic isn't exactly pushing for their own app-store as yet, the underlying call for competition remains the same. Before all that though, there is a legal battle to be fought, and one that is all-but guaranteed to impact the face of the games industry for years to come.