Microsoft has been pushing out information about the Xbox Series X for several months now, all while Sony has remained relatively quiet about the PlayStation 5.
With the release window of both the next-gen console fast approaching, Microsoft has decided to come out guns blazing, dropping a massive load of new information.
Here's everything you need to know about the Xbox Series X, including full specifications, the release, a new controller, games and the raw power inside.
Xbox Series X release date
While there is no specific Xbox Series X release date just yet, the official release window for Microsoft's next-gen console is "Holiday 2020". It remains to be seen if the Xbox Series X release date will be just before or after the PS5, and if both consoles will have a global release or a staggered release across regions.
There is always a slight possibility of the Xbox Series X release date (internally or the known window) might change.
We recently reported on market research and consulting firm, DFC Intelligence, which released a forecast. In this, it is predicted there's a very high chance both the PS5 and Xbox Series X will miss the planned Holiday 2020 release window and be delayed until 2021. This is due to the ongoing COVID-19 pandemic, which makes things uncertain in terms of both production capabilities and the global economy.
As always, remember to take predictions from analysts with a large helping of salt. At the time of writing, the Xbox Series X release window of "Holiday 2020" stands.

Full Xbox Series X specifications
While the world premiere video above showcased the design of the flagship Xbox One Series X console, we've all been wondering exactly what the full Xbox Series X specifications would be.
Microsoft has been drip-feeding some exciting information since the world premiere. For example, we already know it will be the most powerful Xbox ever. The Xbox Series X will have a next-gen SSD, boast 12 teraflops of 32-bit float performance (twice the power of the Xbox One X), incorporate hardware-accelerated Ray Tracing, variable-rate shading and much more.
To deliver 4K at 60fps gaming, with up-to 120fps support, you need an absolute beast of a machine. That's exactly what the Xbox Series X is, which becomes extremely clear once you see the full specifications.
Recently, Microsoft and Eurogamer's Digital Foundry unveiled the complete Xbox Series X specifications. With the reveal, we now know exactly what is inside the Xbox Series X, and it looks like a high-end monster gaming PC.
The full Xbox Series X specifications:
CPU- 8x cores @ 3.8GHz (3.66GHz w/ SMT), custom Zen 2
GPU - 52 CUs @ 1.825GHz, 12 TFLOPs, custom RDNA 2
Die size - 360.45mm2
Memory- 16GB GDDR6 w/ 320mb bus
Memory bandwidth - 10GB @ 560GB/s (6GB @ 336GB/s)
Storage - 1TB custom NVMe SSD
I/O throughput - 2.4GB/s (raw), 4.8GB/s (compressed with custom hardware decompression block)
Expandable storage - 1TB expansion card
External storage - USB 3.2 externally HDD support
Optical drive - 4K Blu-ray
Performance target - 4K @ 60fps, up to 120fps
The full Xbox Series X specifications look nothing short of spectacular. However, those are just numbers to many gamers out there.
What does all this power and all these numbers actually mean? Well first up, take a look at Digital Foundry's video showcasing an Xbox Series X port of Gears 5, Minecraft and Control with Ray Tracing and much more below.
Some might wonder if an SSD is really necessary and how quickly games actually load with it. Well, thanks to the Xbox Series X's custom 1TB NVMe solid and revolutionary Velocity Engine Architecture, things load exceptionally quickly.
Microsoft has explained the addition of an SSD: "A big part of that revolves around the addition of a solid-state drive (SSD). We have reached the upper limits of traditional rotational drive performance, so the team knew they needed to invest in SSD level I/O speeds to deliver the quality of experience they aspired to with Xbox Series X.
"This was an area where the team really wanted to innovate, and they knew this could be a game-changer for the new generation."
It's all good and well to boast about SSD performance but it is much better just to see it in action.
With the integration between hardware and software from its new architecture (Velocity Engine Architecture) optimised for streaming on in-game assets, it opens up a whole new world of possibilities for developers, allowing 100 GB of game assets to be instantly accessible by the developer.
This will, in short, help create more detailed and dynamic game worlds.
Microsoft also showcased the Quick Resume feature for the Xbox One X. They did this using backwards compatible Xbox titles to demonstrate the Quick Resume technology.
This means the video does not represent gameplay optimized for Xbox Series X. Even so, you can see below what the Velocity Architecture Engine in the Xbox Series X can do.

Xbox Series X storage expansion cards
With the unveiling of the full Xbox Series X specifications, you might have noticed an 1TB expansion card detail.
As we know, the console will come with an 1TB internal storage capacity, which isn't that much considering games these days can quickly balloon over 100GB.
That's where the Xbox Series X storage expansion cards come into play. These cards are being made in collaboration with Seagate, matching the internal storage exactly. Basically, they look like memory cards that can be plugged into the back of the Xbox Series X.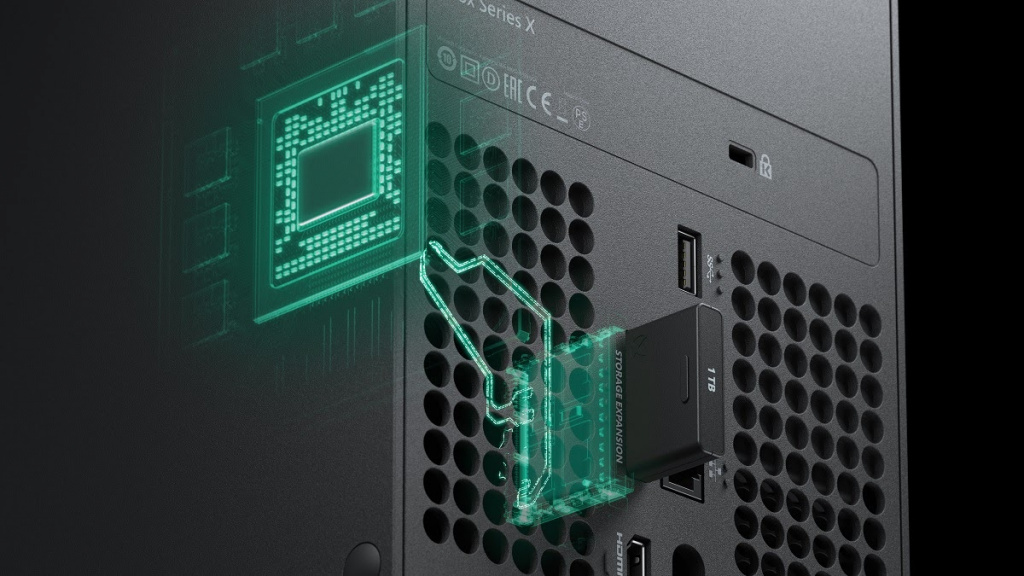 Xbox Series X will bring back memory cards of sorts (Picture: Microsoft) 
Microsoft is using PCI Express 4.0 connections for both the internal storage and these storage expansion cards. However, don't go throwing away your old USB 3.1 or 3.2 external HDDs yet, as you will still be able to use them to play Xbox 360 and Xbox One games on your Xbox Series X.
The only games you won't be able to play from a regular external HDD is the games created for the Xbox Series X.
"You can continue to use your existing USB 3.1+ external hard drives on Xbox Series X and you can run Xbox One, 360 and OG Xbox games directly from the external USB HDD. Games optimised for Xbox Series X and the Velocity Architecture need to be run from the internal SSD or the Expandable Storage Drive," Microsoft said.
At the time of writing, a price for one of these Xbox Series X storage expansion cards hasn't been confirmed, but don't expect this to be as cheap as your standard external HDD.
Next-gen Xbox controller
At its core, the Xbox Series X is all about "speed, compatibility across generations, and the power to create deeper experiences" according to Microsoft in an Xbox Wire post.
The next-gen Xbox controller is no different, as the team wanted to develop a controller that helps fully realize the promises above.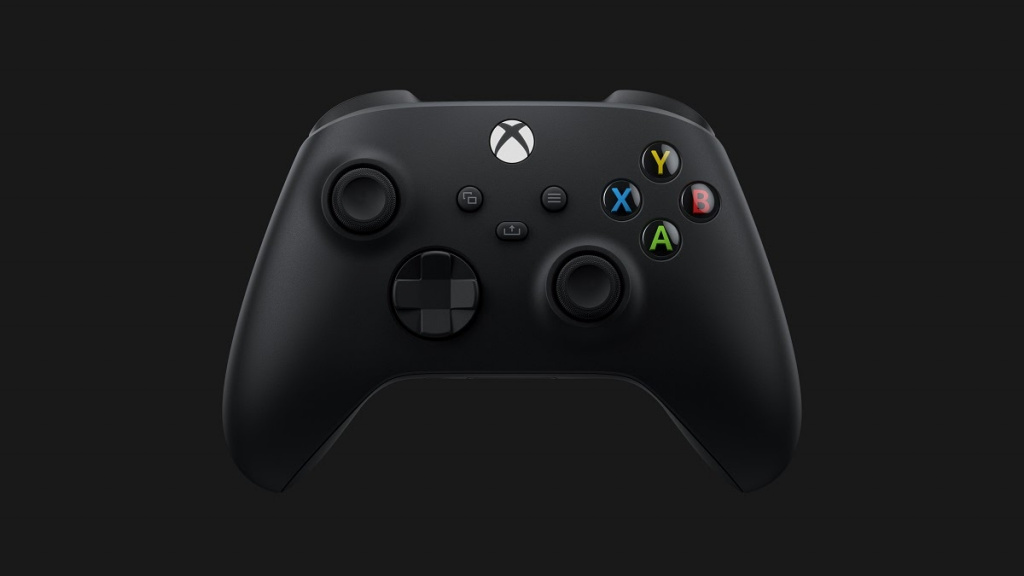 Xbox Series X controller (Picture: Microsoft) 
Enter the next-gen Xbox controller, which is built in a way that fans of previous-gen controllers will still love and feel comfortable with.
At first glance, the next-gen Xbox controller looks very much the same as the current-gen one. However, it boasts a number of small but important changes. This all results in improved ergonomics for a wider range of people to use, better cross-device connectivity, easier sharing, and reduced latency.
Additions and changes you will instantly notice include the new D-pad design, as well as a share button, alongside some new textures and finishes on the controller, for example, a tactile dot pattern on the triggers and bumpers.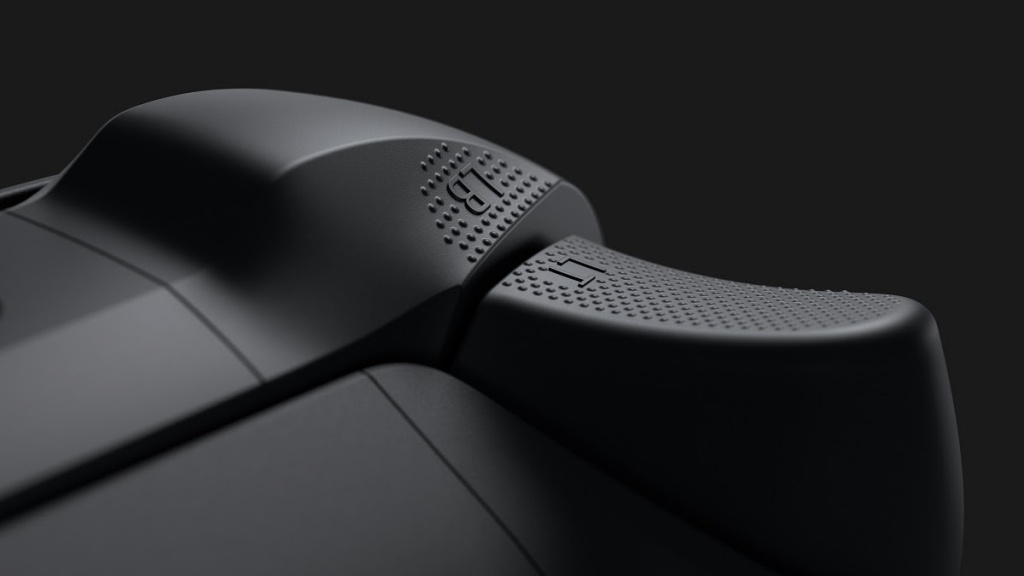 The bumpers (Picture: Microsoft) 
Speaking about the new D-pad design, Ryan Whitaker, the Senior Designer at Xbox, said: "Building on what we learned from Elite and watching how people use the D-pad, we designed a hybrid to deliver the best of both. It feels great.
"The slightly deeper dish gives your thumb a nice little "home" to sit in. The angles are finely tuned to give you a good amount of leverage with minimal movement. Gamers will notice a performance boost right out of the box."
The next-gen Xbox controller will also be backwards compatible with a tonne of devices, meaning you can simply connect your headset or Chatpad on day one.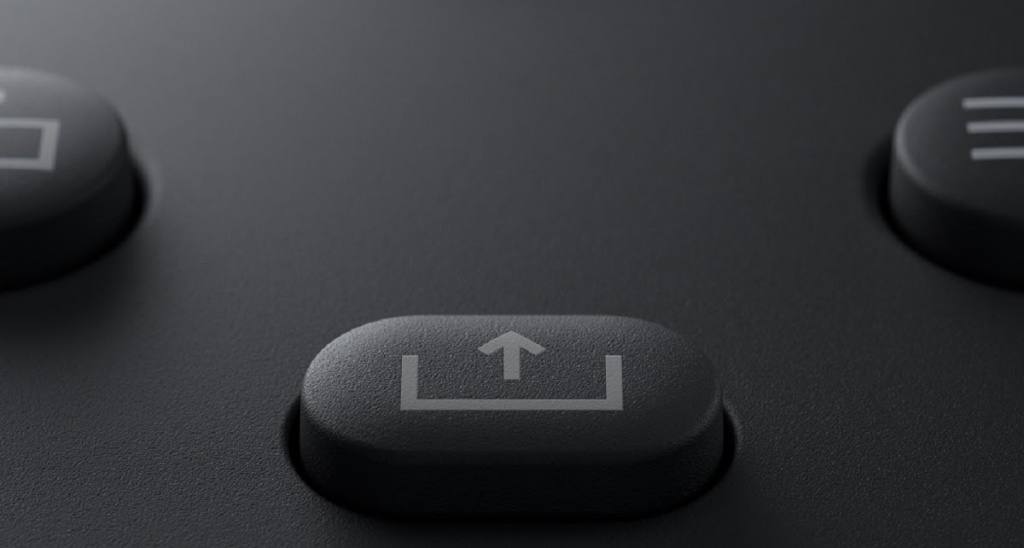 Xbox share button (Picture: Microsoft) 
Arguably the most important change in the controller from current-gen, especially when it comes to gameplay, is the improved latency.
Ryan Whitaker added: "We're introducing a system-wide set of improvements we call Dynamic Latency Input (DLI), which includes specific technology in the console and the HDMI connection to your TV. And it all starts with the controller. Essentially, information is sent more frequently from the controller and matched with exact frames of your game on-screen.
The result: we shave off precious milliseconds at every step of gameplay, and actions are even more instantaneous."
All the technical specifications and the improved controller are great, but the hardware is nothing without some software to go along with it, which is where the next section comes in.
Xbox Series X games
Thanks to backward compatibility, the library of games available on the Xbox Series X will span across four generations.
Microsoft also went on a shopping spree, acquiring more studios like inXile Entertainment and Obsidian Entertainment.
However, you shouldn't expect first-party Xbox Series X exclusives for the next couple of years after the console's launch.
Xbox Game Studios boss, Matt Booty, said: "As our content comes out over the next year, two years, all of our games, sort of like PC, will play up and down that family of devices. We want to make sure that if someone invests in Xbox between now and [Series X] that they feel that they made a good investment and that we're committed to them with content."
This means that there won't be first-party Xbox Series X exclusives, but there could be third-party Xbox Series X exclusives, as Microsoft is leaving it up to the developers.
At the time of writing, we know of three first-party Xbox Series X games that will take full advantage of the next-gen console.
Check out a trailer for each of these Xbox Series X (will also be available on Xbox One and Windows 10 PC) games below:
Senua's Saga: Hellblade II

Halo Infinite

Microsoft Flight Simulator
Some third-party upcoming titles coming to the Xbox Series X include:
Cyberpunk 2077
Watch Dogs Legion
The Lord of the Rings: Gollum
Outriders
Gods & Monsters
Tom Clancy's Rainbow Six Quarantine
Some games released before the next-gen console will be upgraded to an Xbox Series X version for free "when available" as part of the same purchase.
The first non-Microsoft title announced to use this "Smart Delivery" system is Cyberpunk 2077, arguably the most-anticipated game of 2020.
In short, there will be a lot to play (or replay) when the Xbox Series X launches.
Closing Thoughts
The Xbox Series X is the most powerful console announced so far. While there is always a chance the PS5 could be slightly more powerful (or less powerful), what is abundantly clear is that the Xbox Series X is an absolute beast of a machine.
With Microsoft's push for more first-party studios creating titles for the next-gen console, there's a lot to get excited about. However, the uncertain times due to the COVID-19 pandemic could possibly put a damper on proceedings.
With that being said, Microsoft seems to be going all out. Now, we wait (not-so) patiently for Sony to lift the curtain on the PlayStation 5, which will undoubtedly be the Xbox Series X's main competition.