A new season is coming to Apex Legends, which in addition to being the first of 2022, will also bring a special celebration for the third anniversary of Respawn Entertainment and EA's battle royale. It is, therefore, expected that there will be various rewards and news for everyone.
Although neither of the two companies has released all the details about Season 12, we've been able to find information about some of the content that we'll enjoy in just a couple of weeks, both with its new legend, as well as some interesting changes to the game.
With that said, here's everything we know about Apex Legends Season 12, Defiance.
Season 12 New Legend: Mad Maggie
Margaret "Mad Maggie" Kōhere will be the latest Legend to be added into the popular battle royale title, a character who was previously seen back in Season 8, via the "Good as Gold" Stories from the Outlands video which served as the introduction for the Season 8 Legend and her closest friend, Fuse.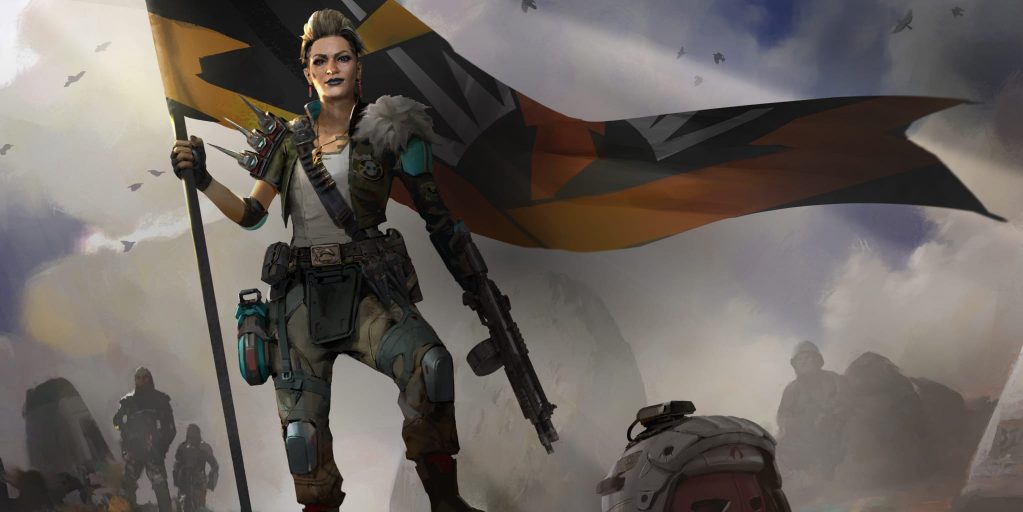 Both grew up together on planet Salvo, and unexpectedly, the two met up when they came across a golden hand grenade clutched by the corpse of a deceased freedom fighter. The two claimed the grenade as their own, occasionally passing it back and forth as a symbol of their bond.
Throughout her schooling years, Maggie was seen as a troublemaker and was often separated from Fuse, to cause the least problems possible. As the pair grew older, Kōhere and Fuse led a variety of escapades together, including robberies, heists, and bomb defusals. However, their goals began to drift apart as they grew older.
Their friendship would come to an end when Salvo was announced as part of the Syndicate Alliance of Free Worlds, and Fuse was selected as the next Legend to join the Apex Games. This caused a mental breakdown in Maggie as, impulsed by her rage, she pulled the pin on the pair's grenade and flung it at Fuse, blowing off his right arm.
You can learn more about Mad Maggie's backstory and her abilities in her deep Legend overview.
Season 12 New LTM: Control
This time, Apex Legends won't have a new map as part of the third anniversary, considering Storm Point was just introduced during Season 11, Escape.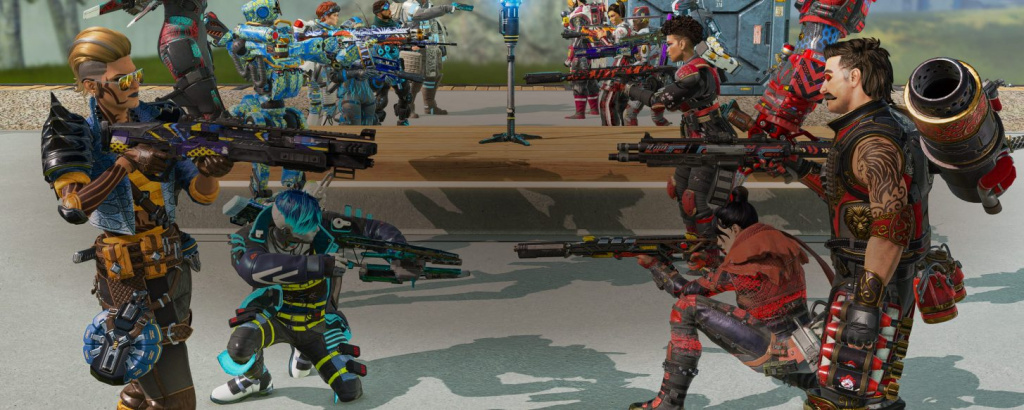 However, this doesn't mean that there won't be something special prepared, since, during the first three weeks after the arrival of Season 12, all players will be able to enjoy a new game mode for a limited time, known as Control.
Unlike the typical battle royale mode, Control will bring a new perspective where players will be divided into two teams of nine players, who will have the entire map at their disposal to attack and defend different control points.
In this LTM, players will be able to choose from one of several loadouts, as well as enjoy infinite respawns, as long as the confrontation continues until the time runs out. The team with the most points will be declared the winner.
Olympus map returns in Defiance
One of the great absentees during Season 11 will make its return in this new cycle, as the imposing map introduced during the end of 2020, Olympus will be back in the battle royale rotation.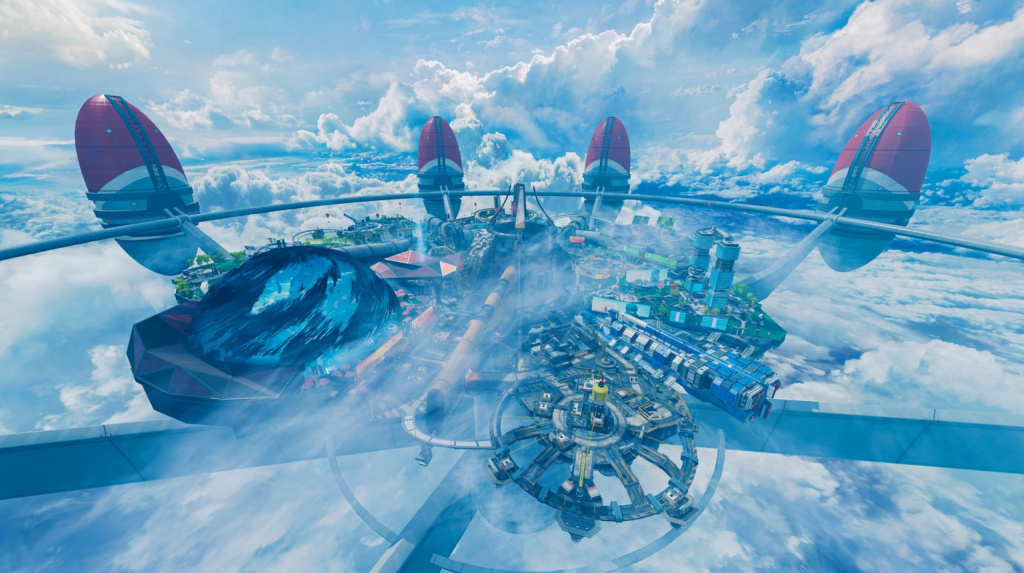 According to what was revealed by Respawn both on the game's official website and in an ad for the new season, the map will bring a series of big changes since players will be able to enjoy a "new view from Olympus".
At the moment we'll have to wait for what kind of changes will come to this place in the coming weeks, although many speculate that the fall from the skies of this dream map may occur very soon.
3rd Anniversary Free Rewards
Finally, and as part of the three-year celebration since the official launch of Apex Legends, the developers have revealed some of the new rewards that players will have access to, at the start of Season 12.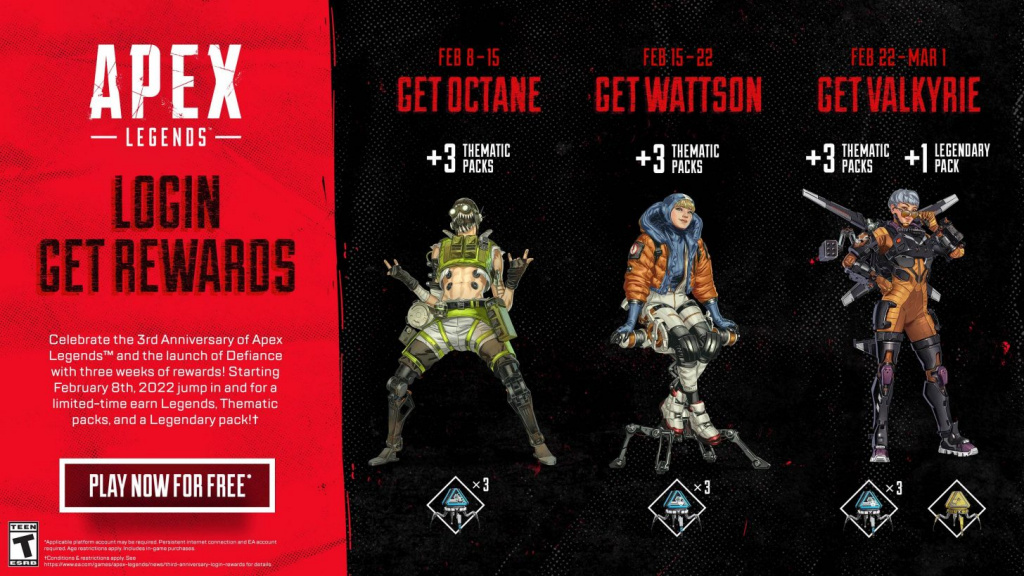 For three weeks starting on 8th February, any player who logs in will have a chance to get different Legends for free, along with some themed packs and even a chance on a Legendary skin.
Week 1 (8-15th February): Octane and three thematic packs
Week 2 (15th-22nd February): Wattson and three thematic packs
Week 3 (22nd February-1st March): Valkyrie plus three thematic packs and one legendary pack
You can also look forward to a lot of new content as part of the Battle Pass and Ranked rewards.
Apex Legends Season 12, Defiance, will be available on 8th February.
Featured image courtesy of Respawn Entertainment and EA.