Ubisoft's next entry into the Assassin's Creed franchise is releasing in November, where players will embark on their journey as a Viking raider. If you plan on setting sail in Assassin's Creed Valhalla this November, then we've got you covered. Here's everything you need to know about the game, including the Assassin's Creed Valhalla release date, various editions, prices, platforms, the story, features and gameplay.
Assassin's Creed Valhalla release date and platforms
Assassin's Creed Valhalla's release date is set for 10th November on PC, PS4, Xbox One, and Xbox Series X/S.
Since the PS5 releases on 12th November in some regions, and 19th in others, Assassin's Creed Valhalla's release date for Sony's next-gen console is 12th November.
Valhalla editions and pre-order
There are a number of Assassin's Creed Valhalla Editions, depending on how much money you would like Ubisoft to plunder from your wallet.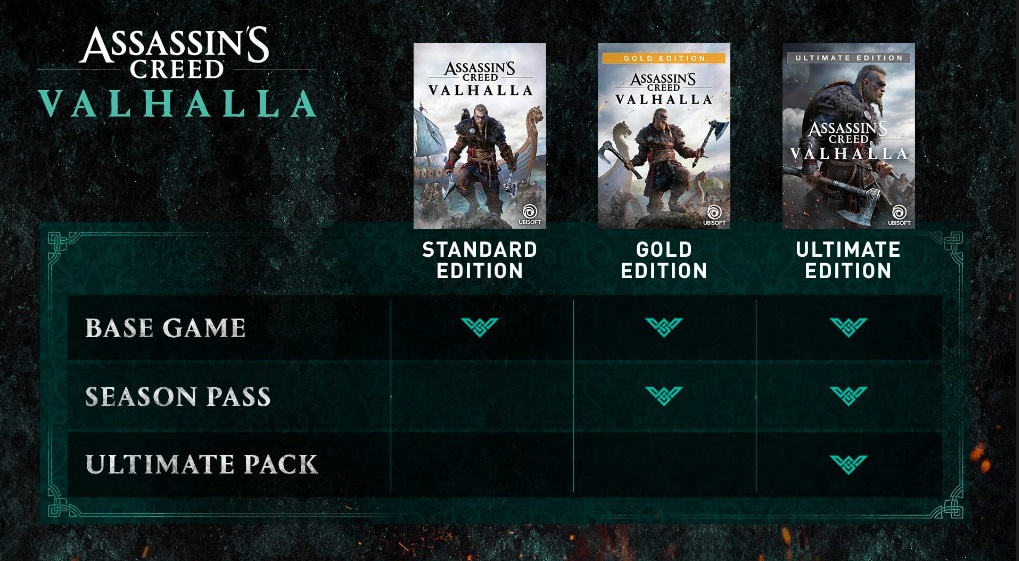 (Picture: Ubisoft)
Check out the price and content for each edition below. Please note the Collector's Edition is, obviously, just available as a physical edition. The PS4 edition includes a free PS5 update.
Prices depend on where you buy, as well as if you get a physical or a digital edition.
Standard Edition: $50-60
Gold Edition: $90 - 99
Ultimate Edition: $119 - 129
Collector's Edition: $199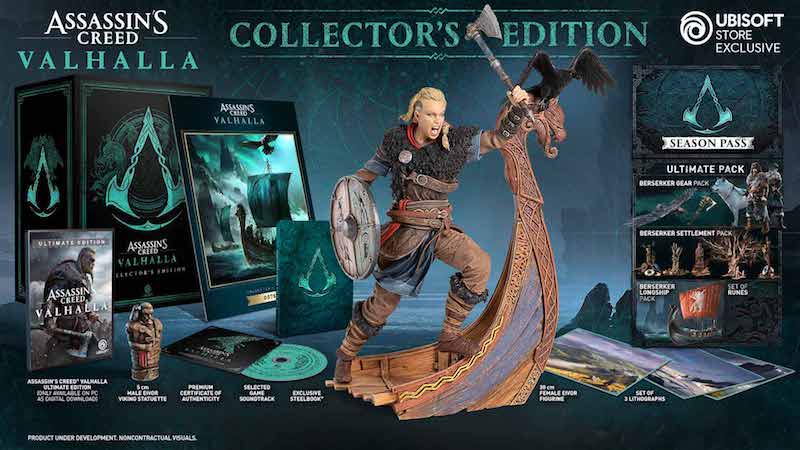 (Picture: Ubisoft)
If you pre-order the game, you will also receive a bonus mission entitled "Way of the Berserker" no matter which edition you decide to get.
The story: Become a Viking raider
In Assassin's Creed Valhalla, players can choose to play as a male or female Eivor, the protagonist of the game. 
At the time of writing, it has not been confirmed just how much of a difference there will be in terms of the story if you choose a specific gender.
As with Odyssey, we can also expect some mythology, in this case Norse mythology, to be included in the story and side quests.
A description of Assassin's Creed Valhalla's story reads:
"Driven from Norway by endless wars and dwindling resources in the ninth century AD, players will lead Eivor's clan of Norsemen across the icy North Sea to the rich lands of England's broken kingdoms. Players must carve out a new future for their clan, reliving the ruthless fighting style of Viking warriors with a revamped combat system that includes the ability to dual-wield weapons against a greater variety of enemies than ever before. 
To secure resources players can lead raids to select locations using their longship to earn much-needed riches and resources. As the Vikings begin to settle in their new home, they encounter resistance from the Saxons including King Aelfred of Wessex, who denounces them as heathens and looks to be the sole ruler of a civilized England. Against all odds, Eivor must do what is necessary to keep Valhalla within reach."
Gameplay and features
Ubisoft has shared a couple of looks at the Assassin's Creed Valhalla gameplay over the past months.
While the gameplay does seem to be more action-orientated, there's still room to stealth in and kill enemies, revive fallen allies, and much more.
Players will be able to customize their fighting styles as they see fit, blend into crowds, duel-wield all combinations of weapons, and even use two shields to great effect.
Valhalla will feature the widest variety of enemies in an Assassin's Creed game to date, with special attacks the players will need to either avoid by rolling out of the way, or by using their shield to mitigate the damage.
Further, players will be able to raid massive locations, build and sustain their own settlements, and even recruit mercenary Vikings designed by other players or create and customise their own to share online.
Check out the 30-minute gameplay video from Ubisoft below to see what Assassin's Creed Valhalla plays like.