Chess grandmasters Hikaru Nakamura and Eric Hansen are once again at the centre of controversy in the chess community.
The two grandmasters have a long history of incidents and lingering animosity, but things have escalated again over the last week.
It all started on 27th March 2021 after a blitz match between the two, which has ended in a draw, but with several weird moments during the match's closing stages. This resulted in Hikaru's short burst of anger, who accused Eric of trying to flag him (win on time) and called him a liar.
This incident drew the chess community's attention, and many big grandmaster streamers, like Ben Finegold and Magnus Carlsen, were mocking Nakamura and making parodies of his reaction.
Hansen himself posted a video on Chessbrah (his YouTube channel) where he was comparing Nakamura's and his reaction from the controversial match, but that and other videos which include Hikaru's content were soon removed, and according to Hansen, Hikaru has been the one behind those strikes.
On the other hand, ChessBae94, Nakamura's manager, claims their network Bent Pixels Select issued the strike, and not them.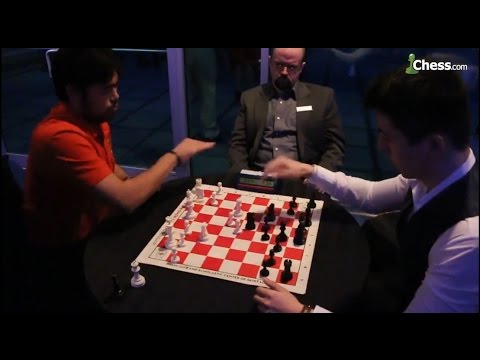 Hansen and Hikaru have long been on bad terms. (Picture: Chess. com)
Following the controversy, Eric decided to talk about all of it during one of his recent streams, including his relationship with Nakamura, Nakamura's status in the chess grandmaster community, and his toxicity.
Hansen claims that Hikaru is by far "the most disliked grandmaster in the world by his peers".
"A lot of grandmasters have issues with him, this isn't hidden, this isn't not on the internet, all you need to do is do your own research," Hansen said. "Not only he is the most disliked grandmaster in the world at the top level, but he is also the most toxic online player that there's has even been at the top."
Hansen says that Hikaru "puts face" when he talks nice about other members of the community, but he actually talks badly about other players all the time, accusing them of cheating, unsportsmanlike behaviour, being toxic, etc. He claims that his public picture is a lie, carefully curated by people around him to create a false image of him.
According to Hansen, all feuds Hikaru has with other top tier players were started by Hikaru himself, but he abuses his position as a big streamer with vast popularity "to get away with things", and that's why a lot of smaller chess streamers are opting not to say anything bad about him as they have more to lose.
"Every strong player in the world has a Hikaru story. Magnus, Nepo, Grischuk, Tang, Wesley, Fabiano...everybody has a story," Eric said.
Talking about a video from 2018 that has recently surfaced, where Hansen and Hikaru are fighting, Hansen says that it was initiated by Hikaru, that he tried to punch him during the game and then insisted on fighting with him.
Eric claims that this wasn't the first time that Hikaru has fought with other top players: "He tried to fight Aman, he tried to fight another guy earlier, he also fought another popular streamer and grandmaster, and all of this is Hikaru initiated."
Hansen added that his channel Chessbrah will stop using Hikaru's dual-cam videos, as he claims that they will strike them again if they post it unless they "agree to certain conditions", which they refused.
Ultimately, Hansen says that he still likes to play against Hikaru, as he is one of the top 2 players in the world, and that he has accepted Hikaru's toxicity as a part of his "allure", but that he would respect him more if he wouldn't be a hypocrite.