The Call of Duty World Championship is the biggest date in CoD's calendar every year without fail: a bad year can be rectified with a strong showing at Champs; dynasties are formed; heroes are born; careers come here to thrive or die.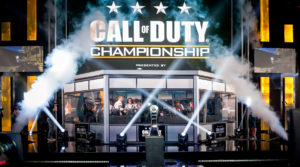 The rules are simple: place top two in your group and you qualify for the bracket, come third or fourth and you leave.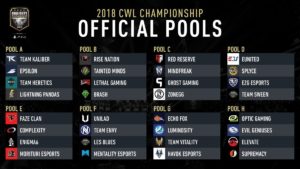 So what do I expect to happen this year?
The predictions
Group A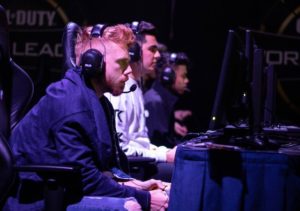 Team Kaliber
Lightning Pandas
Heretics
Epsilon
This is a hard one to call. Team Kaliber seem an obvious pick for the top spot, having just won Stage 2 playoffs. After all, traditionally every team that wins the event before Champs makes the grand final of Champs, so we may see them go a lot further than pool play this year. The second spot, however, is more difficult (as it is for most of these groups). Epsilon were in both stages of the Pro League but tremendously disappointing throughout. Many believed Lightning Pandas deserved their spot and would have performed far better if they did. Meanwhile, Spanish side Heretics have clear upset potential. That said, I don't think the potential is enough, and I believe Lightning Pandas will take the second available spot. Despite a weak performance at LCQ's (Last Chance Qualifiers) the Pandas are a strong team, including Theory who has won two major events this year whilst under Group A rivals Team Kaliber.
Group B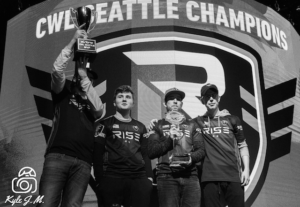 Rise Nation
Tainted Minds
BRASH Esports
Lethal Gaming
I'm super excited for this group because, besides Rise Nation, each of the teams here are so evenly contested. Tainted Minds surprisingly qualified for the Pro League during Stage 2 but achieved a poor 1-13 record in their stay. That said, their only win was to OpTic Gaming who ended up topping the group. So they're no pushover when it comes to it. However, BRASH and Lethal looked good at LCQ's and could definitely upset the Australians here. Don't be surprised to see either of these teams come second and push Tainted Minds out of contention.
Group C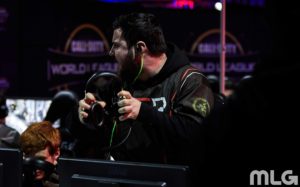 Red Reserve
Ghost Gaming
Mindfreak
Zone
Red Reserve are in tight contention for the best team in the game, so expect to see them top Group C with little competition. Their European counterparts, Zone, are not as likely to qualify for the Winner's Bracket. Despite a good performance at LCQs, the teams they come up against in Group C are arguably better and should be able to take them out. For that reason, the decision comes down to Mindfreak and Ghost Gaming. Mindfreak have been Australia's eternal hopes at success, but I don't think they have what it takes to beat Ghost Gaming here. The Parasite-led team have been looking promising as one of NA's top amateur teams and will seek to establish themselves further at Champs.
Group D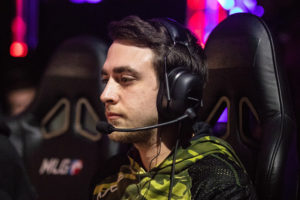 eUnited
EZG Esports
Splyce
Team Sween
I don't like to put Splyce outside of the bracket qualification positions, but unless they have improved greatly since the Pro League I can see EZG taking the spot they are gunning for. After all, it wouldn't be Champs without some standout surprises. Another European team, Team Sween, are unlikely to have what it takes to beat any of these teams but may have been able to snag a win or two in an easier pool. The match between EZG and Splyce will be the deciding match in this pool – expect it to be a tense one. I have eUnited down as a dark horse for this event, potentially even reaching the grand final, so I couldn't put them anywhere but first.
Group E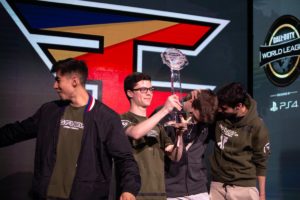 FaZe Clan
CompLexity Gaming
Morituri Esports
Enigma6
Group E has been referred to as the group of death, and for good reason. Realistically, any of these teams could place in the top two, all capable of beating each other. That said, I'm looking at the two highest seeds to take their spots; FaZe have looked incredible at times throughout the year, and compLexity's Doug "Censor" Martin has already announced that he will be winning Champs. https://twitter.com/Censor/status/980602628190228486 Morituri and Enigma6 are teams comprising of incredibly talented players on the cusp of pro play, but I think they fall to the veterans here at the final hurdle.
Group F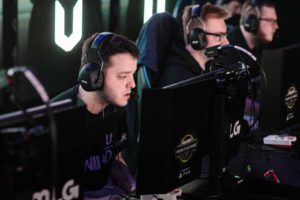 UNILAD
Team Envy
Mentality
Les Blues
Again, I think the seeding for this group is pretty much how it'll fall (but with Mentality taking the third spot over Les Blues – not that it really matters). UNILAD, the perennial underdogs, have impressed widely since the start of Stage 2 and the trade of Matthew "Skrapz" Marshall to Red Reserve. They are certainly better than the teams in their group, and only a huge mistake could see them come anywhere but first. Team Envy, on the other hand, have been disappointing throughout recent weeks. Missing out on playoff contention was a huge blow but they will be out to prove they are still a top team at Champs.
Group G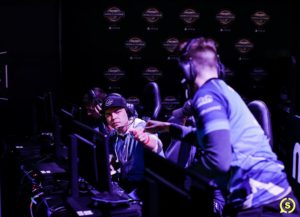 Luminosity Gaming
Echo Fox
Team Vitality
HavoK Esports
Jordan "Jkap" Kaplan is possibly the greatest performer at Champs in Call of Duty history. Making all grand finals besides one, he has taken home two World Championship rings, just short of reigning champion Damon "Karma" Barlow's three rings. For that reason, he has to make it out of the group. The battle for top seed will come down to who wins between Luminosity and Echo Fox – their first match of the weekend. I think Luminosity will get the edge, but don't be surprised if Echo Fox win when they face. I expect Havok to look like a fish out of water at Champs and, although Vitality have shown promise, they face a steep uphill battle to make the winners bracket.
Group H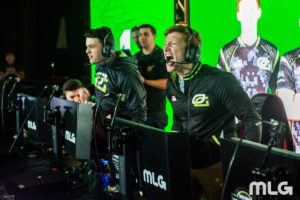 OpTic Gaming
Evil Geniuses
Supremacy
Elevate
Again... this wasn't easy to decide. OpTic Gaming have the potential to win the entire event if they play to their full potential, but could also bomb out in the early stages. This isn't helped by having to play their kryptonite, Patrick "Aches" Price who has twice knocked them out of the World Championships. I don't think this will be an issue this year though, and fully expect OpTic to go 3-0 in Pool Play. One shock win I think could potentially happen is Supremacy over Evil Geniuses. EG looked good at their first event as a team, but have since been on a slow decline and looked incredibly downtrodden. I'm not entirely convinced this will happen, and as such have put Evil Geniuses in second. Their tournament hopes aren't looking great though. Let us know what you think by dropping us a tweet – and go one further by telling us who you think will win the event!