The AS VAL is a monster Assault Rifle (AR) and made our list of worthy A-tier ARs to use in Call of Duty Mobile (COD Mobile) this season. This fast-firing AR packs an absolutely mind-blowing time to kill (TTK), which makes it stand out from other weapons in its class. 
Given its high fire rate and TTK, the AS VAL is best used up close and personal, so you'll want to maximize the weapon's aim down sight (ADS) speed and mobility. Here's our ultimate gunsmith class setup for the AS VAL in COD Mobile Season 5.
Best AS VAL loadout for Season 5
As we previously mentioned, the AS VAL has a very fast firing rate and packs tremendous damage. At baseline, the weapon also has decent accuracy with low recoil control, and a built-in suppressor. This means that we can capitalize on attachments to bolster some of its weaknesses in order to maximize damage output.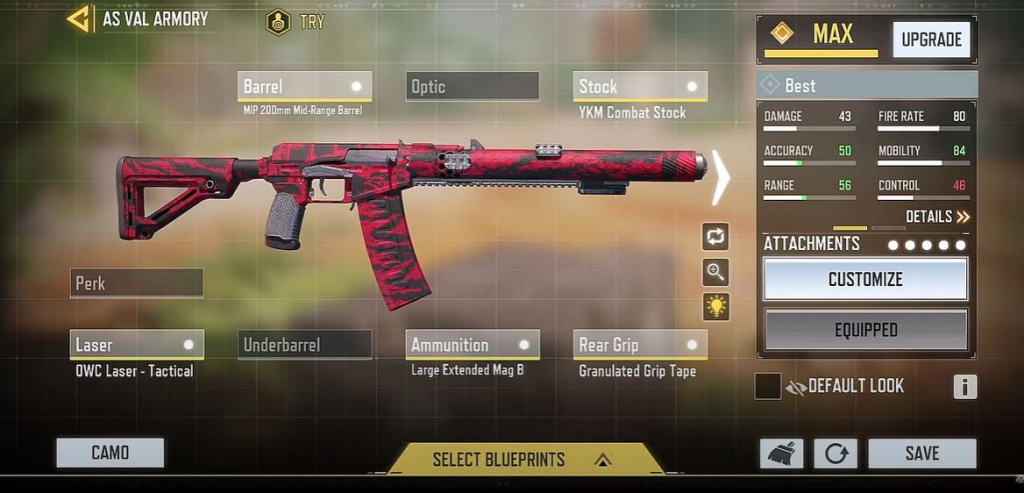 The following loadout is based on the YouTuber Jokesta's setup.
Barrel: MIP 200mm Mid-Range
Stock: YKM Combat
Laser: OWC Laser - Tactical
Ammunition: Large Extended Mag B
Rear Grip: Granulated Grip Tape
The MIP 200mm Mid-Range Barrel is a strong, composite barrel attachment that will add 20% damage range and bullet speed. It will reduce ADS time slightly, but this is easily countered by attaching the YKM Combat Stock, which will improve ADS speed.
The YKM Combat Stock will come at the expense of ADS bullet spread accuracy. It will also reduce vertical recoil control and flinch stability. But this can be compensated with the OWC Tactical Laser attachment, which will boost ADS bullet spread accuracy and ADS speed.
Using a Granulated Grip Tape Rear Grip will add additional weapon stability, by boosting ADS bullet spread accuracy. This is imperative for ensuring control and steady firing at range.
We always say that you can never have too much ammo. The Large Extended Mag B will pair well with the AS VAL's high firing rate to ensure that there's a surplus of bullets to land you those kills. The attachment will (obviously) improve magazine capacity and slightly reduce mobility, owing to the slight additional weight. 
You can check out this loadout in action in the video below.
In case you want to have easier control with the AS VAL, then you can swap out the barrel, stock, and rear grip attachments we listed above for the following:
Barrel: MIP Quick Response Barrel
Stock: OWC Ranger Stock
Rear Grip: Rubberized Grip Tape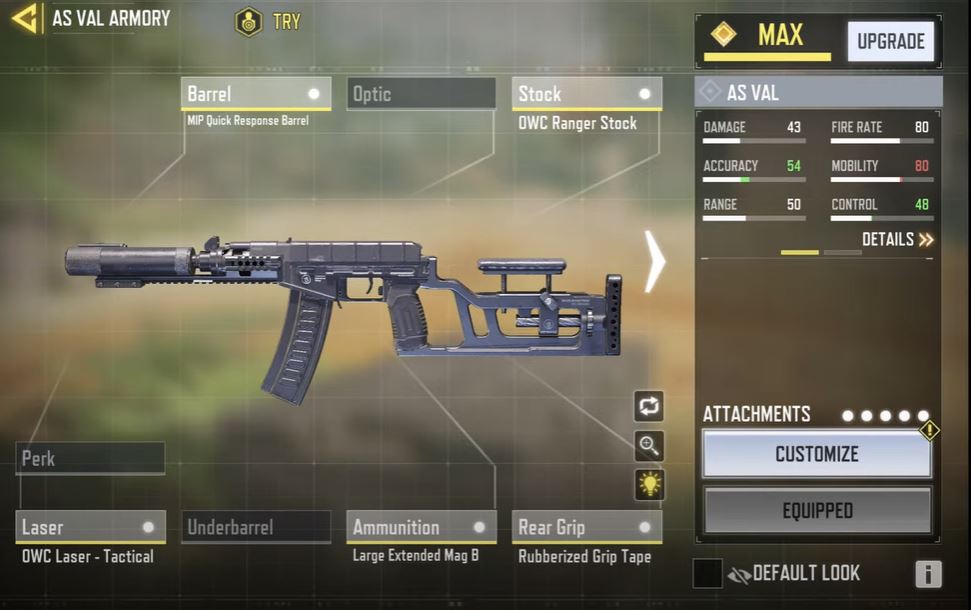 If you haven't unlocked the AS VAL yet, then you may benefit from using a decent submachine gun instead. Check out our ultimate loadout for the Pharo, if this applies to you.
Otherwise, what are your thoughts about our AS VAL class setup, and which loadout do you prefer? Let us know by tweeting us at @GinxTV or @NewsGinx.
Don't forget to check out our dedicated COD Mobile section for news, leaks, guides, weapon tier lists, loadouts, and more.
Header image via Activision.