Throughout the entire life cycle of COD Mobile, the DL Q33 sniper rifle has remained one of the best options in the whole game. Its reliable blend of accuracy, damage, and range makes it not only arguably the best sniper rifle, but the best overall weapon. 
As the DL Q33 has been around for so long, players already might have a go-to gunsmith loadout for it. However, Season 6 of COD Mobile means it could be time for things to change on the loadout front and this applies to the DL Q33 as much as any other gun.
Best DL Q33 loadout in COD Mobile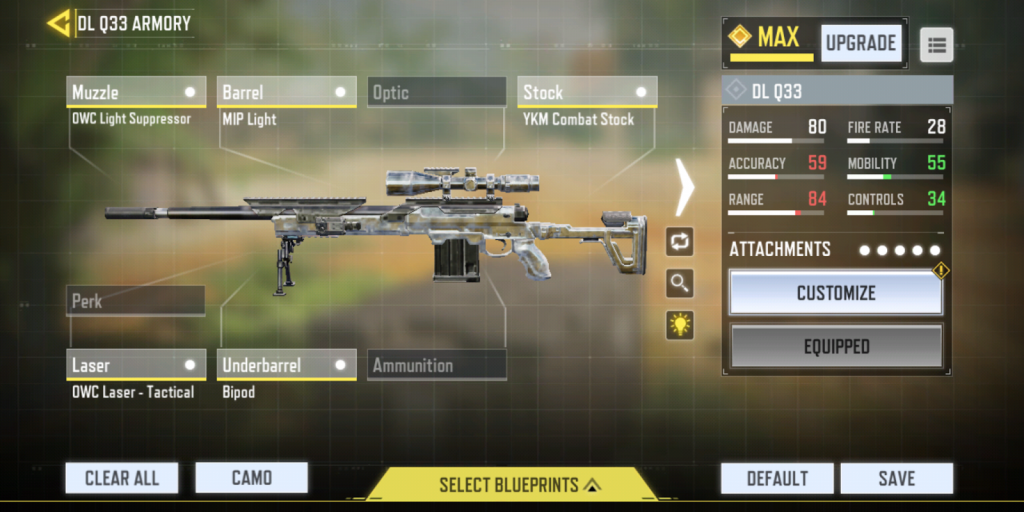 The best attribute about the DL Q33 is that it doesn't compromise on any stat. It has above-average damage, range, accuracy and fire rate for the sniper rifle class. This means players can create a loadout that works for any skill level. 
As the DL Q33 boasts such high stats, its loadout doesn't need to be focused on one specific area. Instead, it can focus on a wide range of areas to make it an even better weapon at all ranges. 
Barrel: MIP Light 
Stock: YKM Combat Stock 
Laser: OWC Laser - Tactical 
Underbarrel: Bipod
Perk: FMJ  
Starting out, the MIP Light barrel is perfect for quickscopers in COD Mobile. The attachment increases ADS speed and bullet spread accuracy but lowers recoil. However, that's not a hugely important stat when it comes to snipers. 
Next, the YKM Combat Stock also increases ADS speed while adding some flinch and additional recoil. The flinch issue is a bit more of a negative than the recoil but it's manageable. 
Rounding out the loadout is the Bipod, which adds some stability the other attachments took away and the OWC Laser - Tactical Perk. This attachment once again adds ADS speed and bullet spread accuracy but has a visible laser. Finally, FMJ is the Perk of choice to add some extra damage through surfaces. This ensures players will get the kill no matter where they're shooting. 
For more on all things COD Mobile, check out our dedicated section, which includes tier lists, gun guides, patch notes, and more.