The end of Season 10 is COD Mobile is coming up rather quickly. Set to end sometime around 14th October, the Battle Pass and other content will expire along with it. However, this does mean that the eleventh season will be ushered in. While we don't know exactly what Activision has planned for the new iteration, we did receive a hint regarding one map that's arriving with Season 11. 
Earlier today, the COD Mobile developers tweeted out a short clip of the map. Though no name was attached to it, veterans of the hit mobile game knew exactly which map it was. Returning from the game's first season, Halloween Standoff looks to be reentering COD Mobile come Season 11. 
👻 Something spooky lurks this way...

🔜 Coming to #CODMobile in the next season! pic.twitter.com/PpZbLwBsVg

— Call of Duty: Mobile (@PlayCODMobile) October 3, 2020
Halloween Standoff returning to COD Mobile 
The timing of Season 11 made this possibility a little too obvious. Since Halloween takes place a couple of weeks after the release of the season, many fans guessed that the map variation would return to the map rotation.
Also, the game is celebrating its one-year anniversary and planning a huge update when Season 11 launches. Halloween Standoff is simply one small cog in the larger content drop that's going to take place. 
While Standoff from Black Ops 2 is a fan-favorite map in and of itself, the Halloween version cranks things up to a new level. There are lit jack-o-lanterns, a night theme, and other spooky aspects in every nook and cranny.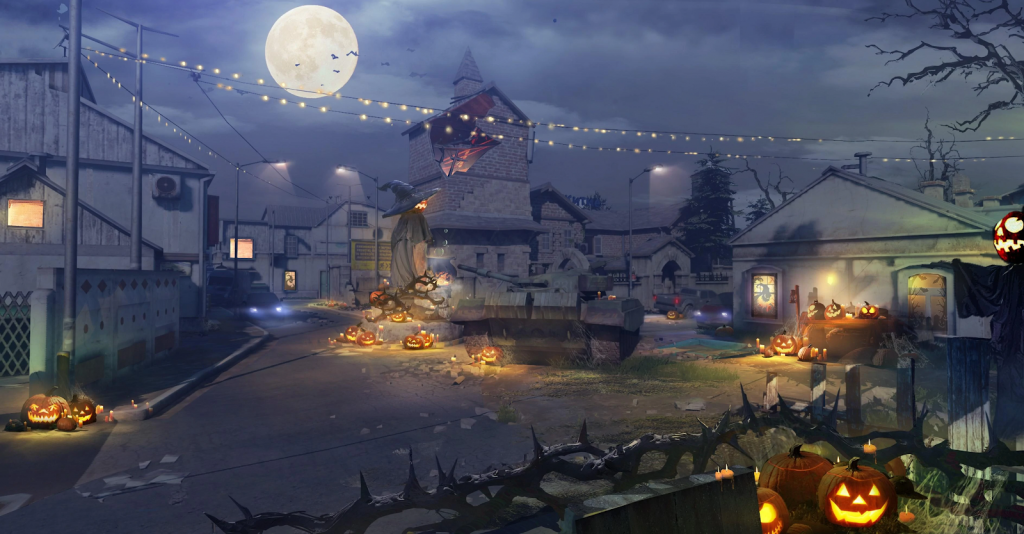 (Picture: Activision Blizzard)
Along with the Standoff variation, COD Mobile devs have also confirmed that a couple of new weapons and a new scorestreak are being introduced as well. The weapons are confirmed to be in "multiple categories" and the scorestreak appears to be an Advanced UAV of some kind. 
Fans can expect to play Halloween Standoff and unlock the new content when Season 11 arrives on the 15th of October.