All the way back in September 2020, Call of Duty publisher Activision posted a job listing for an "Executive Producer, Mobile" to bring Warzone features to mobile devices. Since then, information about a possible COD: Mobile Warzone adaptation remained scarce, until now. In a new job listing from Activision, the publisher seemingly again confirmed the existence of COD: Mobile Warzone.
COD: Mobile Warzone confirmed?
Back in March 2021, Activision sent out a survey referencing Warzone and Verdansk coming to the mobile game.
While this isn't confirmation that COD: Mobile Warzone is definitely on its way, if you combine the job listing in September 2020, as well as the survey references and now the new job listing, things become very clear.
In the latest job listings via LinkedIn, a screenshot of which you can view below (in case the listing gets taken down or changes), Activision revealed that they are hiring for the COD: Mobile team, to work on content expansion across COD: Mobile and Warzone.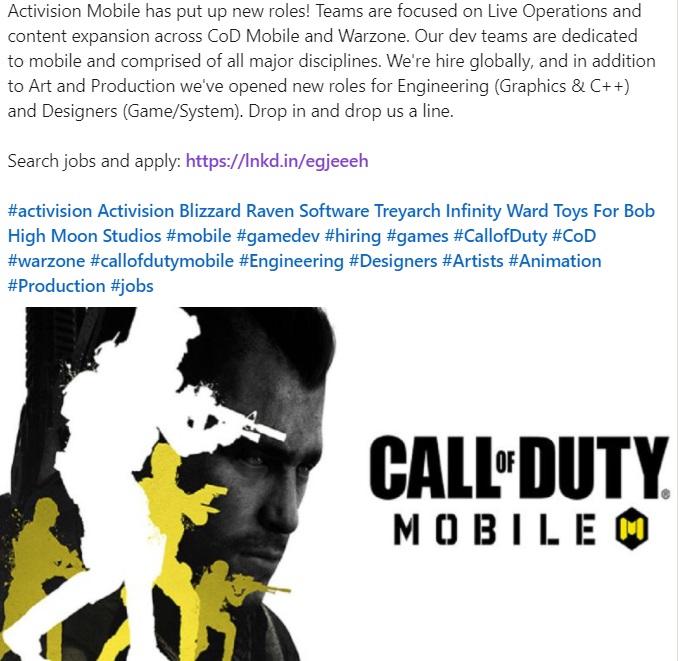 (Picture: Activision via LinkedIn)
The job listing post states: "Activision Mobile has put up new roles! Teams are focused on Live Operations and content expansion across CoD Mobile and Warzone. Our dev teams are dedicated to mobile and comprised of all major disciplines. We're hire globally, and in addition to Art and Production we've opened new roles for Engineering (Graphics & C++) and Designers (Game/System). Drop in and drop us a line."
When searching for "mobile" on the Careers page on the official Activision website, there are currently over 50 positions open, some of which are to work on a new "mobile title".
It remains to be seen if COD: Mobile Warzone will be an expansion of the mobile sensation or a completely standalone game.
At the time of writing, Activision has not officially announced COD: Mobile Warzone to the world.