The
Call of Duty
universe has seen its fair share of crossovers, and in celebration of the release of
Warzone Season 3
, filled with new content from Verdansk '84, a new
Battle Pass
and much more, there's a
COD: Mobile
x Warzone event where mobile gamers can get a free Epic skin. Here's how you can get your hands on an Epic skin in COD: Mobile via the Radioactive Agent Redemption event.
How to get free Epic COD: Mobile skin
For a limited time only, COD: Mobile players can unlock a unique, Epic skin in an event called Radioactive Agent Redemption, which is currently live in the Events tab of the mobile sensation.
The Radioactive Agent Redemption, obviously pointing towards the nuking of Verdansk in Warzone, will be live until 4th May 2021, and you can claim a nice freebie by following some simple steps.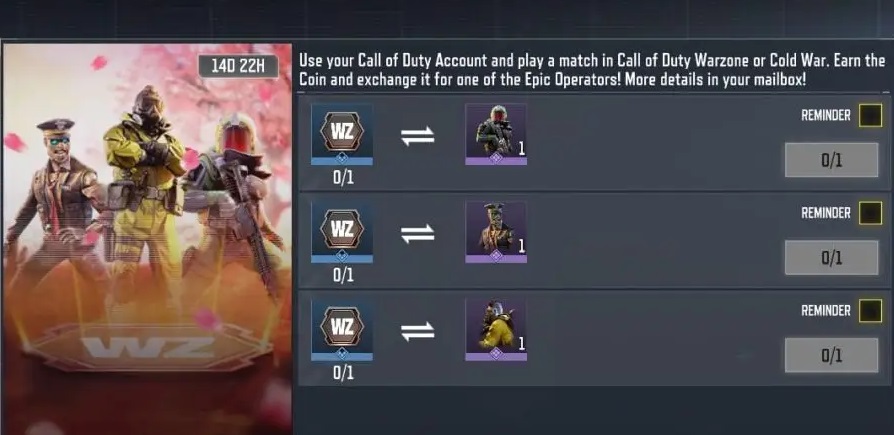 (Picture: Activision)
The caveat is you can only claim one of the three Epic skins in COD: Mobile, so you will have to choose wisely between Hazmat Bomber, Soap Hazmat or T.E.D.D.
Follow the steps below to claim the free Epic COD: Mobile skin thanks to the Warzone Season 3 crossover event.
Be sure to link your Call of Duty account in COD: Mobile if you haven't done this already.
Using the same Call of Duty account, jump into a Warzone or Black Ops Cold War Season 3 match on any platform.
Play a match in any game mode or playlist.
Wait until an exchange token appears in your COD: Mobile mailbox. This might take up to 72 hours.
Claim the token from your mailbox.
Head to the Radioactive Agent Redemption tab in the Events menu of COD: Mobile and choose which free Epic skin you want to unlock.
While these steps are quite simple, it might not be easy for those without a PC or console who just play COD: Mobile on their mobile device. 
You have until 4th May 2021 to claim a free COD: Mobile skin, so don't miss out.