The Garena test servers for Call of Duty: Mobile has opened up, which has revealed a new weapon coming to the game in Season 4. It is called the MK2 Carbine, a Marksman rifle with some powerful stats. Thanks to leakers who've managed to get into the test servers, we now have our first look at the MK2 Carbine gameplay as well as the new gun's stats, expected to release with COD: Mobile Season 4 on 27th May 2021. 
COD: Mobile MK2 Carbine - Gameplay and stats
The new gun/weapon in COD: Mobile Season 4, alongside the previously revealed Holger-26, is the MK2 Carbine. This new gun is a lever-action marksman rifle from the Modern Warfare era, that was considered quite overpowered in MW 2019 since it can kill an opponent in two hits.
Leakers have found the MK2 Carbine in the test servers for COD: Mobile Season 4, and before we get to the gameplay, let's just take a look at the raw stats (without attachments) as shared by codmINTEL.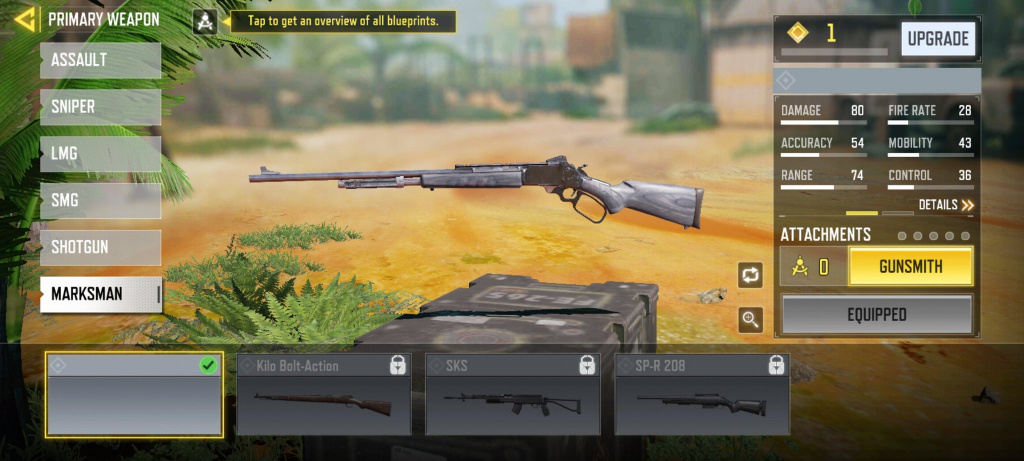 (Picture: Activision / codmINTEL)
While stats are great to know, what most COD: Mobile fans will probably want to see is some actual gameplay of the MK2 Carbine.
Thanks to an upload from DannyIntel of a video from CODM NEWS on Telegram, we've got your first look at the MK2 Carbine gameplay in COD: Mobile Season 4.
It remains to be seen exactly when Activision will release the MK2 Carbine during COD: Mobile Season 4.
More gameplay below:
The MK2 Carbine might be an unlock later on in the season via challenges, or it might release with the Battle Pass right at the start of the season.
Stay up to date with the latest COD: Mobile news, guides and more in our dedicated section.