The prestigious BLAST Premier tournament series will be back in 2022 stronger than ever, as the best CS:GO teams from around the world will have the chance to compete for a place in its Spring Showdown, heading into the Spring Finals.
Unlike the 2021 season, the Showdown qualifiers will go through a major expansion, as squads from over 100 countries will battle to get one of the eight berths at this international throwdown.
In a press release, the Commissioner of BLAST Premier Andrew Haworth said, "We are thrilled that we have been able to continually expand and grow these qualifiers year after year. We are now in a position where we are working with leading regional partners to offer teams from over 100 countries the opportunity to participate in our Spring Showdowns."
BLAST Premier Spring Qualifiers are back 💥

With a combined prize pool of $135,000 the Spring Qualifiers will cover 100+ countries!

The 8 winning teams go straight to the Spring Showdown where they might face off against teams like @AstralisCS, @NIPCS or @TeamLiquidCS 👀 pic.twitter.com/npNbzBzvtD

— BLAST Premier 💥 (@BLASTPremier) February 16, 2022
All BLAST Premier Spring Showdown 2022 Qualifiers and Start Dates
The first of these will be defined in the FiReLEAGUE Latin Power, a tournament focused on Latin America that will take place from 11th to 13th March. The tournament will see the top eight CS:GO teams from the region battle it out for a direct ticket and a prize pool of $25,000.
More tournaments will follow this in the Europe, Asia and North America regions, through which emerging squads will try to earn the right to participate in the qualifier between March and April.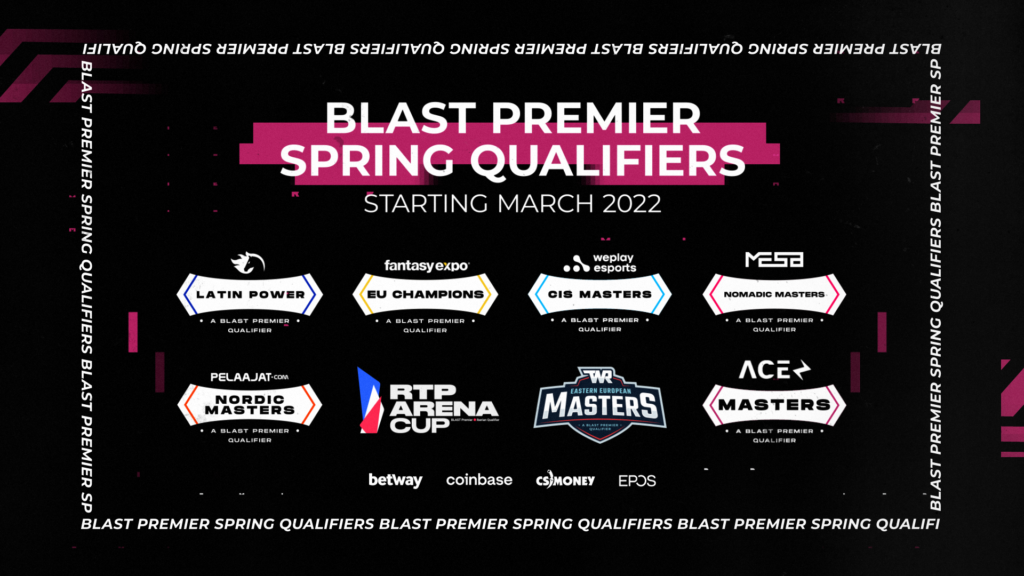 Below are all the competition dates for the qualifiers of the BLAST Premier Spring Showdown 2022:
Firesports Latin Power (SA)
RTP Arena Cup (Iberia)
TWR Eastern European Masters (EU East)
Pelaajat Nordic Masters (Nordics)
MESA Nomadic Masters (SEA)

21st and 23rd March (Online)
26th March (LAN)

WePlay CIS Masters (CIS)
FantasyExpo EU Champions (EU West)
Ace North American Masters (NA)
These tournaments will culminate in the Spring Showdown, comprising eight invited teams by BLAST, plus the eight classified will fight for a prize pool of $135,000. Additionally, the top two teams will advance to the Spring Finals.
"The qualifiers have become a very important part of BLAST Premier and the broader Counter-Strike ecosystem, providing teams of all abilities and the opportunity to play on a global stage against the best in the world," Haworth added.
Soon, all the participating teams of every tournament will be announced, and the changes will be made for the BLAST Premier Fall Split 2022.
Featured image courtesy of BLAST.