There are seven Active Duty maps currently in Counter-Strike: Global Offensive that are played universally within the competitive circuit from the iconic DustII and the newest vertical map Vertigo with its fair share of environmental hazards.
Each of these maps is unique and has its own secrets, tips and tricks that can give you the edge over the opposition. Below is one tip you might not know about for all seven maps.
DustII

Starting our list is Counter-Strike's most famous map and a boost that can be utilised on B.
This boost will be familiar to those who watch professional CS:GO matches on DustII.
The B bombsite is a notoriously difficult site to retake as Counter-Terrorists and so a strong hold initially is crucial.
Inferno

Inferno is all about the utility usage but that doesn't mean you can't do some impressive damage with a rifle too.
Once you know it is safe to push out onto Bridge, you can shoot through the third window as shown above to kill anyone pushing Apartments from the A bombsite.
Second Mid is also home to other wallbangs you can discover as well as Underpass that allows you to quickly make your way to Middle or Banana.
Mirage

Mirage is one of the most popular competitive CS:GO maps and so it can be hard to find angles and places others do not.
While this corner near Ticket is not special, it is an underused position for post-plant situations. Any CTs pushing their spawn onto site has to check numerous angles and are unlikely to be looking right.
A smoke for connector can protect you if you suspect any CTs will be coming from Middle or Short.
Nuke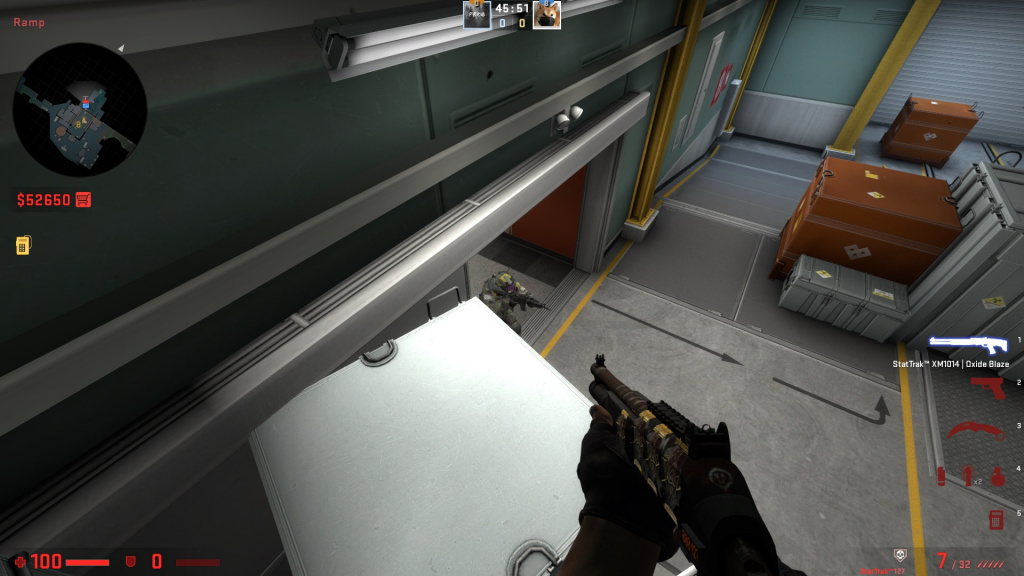 Ramp allows Terrorists to make their way to the lower B bombsite unless they are stopped in their tracks and this boost can help you do this.
Professional players like G2 Esports' Audric "JaCkz" Jug have shown how powerful the XM1014 shotgun can be on Nuke and this makes this spot viable even on a low buy round if you choose to wield it.
While it cannot be used every round as the Ts will learn to check it, using it on the right round could devastate their economy and ruin their gameplan on an already CT-sided map.
Overpass

A lot of Overpass' action takes place around Bathrooms. This central location of the map sees firefights and grenades in a battle for control between the CTs and Ts.
While this boost will require a teammate to help you, the risk can be worth the reward in this position.
Using the windows to see through to just under Party, you can get a sneaky pick if you're quick with a sniper rifle or make the most of a weaker buy by using the element of surprise.
Train

Many famous AWPers have pulled off wallbangs on Train and you can do this one easily yourself in your own competitive games.
Line up your crosshair as above and you will be able to kill a waiting Counter-Terrorist at Connector without exposing yourself to them in the process.
This can work on multiple rounds and allows you to remain free to traverse the map as needed unscathed.
Vertigo
This is the most advanced trick on the list for the newest map in the Active Duty pool.
Failing this runboost will see you or a teammate fall to their death which means practice will be essential if you wish to pull this off in a competitive game yourself.
Jumping across will be unexpected and be much faster than going the usual route to the B bombsite as Ts.