Back in April 2021, a recording of a conversation between former Rebirth members Sebastian "retchy" Tropiano, Kevin "4pack" Przypasniak and Carson "⁠nosraC⁠" O'Reilly, surfaced online. This recording allegedly revealed the three North American CS:GO players talking about match-fixing plans at ESEA Season 35: Premier Division North America.
On 23rd August, the Esports Integrity Commission (ESIC) finally shared an update on the ongoing investigation into match-fixing within the North American CS:GO scene, specifically the ESEA league. 
ESIC bans two CS:GO players for five years
The three players allegedly involved in the recording have been suspended since 2nd April 2021, and now, ESIC has slapped two of them with a five-year ban from competitive play for breaches of the ESIC Anti-Corruption Code.
Sebastian "retchy" Tropiano and Kevin "4pack" Przypasniak have received five-year bans as announced by ESIC via an investigation update. Both these players can return on 1st April 2026.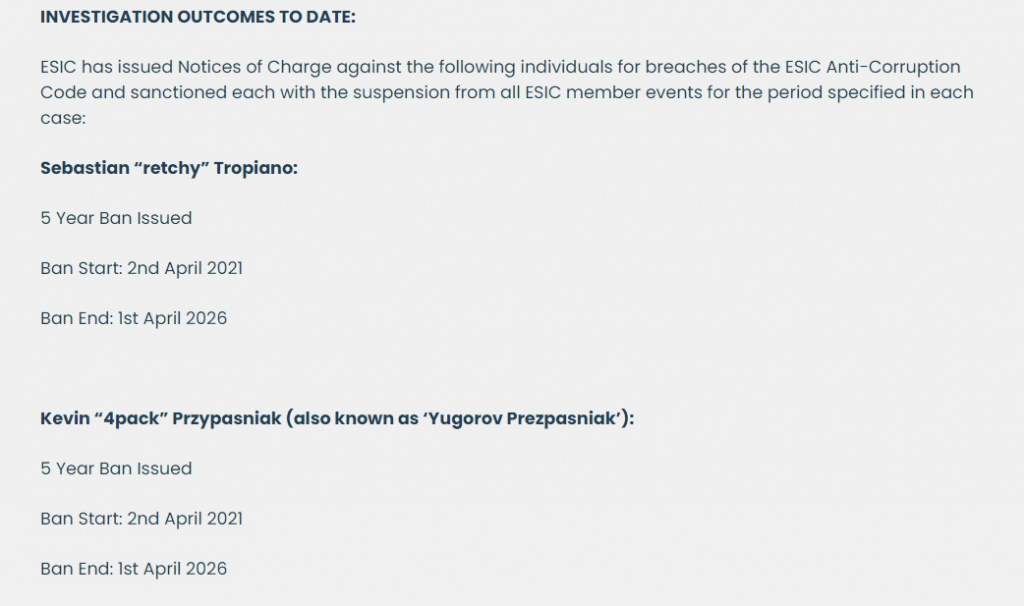 What about Carson "⁠nosraC⁠" O'Reilly? Well, ESIC found that in the recording, there was only one, inconclusive sentence from the 21-year-old US player, and found no evidence suggesting nosraC breached the ESIC Anti-Corruption Code.
However, norsaC is charged with failing to disclose the information to ESIC, which means he has been slapped with a 111-day ban starting on 2nd April 2021. This, in turn, means norsaC has served his ban. 
ESIC explains: "After assessing Mr O'Reilly's participation in the conversation, ESIC further engaged in investigatory lines of enquiry to seek out any evidence of further involvement in any corrupt behaviour beyond the recording. As of 22 July 2021, ESIC has concluded that there is currently no evidence that suggests that, unlike Mr Tropiano and Mr Przypasniak, Mr O'Reilly perpetrated any other breaches of the Code.
"Consequently, time served by Mr O'Reilly under effective suspension from the period of 2 April 2021 to 22 July 2021 has been deemed, by the Commissioner, as a sufficient sanction proportionate to his offence and he has been free since 22 July 2021, to play in ESIC member events."
The other two players named during the infamous recording, Alex "vek" Voynow and David "J0LZ" Jolin, have not currently been charged by ESIC for a breach of the Anti-Corruption Code, and are free to continue participating in any ESIC member event.
There is, however, more to come. ESIC notes that the "broader investigation has been longstanding and ongoing" as ESIC is seeking to collaborate with a "wide range of stakeholders". The sensitive nature of allegations and their complexity takes time, after all.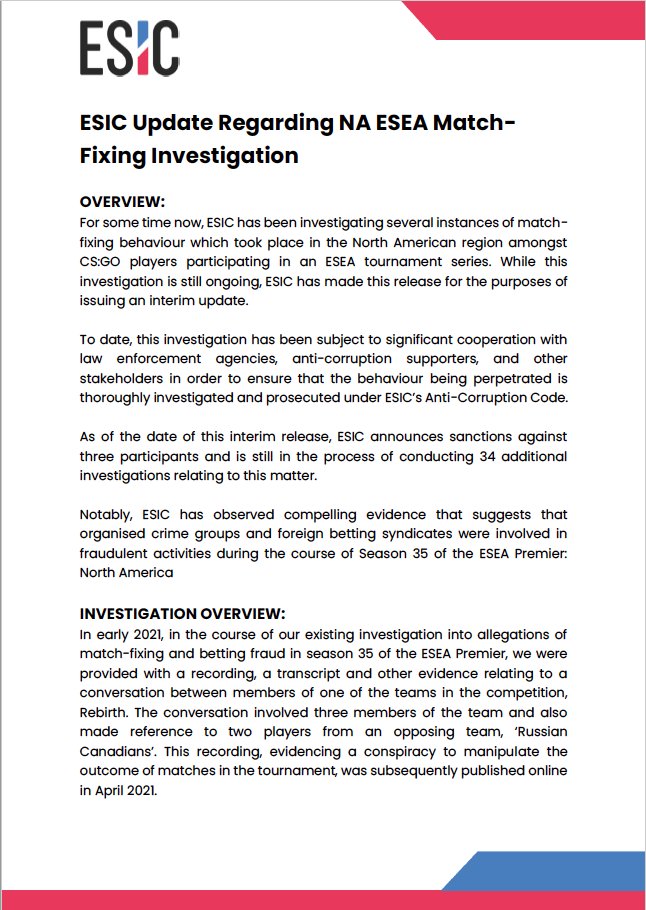 ESIC has further provided context on its activities with a summary of key points, which you can read below.
ESIC, having resolved charges against three individuals named in this release, is still investigating and resolving charges for 34 individuals for breaches of the Anti-Corruption Code during their participation in the ESEA Premier: North America.
Investigations into each individual comprise one 'sub-investigation' which holds its own host of challenges and complications.
ESIC has continued to work with law enforcement on all relevant overlapping areas of investigation.
ESIC is also working with a network of 40+ Anti-Corruption Supporters and non-member organisations to draw out betting data relevant to the investigation. This process is time-consuming and ongoing.
ESIC is, in addition, working with stakeholders to negotiate logistics for the examination of non-betting related data relevant to this investigation.
Most pertinent to the complications faced and the length of this investigation is ESIC's observation of compelling evidence that suggests that organised crime groups and foreign betting syndicates were involved in fraudulent activities during the course of season 35 of the ESEA Premier: North America.
Finally, in order for ESIC to functionally eradicate or to the greatest extent mitigate the existence of bad actors in esports, the investigation must be completed with the time and attention required – no matter how long – to provide the appropriate punishments and create a meaningful deterrent to future recurrence.
On Wednesday, 25th August at 10:00 CET, ESIC is expected to reveal more about their investigation regarding ex-Heroic coach Nicolai "⁠HUNDEN⁠" Petersen, who allegedly shared sensitive information with a competing organization ahead of IEM Cologne 2021, so stay tuned!
Don't forget to check out our dedicated CS:GO section for esports, news, guides and more.