This is why it's been such a surprise – and a welcome one for many – to see them in back-to-back CS:GO LAN finals again, with their world-beating core once again reassembled but the right kind of new blood injected into the side.
Though Fnatic succumbed to Evil Geniuses in the final of StarSeries i-League Season 8, back-to-back LAN finals and a win in Malmö is an undeniable statement of intent from the Swedish side. Impressive individual performances and Golden's in-game leading chops combined for strong showings, with deep enough runs where the question is the longevity instead of the ceiling of this roster.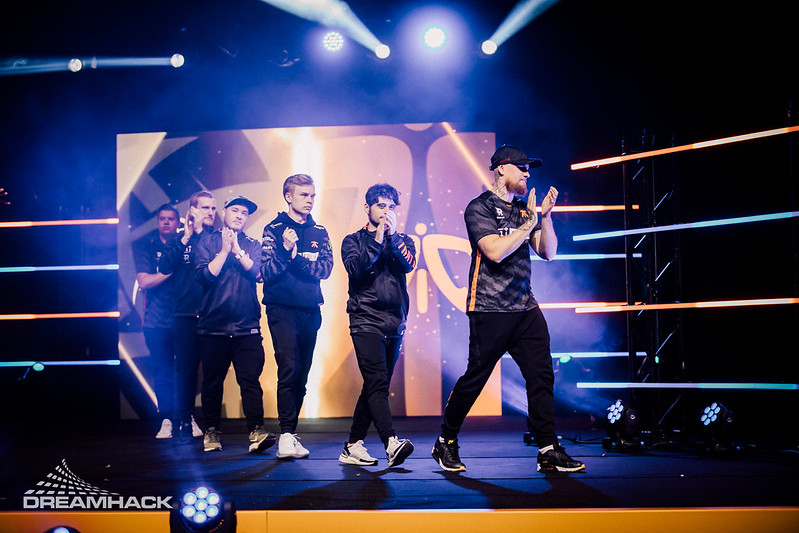 (Credit: Adela Sznajder)
This is, of course, the second chapter in Golden's topsy-turvy career with Fnatic, the prodigal team getting their son back on loan from Cloud9 after they shocked the scene by ousting him in favor of Xizt off the back of two tournament wins in 2017 – their only titles after a two-year hiatus since the fall of their era-defining side.
Since then, it's been a long period in the wilderness for both the team and the player, with the Swedes' nadir coming at the European minor where they failed to qualify for Berlin for the first time in the org's CS:GO history. By then, flusha was also gone, who joined Golden on Cloud9 before stepping down for personal reasons.
Initially, the announcement of the pair's return in place of Xizt and twist seemed like a move with little ambition, sticking with an all-Swedish side, opting against new talent beyond Brollan in a hope that the team chemistry will work out better at the second time of asking. Now that everyone tasted defeat over and over again, maybe they'll play nice with each other, the thinking went.
So far so good. Though neither Astralis nor Team Liquid attended the StarSeries event, and both were struggling with jetlag in Malmö off the back of ESL One New York, Fnatic's performances clearly show a step in the right direction. The obvious highlight is Golden's in-game leading ability, a marked improvement over Xizt's, especially in the banning department.
(Credit: Adela Sznajder)
It's likely no coincidence that JW's found a way to restore his trademark aggressive playstyle, and flusha's ability to roll back the years meant that his return was a clear firepower upgrade compared to when twist was in the side. It's also worth mentioning that Fnatic's replaced jumpy, their long-time coach as well, who's been with the squad as the sixth man since August 2016.
Whether this is a long-term resurgence remains to be seen. However, direct precedence is on their side – and if they manage to stick together this time around, their baseline is going to be undeniably higher than the Xizt-led side's was, even if the individual players don't frag out as much as they did in the autumn of this year.
Perhaps this is the real question: it was the personal dynamics which didn't work around two years ago, but perhaps the joint adventure of flusha and Golden on Cloud9 coupled with the natural passage of time and the undeniable results will help everyone work out what went wrong at the first time of asking.
If that's the case, Fnatic will likely keep making deep runs for a while with their trademark explosive brand of Counter-Strike.