CD Projekt RED has just released several videos about Cyberpunk 2077 ahead of the game's release, including a new gameplay trailer and a few "behind the scenes" videos.
One of them features legendary actor Keanu Reeves, who talks about his experiences of working on a game and what he thinks about Cyberpunk 2077.

(Picture: CD Projekt RED)
In Cyberpunk 2077 Keanu Reeves plays rockstar Johnny Silverhand, who'll accompany the player's character throughout the game.
Reeves has some previous experience with doing voice-overs, but he explains that it was never "this much".
He loves the fact that because he is working on a role-playing game, he has a chance to experience the same situations with different emotions, depending on the choices that will players make.
"Johnny is either a dick, or he's happy, or trying to convince," Reeves says."It's been fun, and that was kinda what I was interested in, the different options that the game could play. Playing the same person but with different versions of it."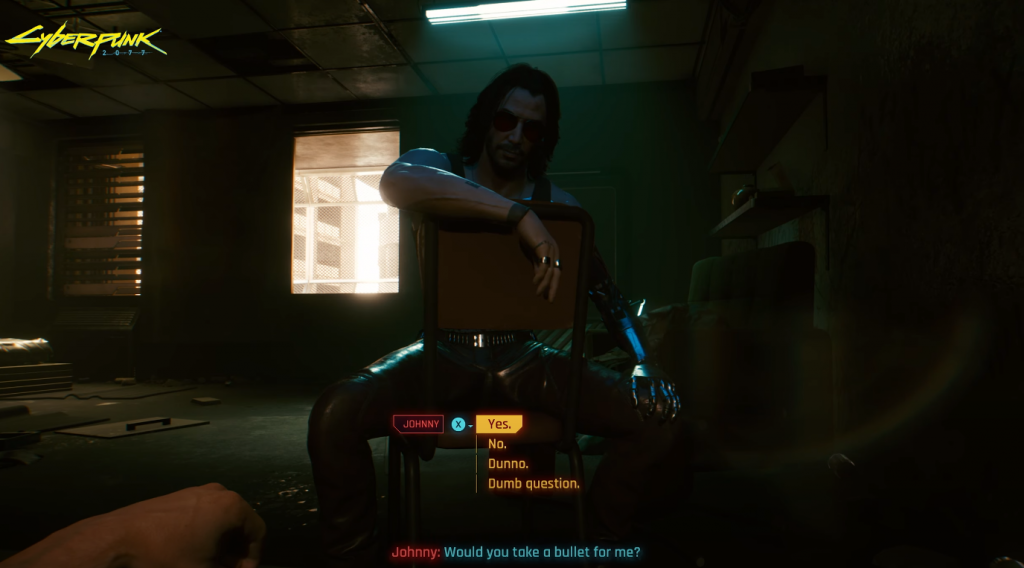 Silverhand will react differently depending on the player's dialogue choices and actions (Picture: CD Projekt RED)
Speaking about Johnny Silverhand, the character he's portraying in Cyberpunk 2077, he seems quite connected with him.
"I think there's Johnny Silverhand in all of us. He got a lot of energy and a good sense of humour," Reeves shares his view of the character. "He's very passionate and he cares. He is kinda naive but also super experienced. He certainly has an appetite for life." 
Speaking of Johnny's role in the game's story, Keanu Reeves says that he wants to change the world for better and that his main enemy is corporatocracy.
"He has a cause and he wants to fight. He's looking for freedom."
Reeves' fascination with the game comes from a fact of how much freedom the world and story are offering to the players.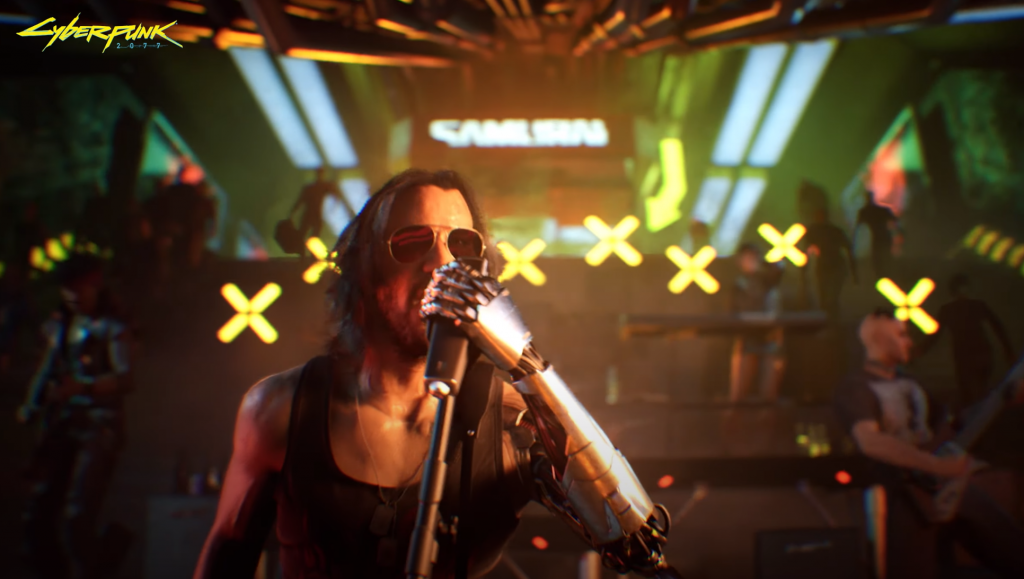 (Picture: CD Projekt RED)
"You can go to the action, you can go to the mystery, you can problem-solving in different ways... Wherever you go in this world, there's so much detail, so many different things that are really interesting and fun."
In Keanu's opinion, Cyberpunk 2077 has no competition when it comes to production quality and how technologically advanced it is.
"I don't think there will be a game that looks like this," he concludes.
Cyberpunk 2077 is scheduled for release on 10th December for PS5, PS4, Xbox Series X/S, Xbox One, and PC.