Cyberpunk 2077, CD Projekt RED's ambitious FPS RPG, is releasing for both current and next-gen consoles, as well as PC on 19th November 2020. If you've been following the game in the slightest, you will have seen celebrity Keanu Reeves play a big role in advertising the game, appearing in multiple trailers, both live-action and in the game itself. If you are confused about the actor's role, we explain Keanu Reeves in Cyberpunk 2077, and most importantly, who is character Johnny Silverhand is in the Cyberpunk universe.
Keanu Reeves in Cyberpunk 2077
Ever since Keanu Reeves walked on stage at E3 2019 during Microsoft's Press Conference to announce the release date of Cyberpunk 2077, it was clear the actor would play a big role in Cyberpunk 2077. 
Keanu Reeves called the game "breathtaking" and engage with an eager fan from the audience, with the exchange nearly breaking the internet.
There's a whole lot more to Keanu Reeves simply promoting the game, however, as the actor is also the co-owner of a real-life company called ARCH, which makes custom motorcycles.
These motorcycles will feature in Cyberpunk 2077, helping players get around the urban wilderness of Night City as quickly as possible.
According to Keanu Reeves, developer CD Projekt RED approached him to be part of Cyberpunk 2077.
However, his role doesn't stop by simply promoting the game. Keanu Reeves plays Johnny Silverhand in Cyberpunk 2077, an iconic character from the Cyberpunk franchise created by Mike Pondsmith. 
Who is Johnny Silverhand?
Johnny Silverhand will play a big role in Cyberpunk 2077, guiding the player character "V" through Night City as a digital ghost, which points towards the character's physical body not being alive anymore.
Keanu Reeves plays Johnny Silverhand, and while CD Projekt RED has been tight-lipped about the exact role of Johnny Silverhand in Cyberpunk 2077, we actually know a lot about the character, which was first introduced in Mike Pondsmith's Cyberpunk 2013 pen and paper RPG.

(Picture: CD Projekt RED)
In a trailer for Cyberpunk 2077, we've heard Johnny Silverhand tell "V" to: Wake the f$%k up, Samurai. We have a city to burn."
This is because Johnny Silverhand is a few things, among others, he is a rockstar, with the role of lead singer in the band Samurai.
He is also a Rocketboy, which in the Cyberpunk 2077 universe means he is a charismatic leader of a rebellion, acting as a voice against the mega-corporations which rule Night City.
In his early days, Johnny Silverhand was an army man, fighting in the Central American Conflict which started in 1990. Johnny didn't want to fight a corrupt war, so he deserted, and began his new life in Night City.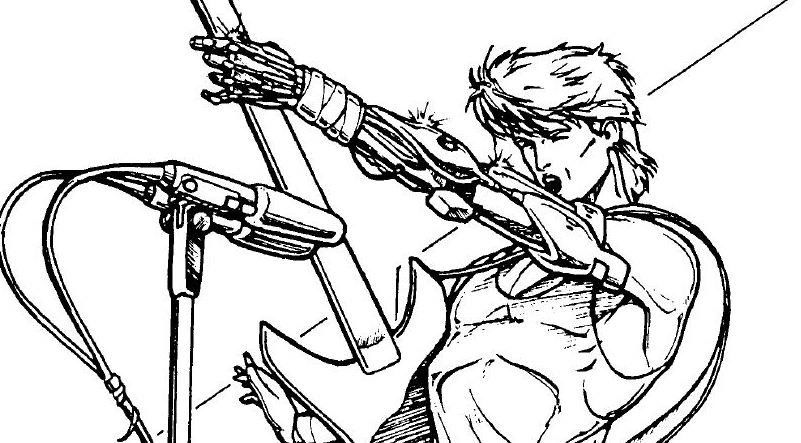 (Picture: Mike Pondsmith)
Johnny Silverhand also had a girlfriend according to Cyberpunk lore. Her name was Alt Cunningham, and she was kidnapped by the Japanese mega-corporation called Arasaka. 
Unfortunately, Johnny Silverhand couldn't rescue his girlfriend in time, as she was killed, with her conscience locked in Arasaka's mainframe. 
In Night City, you will see graffiti which asks "Where's Johnny?" as residents still hope he will one day return. However, Johnny Silverhand is dead, killed by a Borg called Adam Smasher, or so the legend says.
His body was never found, as the Arasaka building was blown to smithereens by Militech. However, some believe Johnny is still out there, biding his time to return. From the revelation that Johnny Silverhand acts like some sort of digital ghost guide in Cyberpunk 2077, it is likely his consciousness is also trapped in some kind of digital framework.

(Picture: CD Projekt RED)
For those who are wondering, Johnny Silverhand isn't his birth name. He was born as Robert John Under. 
It remains to be seen what his agenda is in Cyberpunk 2077, and how he will steer V in his quest for vengeance, as he does want to burn Night City to the ground.
Johnny Silverhand's vehicle of choice in Cyberpunk 2077
Every legend needs a legendary vehicle, and for Johnny Silverhand, the Porche 911 Turbo is his ride of choice.
CD Projekt RED has revealed a tonne for vehicles for Cyberpunk 2077. However, the Porche 911 Turbo is clearly Johnny's favourite, and we can see why.
Every legend needs a car just as legendary as they are.

For Johnny Silverhand, there can be only one choice: driving through the streets of Night City in an iconic @Porsche 911 Turbo hailing back to the 1970s.#Cyberpunk2077pic.twitter.com/hMQ7eZUYjq

— Cyberpunk 2077 (@CyberpunkGame) October 15, 2020
The live-action trailer above points towards Johnny Silverhand being able to control his Porsche 911 Turbo. Importantly, it also notes "the soul of Porsche and its owner never part ways" which again points towards Johnny Silverhand being dead, appearing to V as some kind of digital ghost.
Can you have sex with Johnny Silverhand?
Keanu Reeves' superfans are in for some bad news. While Cyberpunk 2077 will have a tonne of romance options, and NPCs for the player character "V" to have sex with, you won't be able to enjoy naughty things with Johnny Silverhand.
According to Cyberpunk 2077 level designer Max Pears in an interview with VGC, the developer explained: "Keanu plays a crucial role in the game, but as for the option to romance him, I don't believe you can."
While this might be a letdown for some, romance options, and sex, will still be "heavily present in Cyberpunk 2077, just not with Johnny Silverhand...