Destiny 2 The Witch Queen has finally arrived, bringing a ton of new improvements, cinematic campaign, guns, gear, and everything we've come to expect from a new expansion. 
Perhaps the most anticipated Destiny DLC in franchise history, reaching over 1 million pre-orders weeks before release, many players' nightmares came true once The Witch Queen became available to access-- the servers couldn't keep up with the influx of Guardians trying to login. 
If you're stuck in line without so much as a queue time available on your loading screen, it can get frustrating trying to figure out whether you're making any progress towards getting into Destiny 2.
Destiny 2 is temporarily at capacity - How to fix
Many players are simply seeing a message telling them to be patient, since currently, Destiny 2 servers are at full capacity, trying to accommodate as many players as possible.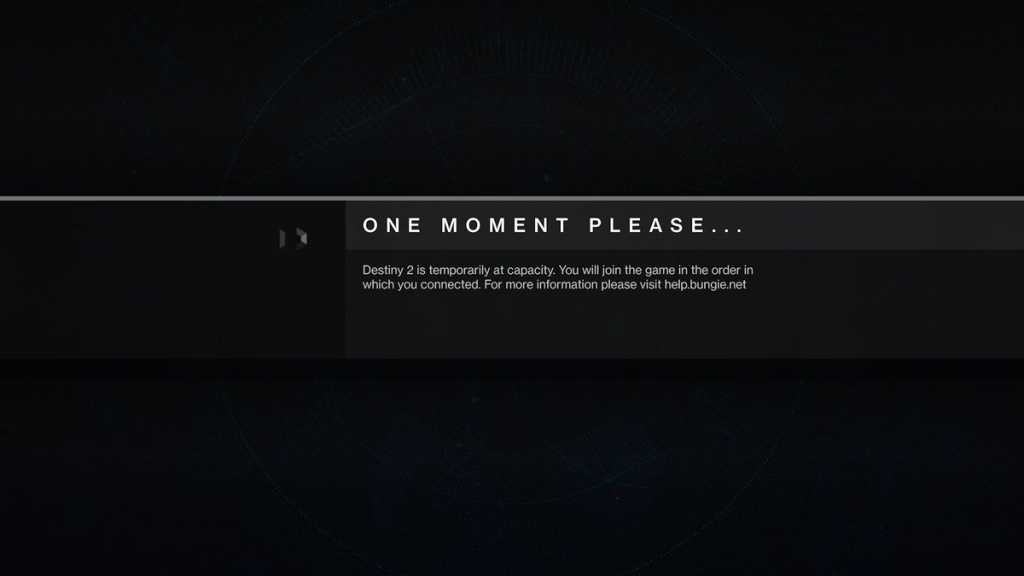 If you are in this title screen, do not leave the game, you have already been placed in a queue even if you can't see an estimated time of entry or how many players are before you. 
In the words of Senior Community Manager dmg04: "Do not leave this screen, as you'll lose your place in line. We've got many in the game, and more getting through with each passing second."
Sadly, some players are reporting the game crashing or error messages saying the servers are temporarily unavailable, meaning they are kicked out of the queue against their will. 
If this occurs to you, there is, unfortunately, nothing you can do to get back in queue without losing some precious spots to other patient Guardians. You'll simply have to suck it up and get back in line.
If you do manage to get in, you'll be greeted with a ton of new content. including the campaign which can be tackled in Normal or Legendary mode, the start of Season 16, also known as Season of the Risen, and much more. 
Not much else to say, simply stay patient, and be ready to enjoy The Witch Queen in due time, we're sure it'll be worth the wait. 
Featured image courtesy of Bungie.
---
For more Destiny 2 news, be sure to check out our dedicated section or take a look at some of our Guides & Tutorials just below:
Weekly Updates - Destiny 2 Weekly Reset | Destiny 2 Weekly Challenges | Destiny 2 Xur Location This Week | Destiny 2 Trials of Osiris Map & Rewards This Week | Destiny 2 Lost Sector Rotation |
Upcoming Updates - Destiny 2 Season 19 Release Date | Destiny 2 The Dawning Event 2022| Destiny 2 Lightfall Release Date | Everything We Know About 'Destiny 2 The Final Shape'
Exotics, Catalyst & God Rolls - Alter of Reflection Catalyst Quest | Austringer God Roll | Calus Midi Tool God Roll | Dead Man's Tale God Roll | Fixed Odds God Roll | Hawkmoon God Roll | How To Get Come To Pass | How To Get Dawn Chorus | How To Get Omnioculus | How To Get Star-Eater Scales | Mechabre God Roll | Osteo Striga Catalyst | Riptide God Roll | Queens and Worms Quest
Game Guides - Destiny 2 Redeem Codes | How To Unlock All Subclasses | Memories of Ruin Puzzle Solution| Strikes Guide | Where To Farm Cabal | Where To Farm Fallen | Where To Farm Hive | Where To Farm Scorn | Where To Farm Vex | How To Get 100k Nightfall Score | 
Raid Guides - Master King's Fall Totem Challenge Explained |