The second week of Season of the Lost in Destiny 2 continues to bring more ways to experience the action MMO, especially if you're a newcomer, with Trials of Osiris making its return.
Now that Guardians have had time to grind their season pass, discover some new weapons, and progress through The Witch Queen campaign, the aspirational PvP experience finally returns.
With Trials of Osiris not running simultaneously as Iron Banner anymore since Season of the Lost, the developers have had time to revamp the experience, adding plenty of quality of life changes to the mix.
Season of the Risen Trials of Osiris - Schedule
Moving forward, Trials of Osiris will be happening every weekend, starting on Fridays at 10 am PT (6 pm BST) and ending on Tuesday's weekly reset.
The only exceptions are when Iron Banner rolls around once a month. There won't be Trials on that weekend or during Week 1 of any new season and after a World's First raid race when this event is active.
For Season of the Risen, the first Trials of Osiris event started on 11th March.
How to enter Trials of Osiris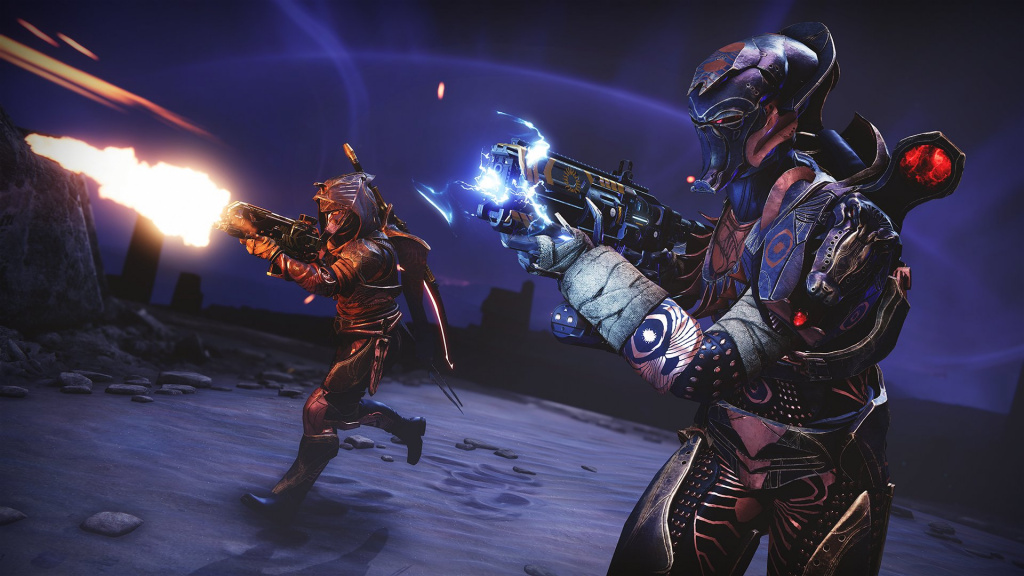 To access Trials of Osiris, head to the Tower and grab a Passage from Saint-14.
Similar to Season of the Lost, the system revamp remains in place, allowing for more rewards without the need to go flawless (which will still be rewarded with adept weapons). These are some of the changes put in place in case you missed them:
Passages no longer track losses - a Passage is either Flawless or not. 

Players may continue to reset their passages after a loss, but are no longer forced to after three losses total.

Passages track up to 20 rounds won. 
Passages have been re-ordered (Mercy is not super useful unless you are trying to go Flawless) and have all had their prices significantly reduced. 
Passages are now account-wide.  

You can play and earn rewards on any of your characters on the same Passage. 
Each Passage costs 10k Glimmer and 15 Legendary shards, so they're not particularly cheap if you're a New Light player.
On top of rewards you might get from completing a Passage or levelling up your Trials rank, there will be pinnacle rewards for completing the following: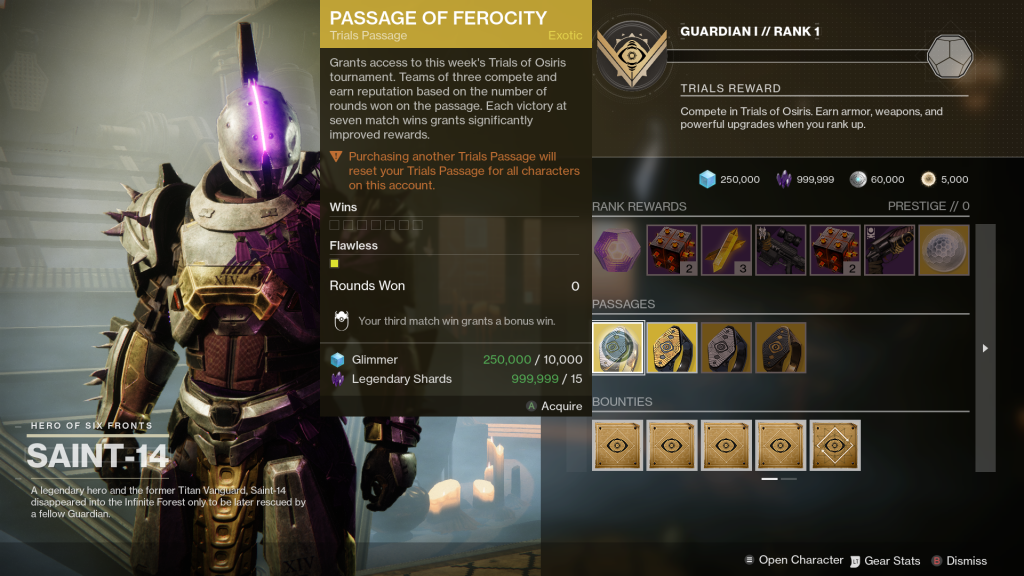 Win seven matches total on a given weekend. 
Win 50 rounds. 
Speaking of Trials reputation, these are the changes coming to it:
3/5/7 win challenges have been removed.  
Once you max out the reputation, you can reset and claim an Ascendant Shard or Exotic engram. 

Like the other ritual reputations, Trial ranks and rewards reset each season. 

Match wins on a seven-win card have a chance to drop extra Trials engrams, Masterworking materials, and high-stat Trials armour. 
Season of the Risen Trials of Osiris - Rewards

With all this being said, what will await you on the other side of a hard-fought victory? The answer is plenty of sweet and exclusive loot.
You'll get some sweet armour, but let's check out what everyone's excited about, the weapons:
Eye of Sol Sniper Rifle
The Messenger Pulse Rifle
Shayura's Wrath Submachine Gund
Reed's Regret Linear Fusion Rifle
The Summoner Auto Rifle
Aisha's Embrace Scout Rifle
It's worth pointing out that these guns will boast two Origin traits to choose from:
Alacrity: Increases the reload, stability, aim assist, and range when running solo or as the last Guardian standing 
One Quiet Moment: Grants players increased reload speed when not in active combat.
And that's it. For more on Destiny 2, check out our dedicated section filled with news, guides, and more.
Featured image courtesy of Bungie.
---
For more Destiny 2 news, be sure to check out our dedicated section or take a look at some of our Guides & Tutorials just below:
Weekly Updates - Destiny 2 Weekly Reset | Destiny 2 Weekly Challenges | Destiny 2 Xur Location This Week | Destiny 2 Trials of Osiris Map & Rewards This Week | Destiny 2 Lost Sector Rotation |
Upcoming Updates - Destiny 2 Season 19 Release Date | Destiny 2 The Dawning Event 2022| Destiny 2 Lightfall Release Date | Everything We Know About 'Destiny 2 The Final Shape'
Exotics, Catalyst & God Rolls - Alter of Reflection Catalyst Quest | Austringer God Roll | Calus Midi Tool God Roll | Dead Man's Tale God Roll | Fixed Odds God Roll | Hawkmoon God Roll | How To Get Come To Pass | How To Get Dawn Chorus | How To Get Omnioculus | How To Get Star-Eater Scales | Mechabre God Roll | Osteo Striga Catalyst | Riptide God Roll | Queens and Worms Quest
Game Guides - Destiny 2 Redeem Codes | How To Unlock All Subclasses | Memories of Ruin Puzzle Solution| Strikes Guide | Where To Farm Cabal | Where To Farm Fallen | Where To Farm Hive | Where To Farm Scorn | Where To Farm Vex | How To Get 100k Nightfall Score | 
Raid Guides - Master King's Fall Totem Challenge Explained |