A few weeks ago, Valve dropped a massive Dota 2 gameplay update (7.27), adding two completely new items to the game, and changing a tonne of items, as well as making significant general gameplay items. Now, with the release of Dota 2 gameplay update 7.27a, fans were expecting a bit more than just two item changes.
Dota 2 gameplay update 7.27a details
Instead of making a blog post with all the changes, the Dota 2 gameplay update 7.27a is so small, Valve decided to just share an image listing the changes to two items.
The Dota 2 gameplay update 7.27a slightly nerfs both Helm of the Dominator (increasing its gold cost and reducing creep damage), as well as Monkey King Bar, where they simply added a recipe costing the player a bit of extra gold to get the powerful item.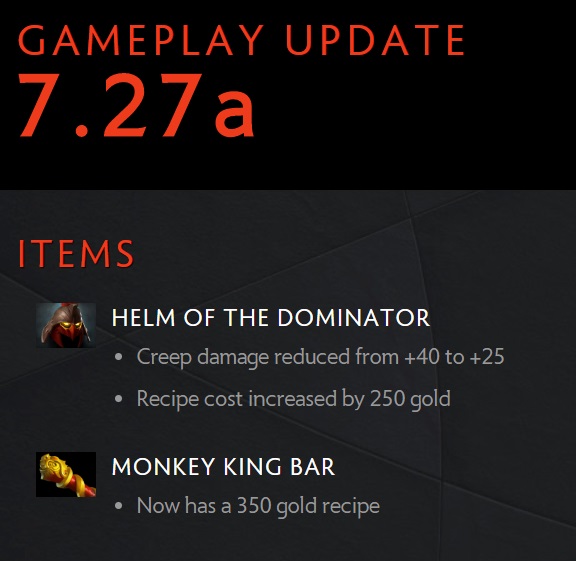 There isn't a lot to see in the new Dota 2 update (Picture: Valve)
Dota 2 fans were waiting for something big from the first update after the massive 7.27, which changes a tonne of items. Mostly, we've been waiting for the hero changes which will very likely come in 7.27b or 7.27c.
This is very unlike Valve, however,  who has recently also added an Anonymous Mode to the game without a blog post about the new feature.
Hopefully, Valve isn't turning into an Epic Games, who rarely, if ever, share detailed Fortnite patch notes anymore.