Last month we were sad to hear that beloved Dota 2 caster, Owen "ODPixel" Davies, would be absent from the WePlay Dota 2 AniMajor. ODPixel is widely considered to be a fan-favourite caster and analyst amongst the Dota 2 community. He is also regarded as the 'rap god' of Dota 2, because of his exceptional ability to quickly and clearly narrate games.
Owing to his exceptional casting ability, ODPixel has covered several prestigious Dota 2 esports events, including five The Internationals (2015 - 2019) and five Dota 2 Majors. It was, therefore, only natural that fans were concerned about potential health issues, which he revealed in a tweet he posted last month.
ODPixel on health ahead of WePlay AniMajor
On 30th May 2021, he tweeted that he would not be onsite for the Dota 2 AniMajor in Ukraine, as a result of "some health stuff". He confirmed that it was not coronavirus-related, but that he would be getting his health examined whilst he was in the Netherlands. He further commented to reassure that it was "just something [he] need[ed] to get checked sooner than later to be safe".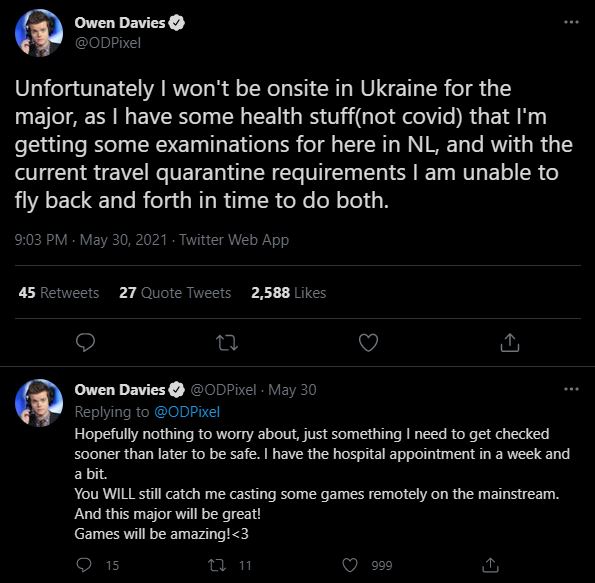 (Picture: Twitter / ODPixel)
Of course, ODPixel's Twitter was flooded with support from the Dota 2 community, including tweets of love from Henrik "AdmiralBulldog" Ahnberg, Jorien "Sheever" van der Heijden, David "LD" Gorman, and many others.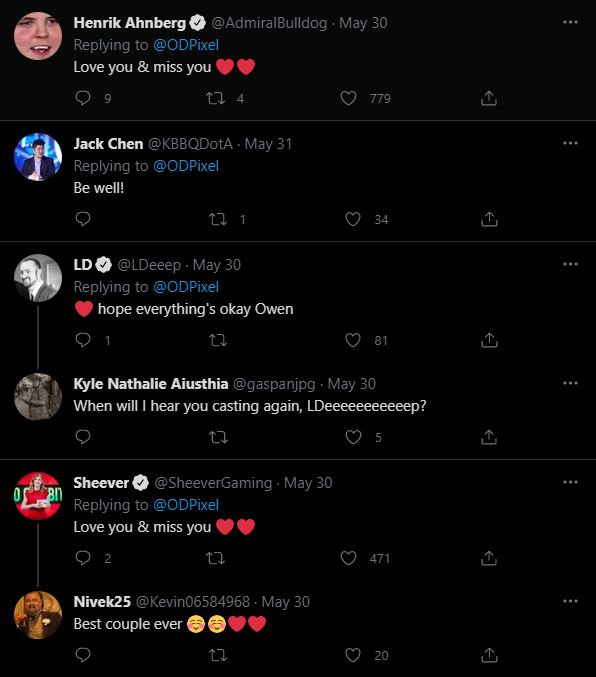 (Picture: Twitter / ODPixel)
ODPixel's update on his health
In a Tweet posted earlier today, ODPixel confirmed that his health was in check, citing it was "nothing serious". We're relieved to hear that his health issue can be "treated rather easily" and we wish him a speedy recovery.
A health update and good news!
Just had the hospital finish looking at my insides, and they confirmed that the cause of my symptoms was nothing serious!
Small things that can be treated rather easily.
Shame I can't be present at the major, but relieved to have my health checked!

— Owen Davies (@ODPixel) June 10, 2021
As you can imagine, the Dota 2 community also expressed their relief and bombarded his Twitter timeline with well wishes. WePlay also reached out, tweeting: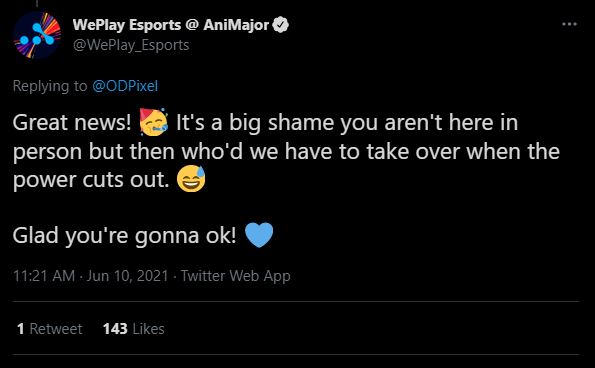 (Picture: Twitter / ODPixel)
Although we are saddened that he won't be making an appearance at the Dota 2 AniMajor Playoffs this week, we too are happy to hear that he's okay. He definitely made the right call by putting his health first and we look forward to seeing him at the next Dota 2 event.
Looking for more Dota 2 news and updates? We know you are! Be sure to check out our dedicated Dota 2 section.
Header image via ODPixel Twitter.