Dota 2 esports fans continue to throw their wallets at Valve. Only 20 days since the release of the 
Dota 2 Battle Pass
, The International 10 prize pool has already surged past the million mark, sitting at ,027,754 to be exact.
The International prize pool
For those who don't know, Valve provided a base prize pool of $1.6 million, and everything else comes from the wallets of Dota 2 players. Only 25% of the Battle Pass and related purchases go into the prize pool, and 75% goes to Valve. 
This is a new record for prize pool growth, with The International 9, which had the biggest prize pool in esports history, taking over 23 days to hit $15 million. At this pace, The International 10 prize pool is on its way to setting a new esports record.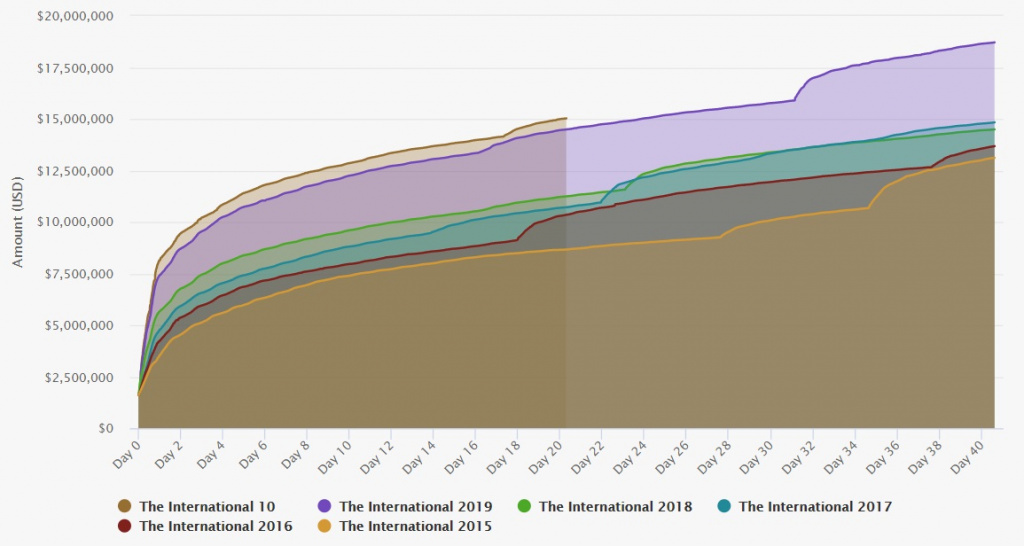 The International 10 prize pool growth comparison (Screenshot: Dota 2 Prize Pool Tracker) 
Why should you care how big The International 10 prize pool is? Well, Dota 2 Battle Pass owners get something out of it, if the prize pool reaches certain milestones.
If this year's prize pool breaks the TI9 number, Battle Pass owners get 10,000 Battle Points (10 levels). If the prize pool reaches the $40 million milestone, Battle Pass owners get another 10,000 Battle Points. 
Keep in mind that The International 10 has been postponed due to the COVID-19 pandemic. At the time of writing, there is no official date for the annual Dota 2 esports event, which normally takes place in August.
The prize pool usually continues to grow until the grand finals take place, so we might just see a $40 million prize pool this year. 
The growth spurt in the past several days could be because of the Queen of Pain Arcana, which released on 12th June. This glorious cosmetic item set can be unlocked at Battle Pass level 445.