The
Dota 2 International 10
(TI10) Western European (EU West) Qualifiers are arguably the most anticipated matches, ahead of the TI10 Group Stages and Main Event. This follows notable pro teams competing for the wildcard slot, including Team Nigma,
Team Liquid
, and Tundra Esports. Moreover, many enthusiasts are speculating whether the two-time defending champions,
OG
, will qualify for TI10 this year. 
This year's TI will also be bigger than ever before, comprising a whopping USD 40 million prize pool. Here's everything that you need to know ahead of the final Regional Qualifier games, taking place this week.
TI10: EU West Qualifiers - Schedule & Format
The TI10 EU West Qualifier matches will run from the 7th to the 10th of July, alongside the TI10 Chinese Qualifiers. The first match will begin at 11:00 GMT+2 and the final match will begin at 20:00 GMT+2.
The playoffs will be played online in a double-elimination bracket format and all matches in the playoffs will be played as BO3. Only the Grand Finals matches will be played as a BO5.
The team that wins the EU West Qualifiers will occupy one of the two final wildcard slots and thus play in the TI10 Group Stages, with the twelve directly invited pro teams. The playoffs bracket is illustrated below and seeding is based on current Dota Pro Circuit (DPC) standings, assuming no further penalties.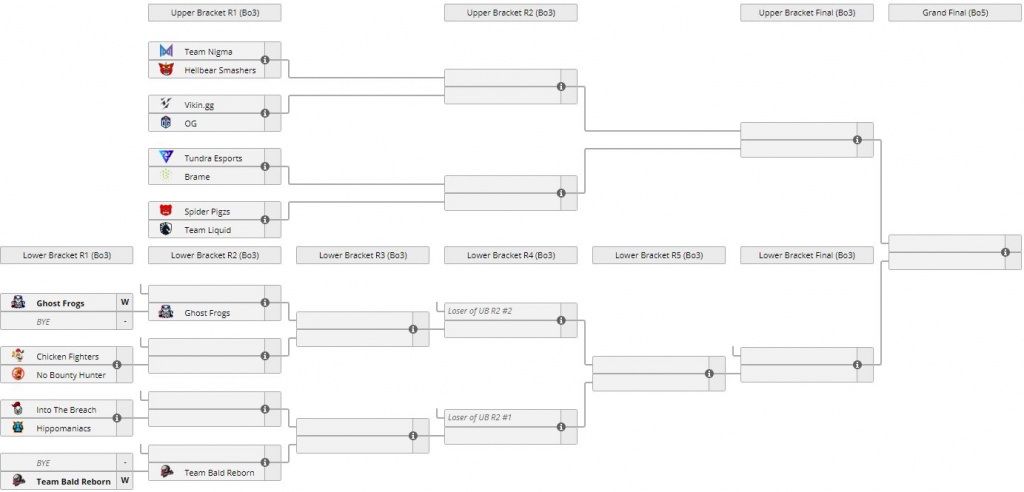 The teams competing in the EU West Qualifiers will comprise teams that were not eligible for a direct invitation by placing in the top 12 of the DPC rankings during this season. Otherwise, teams that altered their rosters significantly are also included. There are a total of 14 teams competing in TI this year. 
The list of teams that are competing at the TI10 EU West Qualifiers are:
Upper bracket
Team Nigma
Team Liquid
Tundra Esports
OG
Vikin.gg
Brame
Spider Pigz
Hellbear Smashers
Lower bracket
Ghost Frogs
Team Bald Reborn
Into The Breach
No Bounty Hunter
Chicken Fighters
Hippomaniacs
The roster for Level UP subsequently left the organization and has continued under a different name, "Spider Pigz". The teams "Ghost Frogs" and "Team Balf Reborn" will proceed from Round 2 of the Lower Bracket.
How to watch EU West Qualifiers for TI10
Fans will be able to watch all of the TI10 Regional Qualifier matches for free from within the Dota 2 game client. The EU West Qualifiers will also be broadcast on the Beyond The Summit Twitch channel and there will be simulcasts available for Chinese, Portuguese, and Spanish languages, too.
We've embedded the Twitch channel below for your viewing convenience.
Which of these Western European teams are you rooting for? Let us know what you think on Twitter by tweeting us at @NewsGinx and @GinxTV. 
Don't forget to check out our dedicated Dota 2 section, featuring more news, updates, and more.
Header image via Valve / Dota 2