Dying Light 2: Stay Human is a direct sequel to Techland's phenomenal action-horror game, Dying Light, released in 2015. The game is set 22 years after the events of Harran, in a fictional location called Villedore, a massive open-world set in Europe. 
The game takes the positive notions of its predecessor and delivers a nuanced gameplay system that becomes increasingly engaging as you progress through it.
Similarly to former Techland titles, Dying Light 2 offers weapon modification that players can use to get an advantage in battle. However, unlike previous entries, the present game's weapon modification system is more intricate and has a lot of dependencies related to your character's overall progress. 
To help you out, we have prepared a handy guide that shares details on how to install weapon mods whilst talking about the different types of mod sockets, mods, and other similar things in Dying Light 2.
How to install Weapon Mods in Dying Light 2
You can install the weapon mods via the player inventory. First, open the player inventory and hover on the weapon you want to install a mod.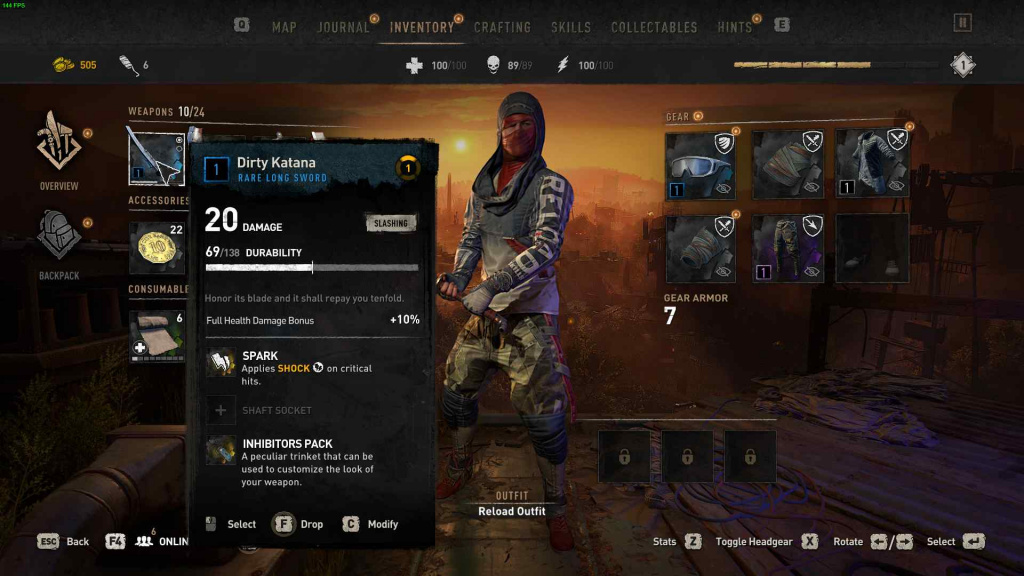 Then, press the below keys or buttons to open the Mod menu:
PC platform: C key 
PlayStation: Triangle button
Xbox: Y button
Once you are in the mod menu—depending on the weapon rarity, you will find the following mod and cosmetic sockets:
Tip socket
Shaft socket 
Grip socket 
Charm socket [Cosmetic socket]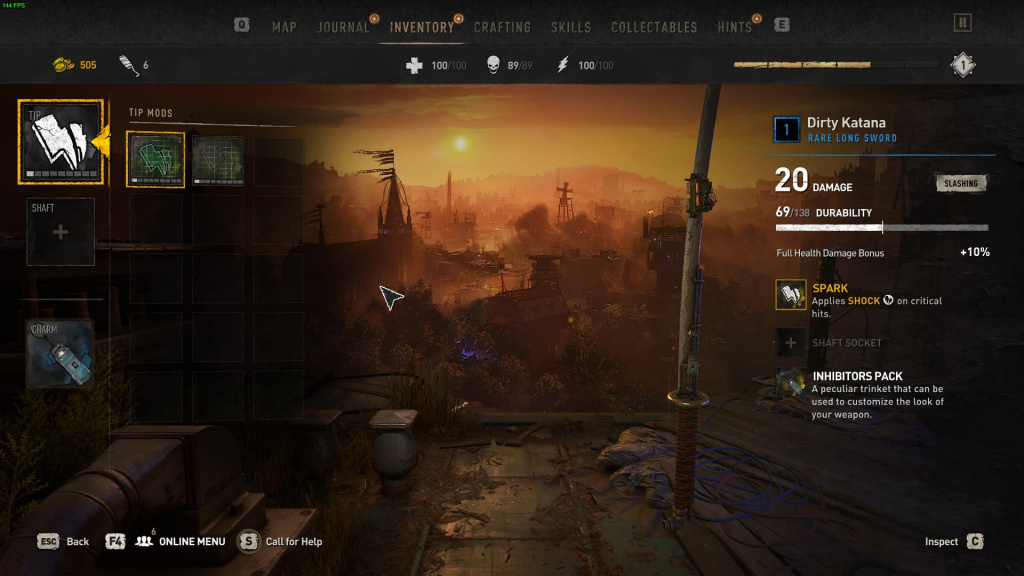 You can install weapon mods in the first three sockets. Meanwhile, the charm socket is used to give a more personal touch to your weapon using the different trinkets that you obtain in Dying Light 2 while exploring the city of Villedore.
To install mods in any weapon, hover on any of the sockets. You will get the list of mods you currently have under that particular socket category. Click the action button on any mod to apply it to your selected weapon.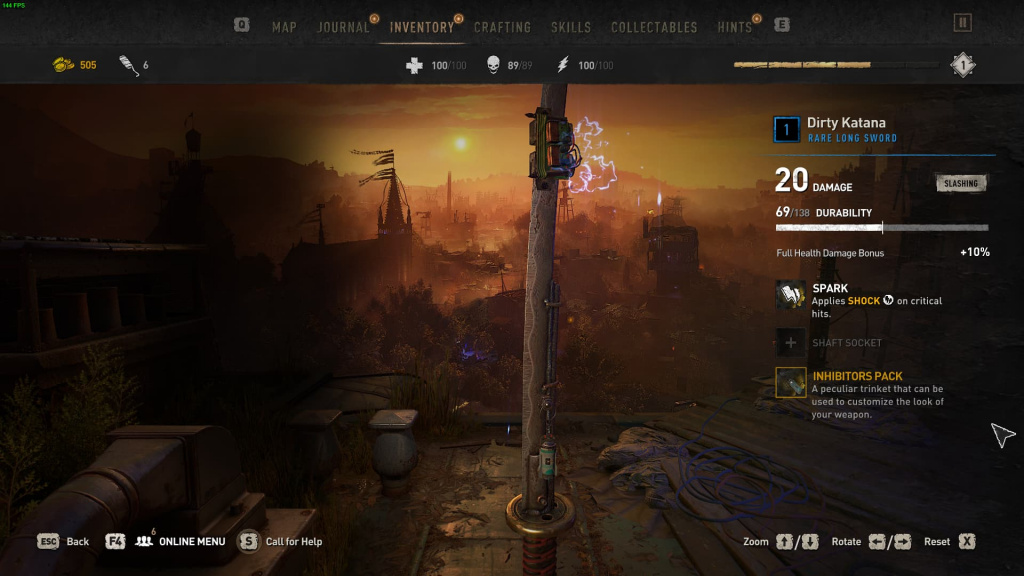 Keep in mind once you apply a weapon mod—you cannot remove it.
Dying Light 2: All Weapon Mod Types
Here are the different types of weapon mods that you will find throughout your Dying Light 2 journey: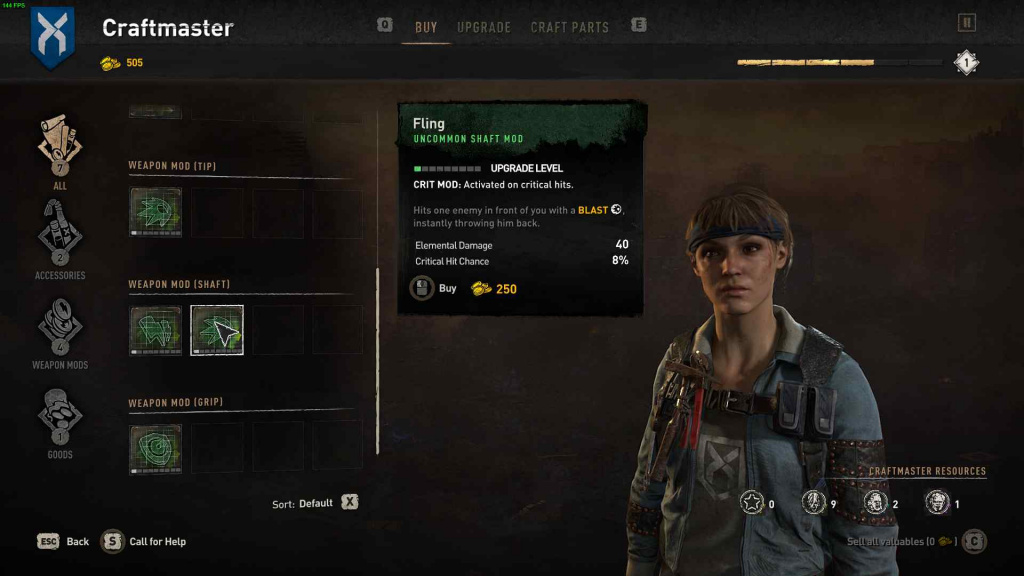 CRIT mods - Elemental mods that get activated with critical hits. [Triggers automatically]
Power mods - These types of mods charge when you perform any attack. Once fully charged, you can trigger a powerful attack by holding the attack button. [Manually triggered]
Blast mods - These types of mods charge overtime. Once fully charged, you can trigger a powerful attack by pressing the respective button combo. [Manually triggered]
Dying Light 2: All Element Types for Weapon Mods
Here are the various elements that you will find on the different types of weapon mods:
Fire: The classic mod that burns enemies over time and can even spread to nearby enemies
Shock: The classic shock mod that deals high damage that can even chain to other nearby enemies
Toxic: This mod stagger the enemies 
Freeze: This mod immobilizes the enemies
Bleed: This mod applies bleed status to enemies, dealing high damage over time
Blast: This mod forcefully knocks the enemies, giving you a window to unleash a series of attacks. 
Where to get new Weapon Mods in Dying Light 2?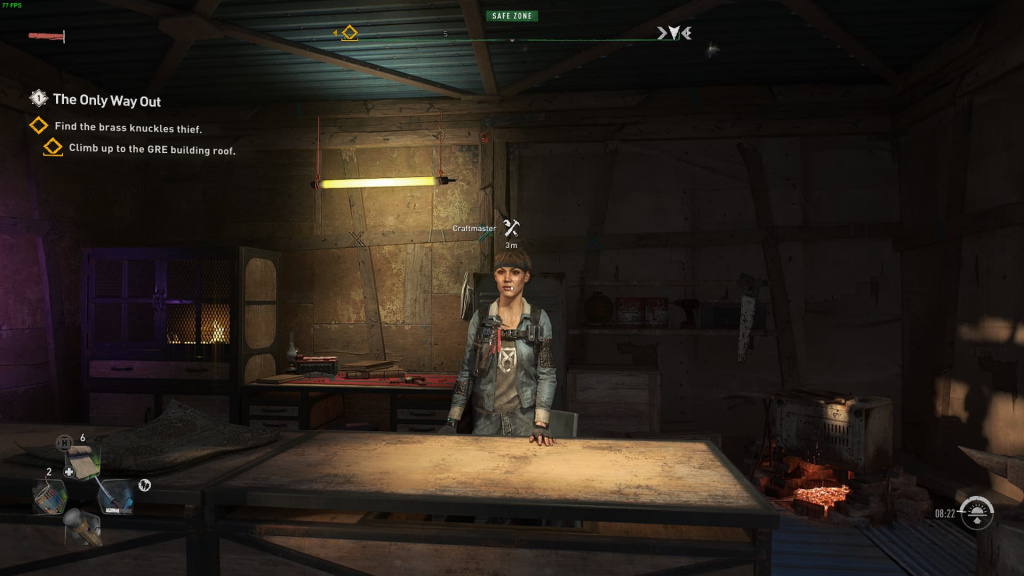 The best place to get weapon mods is to buy them using Old World Money from the Craftmaster NPCs. You can also get weapon mods by completing quests, scavenging, and doing side activities. 
Don't forget to check out our exclusive Dying Light 2 section for detailed guides, news, updates, and more.
Featured image courtesy of Techland.