Tarnished venturing into the Lands Between will likely "praise the sun" due to a new Elden Ring update which FromSoftware pushed out in the early hours of the morning on 2nd March 2022. While many are enjoying it, the game isn't without its issues, with Elden Ring PC gamers suffering from poor performance, and even PS5 users losing their save game after coming out of rest mode.
With the latest Elden Ring update (1.02.2) for PC and PS5 specifically, the patch notes feature some great news! Let's dive right in.
Elden Ring 2nd March update patch notes - All fixes
The Elden Ring update 1.02.2 patch notes should make those on PC and PS5 very happy. While not all performance issues on PC have been fixed, these are some great first steps. 
Interestingly, it appears that on PC, some graphics cards were not used by Elden Ring, causing poor performance. Check out the 1.02.2 patch notes released on 2nd March via the official Elden Ring Twitter account's tweet below.
Elden Ring PC fixes:
Fixed an issue where the graphics card was not being used, resulting in slow performance.
Fixed a bug that caused the game to quit under certain conditions during a battle with the Fire Giant.
Fixed other bugs.
Elden Ring PS5 fix:
Changes to save game progression even when the game is not terminated.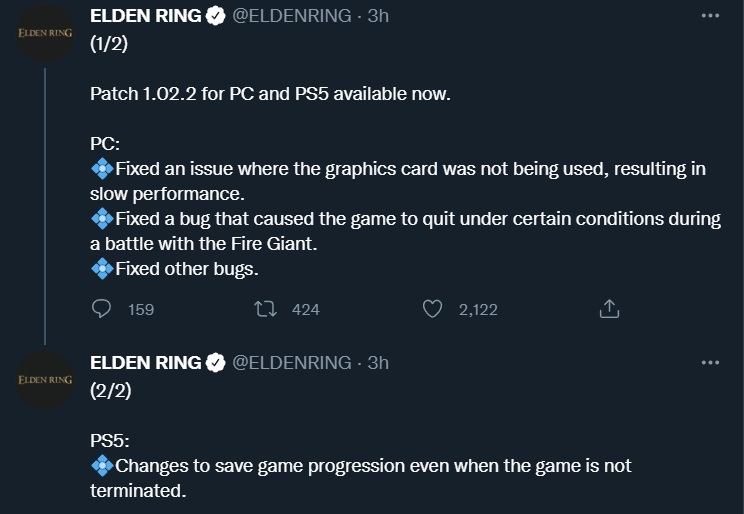 In case you missed it, check out the official patch notes for the main 1.02 update below.
Improved player controls.
Addition and adjustment of BGM.
Text adjustments.
Balance adjustments.
NPC event fixes and adjustments.
Fixed frame rate drops under certain conditions.
Fixed text bug in some languages.
Fixed a bug that prevented the Xbox wireless headset from working properly.
Below, you can also check out the Elden Ring 1.02.1 update notes as posted via the game's official Twitter account on 26th February.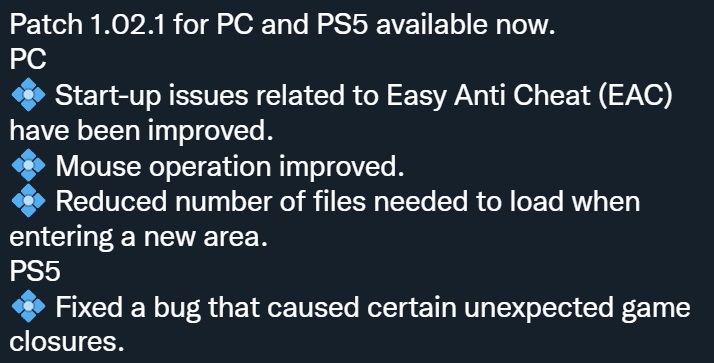 While not everything is perfect in the Lands Between, FromSoftware is clearly committed to squashing all Elden Ring issues as soon as possible. Despite some issues, the game is one of the highest-rated of all time, and well worth your time.
So there you have it, the full patch notes for the Elden Ring 1.02.2 update released in the early hours of the morning on 2nd March. Keep in mind that this update is just for those on PC and PlayStation, as they focus on specific issues the game has had on those platforms.
Don't forget to check out our ever-growing Elden Ring section, filled to the brim with guides, news, and much more.
Featured image courtesy of FromSoftware.