It has been a month of revelations for esports following the several women coming forward telling their stories of sexual harassment against them. One such instance involves now-former Method player Josh, accused by various people of sexual assault and soliciting nude images from minors, with co-founder Sascha Steffens outed soon after for predatory behaviour.

Pictured: Scott McMillan (left) and Josh (right).
The result of Josh's actions, in particular, led to Method completely falling apart. The World of Warcraft organisation lost partnerships, general manager Shanna Roberts stepped down from the role, and many players decided to bail as well.
Amidst this chaos, CEO and co-founder Scott McMillan addressed the situation in a Twitlonger explaining how he had failed the Method fans and the gaming community as a whole.
In the statement, Scott details how Method was made aware of a police investigation around Josh's alleged involvement with minors, explaining they believed everything the former healer of the guild said to prove his innocence.
"With each allegation, including the investigation, we believed Josh when he said, adamantly, all allegations were false and the truth would come out. He was able to convince management and the guild at the time that he was not guilty, which resulted in Method allowing him to remain in the guild while the investigation was undertaken. In truth we had our head in the sand. We believed Josh."
Soon after the investigation ended in April of this year, Method worked to reinstate Josh's Twitch channel, however, as the June allegations came to light, it was clear according to Scott, Josh's conduct had not changed in the slightest.  
"After we learned of the first account on June 24 there was no longer room for doubt, we had finally seen the full depth of his depravity; no excuses or justifications could be made for Josh's behaviour and we terminated him within the hour."
Read the entire statement below: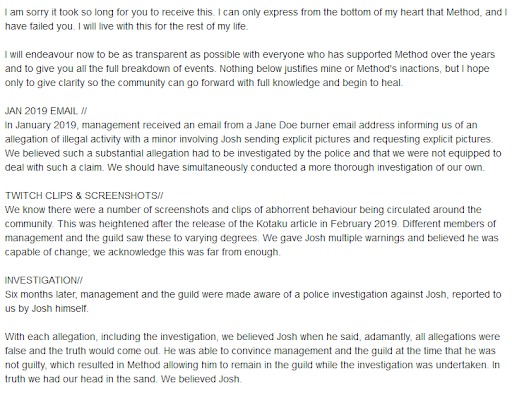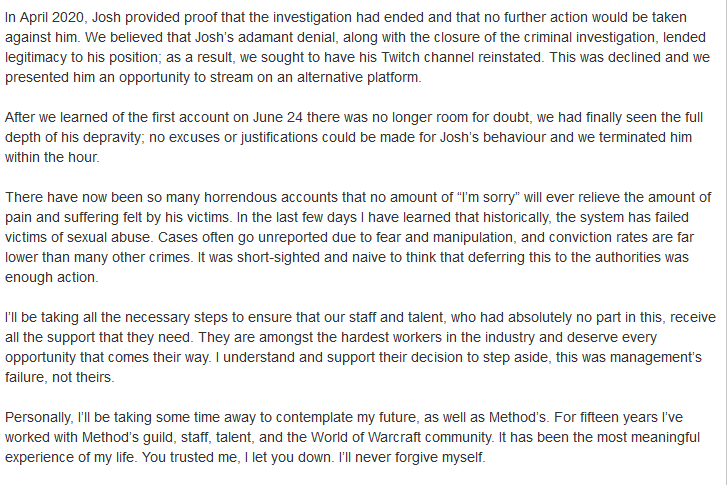 ​​​​(Credit: @Methodsco)
Method Josh sexual assault allegations
Several women came forward telling stories about Josh's conduct, with perhaps the most gruesome and harshest to read involving constant derogatory comments and sexual assault.
Streamer PooperNoodle posted a Twitlonger, in which she retells how Josh raped her while spending the night together at his apartment.
"He asks me if I like being choked, I didn't say anything at all and he said he can always get a girl to enjoy choking, as he puts his hands around my neck. I am pushing him away and turning around and facing away from him and he is trying to pull my pants down. Eventually, he pushed me over and climbed on top of me and forced his way in. This was the only part of the night that I screamed no. After a few minutes he pulls out and ejaculates onto my pijama top. He rolls over, I am crying and tell him I need a shower."
It is unclear what the future holds for Method as an org, but as it stands, it seems they won't have one, at all.