A few hours ago, an attack on the official Twitter account of Damwong Gaming KIA, champions of the LCK and Worlds 2020, was reported with explicit adult content being shared, which surprised and worried many fans of the Korean team.
At the time of writing, DWG staff have taken back control of the account, with the offending tweet deleted and removed from the account's "like" history.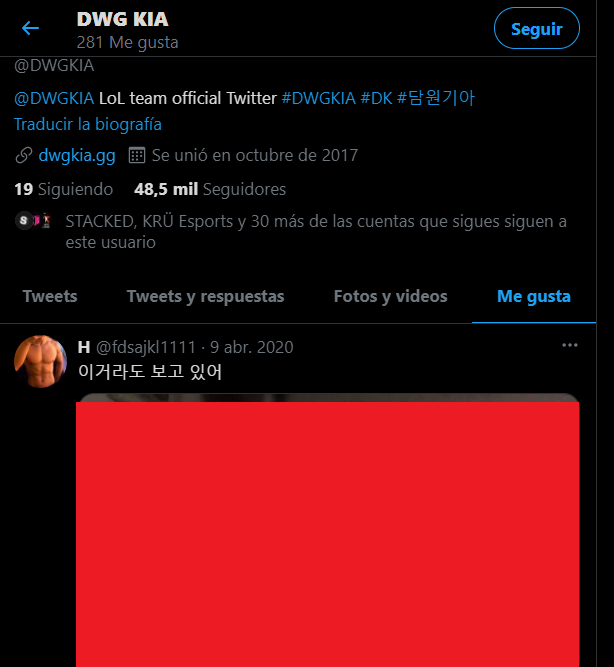 Damwon Gaming's Twitter account was taken over for a short time. (Picture: DWG KIA)
Although for now it's not known who was responsible for this, DWG KIA has already posted an apology for this unexpected attack, in addition to warning that they will go after the person responsible.
늦은 새벽에 심려 끼쳐 드려서 죄송합니다. 논란이 된 게시물 좋아요는 계정 해킹으로 판단되며, 오전에 관련 절차에 따라 사건 경위를 파악하고 내용을 공유하도록 하겠습니다.
해당 사건이 담당 직원의 잘못이 아닌 것으로 확인된 만큼 억측과 비난은 삼가해 주시기 바랍니다.

— DWG KIA (@DWGKIA) January 25, 2021
"We apologize for causing you trouble late in the morning. Like the controversial post, it is judged as account hacking, and we will follow the relevant procedures in the morning to determine the case for sharing the content."
The esports organisation also pleaded with fans to refrain from speculation and criticism as it has been confirmed the incident is not the fault of the staff in charge, while they also apologized for anything disturbing their fans could have seen.
DWG KIA, formerly known as Damwon Gaming, is a Korean League of Legends team Joining the LCK in 2018, the quickly established themselves as one of the best teams in the world. In 2020 they were crowned champions of the LCK and Worlds.