There has been a meteoric rise in esports betting over the past several years. Just like with regular sports, esports has its fans that want to bet on their favourite teams or players, and maybe even make some money out of their knowledge of a discipline.
We share our picks for the top seven esports betting websites to use in 2020 since seven is a lucky number.
Please note: Ginx.tv is not responsible for any losses incurred on these top esports betting websites. Further, you should always check if your country allows for online gambling before signing up. No persons under the age of 18 can sign up to these esports betting websites. Bet responsibly.
GG.BET
GG.BET is easily one of the top esports betting websites out there. It is, just like others on this list, safe and secure. However, GG.BET also offers esports-related news on its front page, has several titles and a tonne of matches to bet on, from Fortnite to Starcraft II, Dota 2, CS:GO, and PUBG.
There's signup bonuses, cashback promotions and a whole lot of esports to be found at GG.BET.
Pinnacle Esports
Pinnacle is, without a doubt, one of the best esports betting websites out there. It is, for the lack of a better term, the pinnacle of esports betting with a wide variety of titles to bet on.
You get your staples such as Dota 2 and CS:GO, or you can branch out into the likes of Hearthstone, Rainbow Six Siege, and World of Tanks. With low margins and high limits, there's nothing to complain about over at Pinnacle.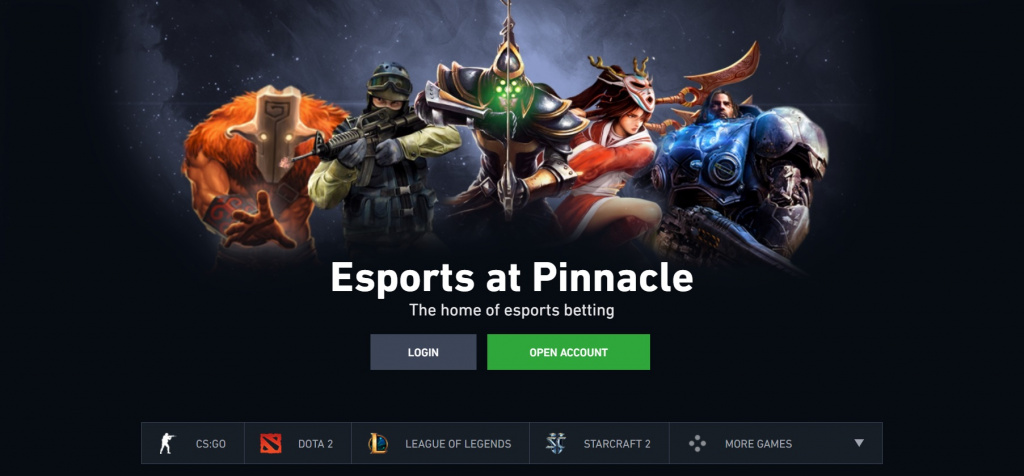 (Picture: Pinnacle Esports)
Bet365
Bet365 is a British online gambling company that has over 45 million users across the globe. The website is widely considered to be one of the best out there, and with a dedicated esports section, you can't go wrong.
You can wager on matches for the 365 days a year, as the site's name suggests. Titles that you can bet on each day include Dota 2, League of Legends, Overwatch, and CS:GO. However, some other titles are also covered, such as Rocket League, Starcraft II, and even Street Fighter V.
Arcanebet
Arcanebet is a sleek betting site where you can bet some money on a variety of sports and esports title. It is one of the easiest esports betting websites to use with a dedicated esports section covering the biggest titles.
There's a promo going allowing you to get up to $100 (depending on your deposit) extra with code "ARCANE100".
Betway
Established all the way back in 2006, Betway has been around for well over a decade. Betway is one of the most solid and safe betting websites out there and now has its own esports section.
You get a free signup bet and there are always new promotions going on. However, the esports titles are a bit limited, only supporting League of Legends, CS:GO, and Dota 2 right now.

(Picture: Betway)
NitrogenSports
While most other esports betting websites on this list isn't open to all countries across the globe, NitrogenSports is. You can sign up for an anonymous account and the only thing that you need to confirm is that you are above 18 years of age.
NitrogenSports does offer a wide variety of titles to bet on. The only currency supported on-site is Bitcoin, which lifts many of the restrictions one would normally have when betting with traditional currency.
William Hill
William Hill is one of the most renowned sports betting companies ever, dating back to 1934. The website has a variety of bonuses depending on your country, for example, there's a 25 Euro bonus bet for those living in the UK or Ireland.
William Hill has some of the most responsive live customer service chat and several esports titles to bet on, including League of Legends, Dota 2, CS:GO, and Hearthstone.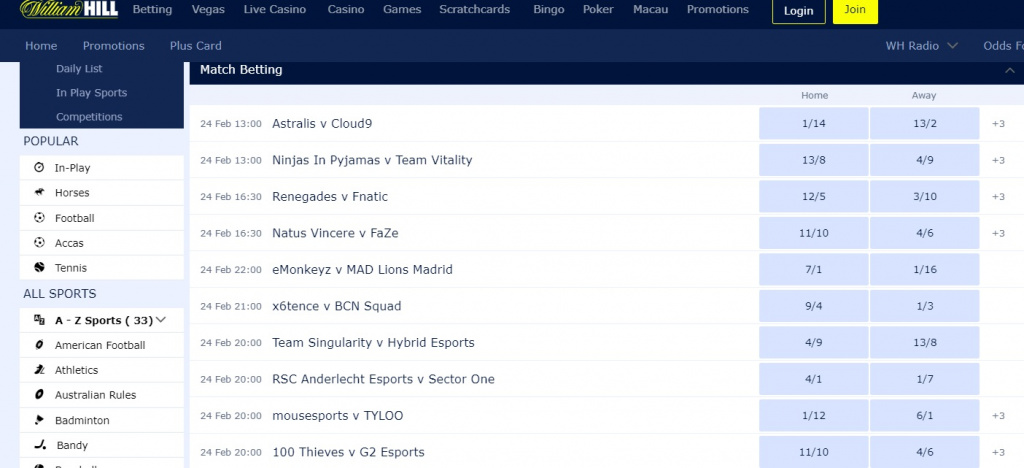 (Picture: William Hill)
Closing Thoughts
There are several other great esports betting websites to try, with honourable mentions going out to 888Sports, Betson, Betfair, 22Bet, Paddypower and Buff.Bet.
Always keep an eye out on new promotions before signing up to one of these websites to bolster your bankroll and happy betting! May the odds be in your favour. Enjoy responsibly.