On Monday 14th May, the United States Supreme Court ruled that the federal ban on state-sanctioned sports betting is henceforth unconstitutional and states can begin to make their own laws surrounding sports gambling, as told by USA Today.For a quarter of a century, only Nevada have had the rights to allow widespread sports betting, with $4.8bn being wagered on sports in Nevada bookmakers in 2017 according to Covers. With states such as New York and Pennsylvania expected to be the first to take action and legalise sports betting, the esports industry asks one question.
How does this concern esports?
This ruling inevitably means the expansion and growth of esports betting in the United States, with the industry growing at such a pace that most major bookies in the UK are now offering odds on major tournaments. 
Betway have even gone so far as to partner with popular Swedish organisation Ninjas in Pyjamas, creating content with their Counter-Strike team alongside the professional football players of West Ham United.
https://youtu.be/U0YBCj8qsgE Market research firm Eilers & Krejcik Gaming believe that by 2020, esports betting may generate $23bn revenue – and this estimation was made before any change in legislation, meaning we could see even more by the time 2020 rolls around. Meanwhile, Newzoo predicts that the esports industry itself may be worth $1.4bn by 2020, pennies in comparison to Eilers and Krejcik's predicted figures for esports betting.
Skins and in-game items are an important factor
Skins and in-game loot have, for the last few years, been a huge factor in gamer's experience of certain games.
Dota 2 and CS:GO have been the biggest markets for in-game skin betting, with Counter-Strike gun skins being anywhere from $0.17 for a generic skin to a Souvenir AWP Dragon Lore being
sold for $61,052.63
following Tyler "Skadoodle" Latham's inspiring performance at the Boston Major earlier this year.
Needless to say, the market for in-game cosmetics is not only existent, but very much thriving.
With more regulation and the correct promotion, we could expect to see these numbers begin to inflate – both in terms of the number of players involved in gambling and selling in-game items, as well as the prices attached to these items.
New investors could be a huge win for esports
The aforementioned partnership between Betway and Ninjas in Pyjamas may be just the start of the growing bond between esports and gambling.
With the potential legalisation of sports betting, we are bound to see more bookmakers looking to get involved as previously-unexplored opportunities arise to them. After all, sponsorship makes up
40% of the overall esports revenue stream
.
This may become noticeable in spaces such as the Overwatch League, which has been invested in heavily by multiple parties since its inception, the strong viewership and franchised, personalised team structure promising more familiar territory for potential investors.
Bryce Blum, founding partner of ESG Law, seems to think this may not work out as easy as expected though, as reported by Forbes. "The publishers that have historically prevented any affiliation with gambling are extremely brand conscious, and I don't see this decision as changing their viewpoint on gambling more generally. That being said, the most prominent harms associated with gambling – threats to competitive integrity, addiction and underage gambling – are all exacerbated when league operators choose not to be involved in the potential solutions."
The issues around skin betting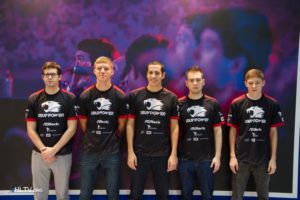 In 2016, we saw lawsuits filed against popular skin gambling sites CSGO Lotto, CSGO Lounge and CSGO Diamonds, suits which Valve were dragged into as being "complicit in creating, sustaining and facilitating the market". 
Valve responded by issuing cease-and-desists against the sites and denying any affiliation with the activity.
Furthermore, this increases the possibility of issues such as match-fixing – a topic that esports has a colourful past with, such as the case surrounding iBUYPOWER in 2015, in which multiple members of the iBP CS:GO team bet against themselves and lost a match which they were heavy favourites to win. However, under current circumstances, we may even begin to see Valve implement their own in-game loot betting in a controlled manner, allowing players of their two major games – CS:GO and Dota 2 – to gamble with their skins responsibly. Offering the market safe ways of gambling, both with skins and real money, Valve can capitalise and benefit from a market that already clearly exists through their own games.
Looking at the bigger picture
It's hard to say to what extent this is a step forward (or backwards) for esports. There is no doubting the potential economic uplift that esports could benefit from as a result of this ruling but in an industry still in its infancy, we may see more juvenile cases of illegal gambling and shady sites operating within the space than ever before.