FaZe Clan's COO and Head of Bro-perations Richard "Banks" Bengston has come under fire for a statement he made regarding "censorship" on social media after Twitter flagged posts by President Donald Trump as "misleading".
Accused of a seriously "bad take" and indulging in the slippery slope fallacy, Banks claimed that users on Twitter, Facebook and any other major social media platform should be protected by The First Amendment which "protects freedom of speech, the press, assembly, and the right to petition the Government for a redress of grievances," with Banks likening social media platforms to a utility.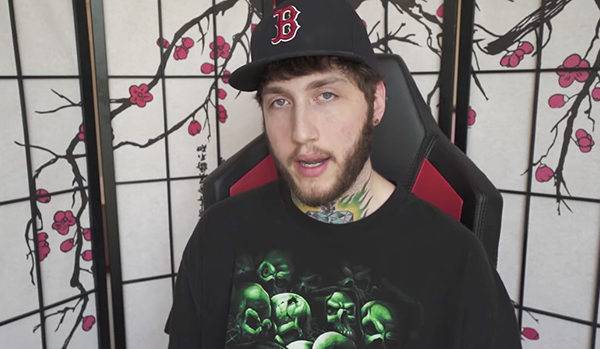 Banks faces criticism after taking issue with Twitter's efforts to stop the spread of false information. (Picture: Getty)
In a statement he put out on the morning after the votes were cast, Banks accused anyone who claims Twitter weren't biased in their decision to flag some of Trump's post-election tweets, in which the President claimed, without merit or any evidence, that the Democrat's were trying to "steal" his bid for re-election, were "being dishonest."
Censorship, the first amendment. Too much to type, but this shit is fkn important and extremely dangerous. I'm not cool with it and neither should you be. @Twitter@jack@YouTubepic.twitter.com/j4rtQy0fPz

— FaZe Banks (@Banks) November 4, 2020
"It's terrifying. It's a total and complete violation of the first amendment," said Banks without a hint of irony.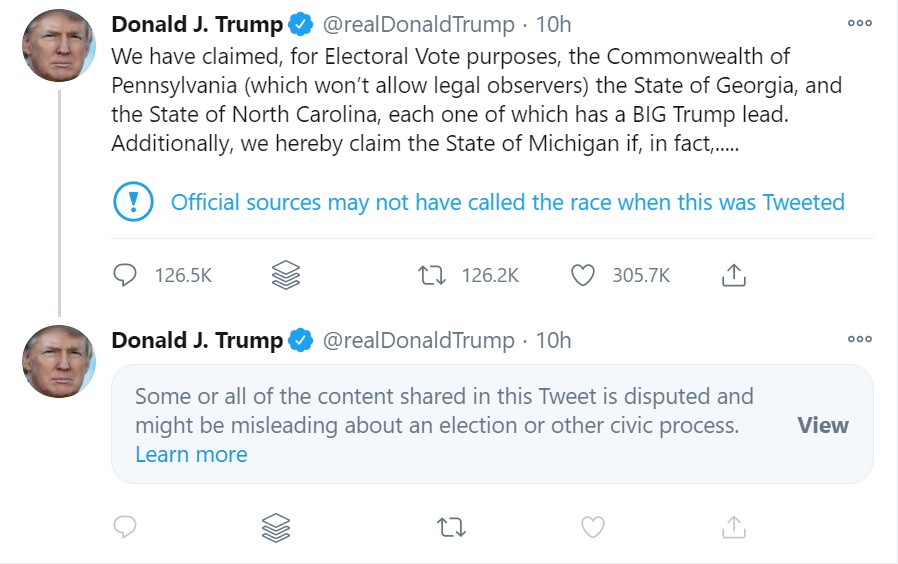 Efforts were made to stop the spread of false information following polling day. (Picture: Twitter)
He then goes on to state that he doesn't think places like "YouTube and Twitter should be allowed to censor people as often as they don't align with or believe in what the executives that operate them do."
Claiming that the best defence for "dumb ideas/ speech" is to combat it with "better ideas/ speech" he finishes by chiding anyone who doesn't agree with him as being a "huge part of the problem."
"This shit is fkn dangerous (sic)."
His comments received almost unanimously critical replies with many pointing out that Trump's tweets weren't censored but simply fact-checked with a warning added.
Censoring and marking things as misinformation are too very different things my man. You don't get to have a powerful platform like that and spew lies to millions of people

— picolas cage (@alexpicciarelli) November 4, 2020
the best defense for dumb ideas/speech is better ideas/speech **only** when those dumb ideas aren't harmful — as his are. good on twitter for *marking* not censoring, his radical ideas as being misleading. he wants to spread conspiracy he can do it on his own platform.

— Adam Kudeimati (@adamkudeimati) November 4, 2020
Banks though didn't back down from his comments stating it is less the flagging and more about who decides which information should be flagged.
And you're ok with Twitter being the determining factor of what's harmful and what's not? That is an opinion (which I also share) but an opinion nonetheless. Imagine if it was the other way around? You're short sited and this will at some point affect everyone. Trust me.

— FaZe Banks (@Banks) November 4, 2020
Banks was further accused of engaging in the "slipping slope fallacy" where someone argues that because one thing happened a more extreme hypothetical will surely follow.
Social media and news outlets have been been on high-alert in the hours and days after polling day with advanced warning, from Trump himself, that he would claim the Democrat's were attempting to fraudulently get to the White House. There are fears that a disputed result could lead to violence.
NBC News and MSNBC both cut away from the speech Trump made on Tuesday night where he claimed he "won the election."
Twitter and Facebook have made efforts to add warnings to posts which are spreading false information. The calls for social media companies to do more to stop the spread of false information was has grown steadily of the years but have only grown since Trump was first elected President in 2016.
Whether Bank's idea to allow anyone to post anything on social media is a "dumb idea/ speech" or a "better idea/ speech" is up to you to decide, but there is a good ending to this story, at least if your Banks, with the FaZe Clan man claiming he voted for Biden and he would be "happy" to see him when - which looks like it will be happening soon with the Democratic candidate just four Electoral College votes from securing the 270 he needs to win.