In a week where podcaster Joe Rogan deemed video games a waste of time, 22-year-old James Baldwin is living proof the medium can help achieve your childhood dreams. 
After go-karting for eight years, Baldwin moved up to Formula Ford aged 16 like many prospective Formula One drivers. He was forced to drop out however after six months due to the common barrier of dwindling finances in an incredibly expensive industry. 
As he turned to engineering as a possible new career, he picked up a racing simulator on sale in 2017 and began entering competitions as a casual hobby, which gave him back the "racing buzz" he missed.
"I've always wanted to be a racing driver since the age of four when I first watched Formula One," Baldwin told GINX Esports TV. "I didn't really take gaming seriously. I didn't know it was actually a thing until three years ago, then I started seeing there's pro Call of Duty players and FIFA players.
"I thought, if Call of Duty and FIFA players can do it, and the racing industry is growing, I might as well put my eggs in this basket and hopefully it'll pay off."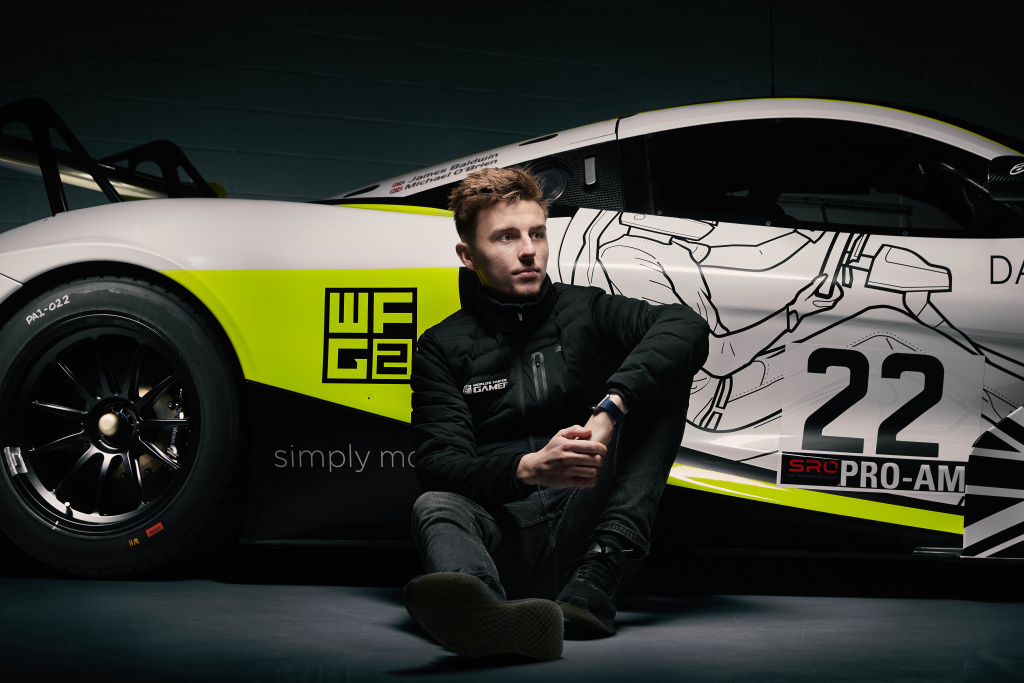 James Baldwin is set for his British GT debut this weekend (Picture: WFG) 
Baldwin's move into racing esports happened at a turning point in the scene's popularity. The Formula One Esports Series was established in 2017, providing a connection between the video game's community of players and the official organisation. 
This helped contribute to a boom in esports racing over recent years, with games like Forza and Project CARS establishing their own championship competitions, while big name organisations like Red Bull have also thrown financial backing and interest behind the industry. 
Baldwin initially entered esport competitions to fill the void of not racing in real-life, but he went onto achieve huge success - being signed by Veloce Esports, Alfa Romeo F1 Esports and most recently McLaren Shadow. He's also won eROC (Race of Champions) twice, which combines both racing in esports and on the track against professional drivers. 
The World's Fastest Gamer competition, which sees 10 selected sim racers compete in two weeks of challenges across multiple racing games, gave Baldwin the platform he needed to get back onto the real track. The prize, valued at over $1 million, is the chance to compete in the British GT Championship in Jenson Button's team Jenson Team Rocket (JTR), which he's now set to start after winning the title last year. 
The COVID-19 pandemic however has been an inevitable obstacle, albeit with some surprise benefits. While he should have competed in three GT events this year already, he'll now race in six major GT events over the originally planned five in a revised schedule - starting with the 2020 Intelligent Money British GT Championship in Oulton Park, Cheshire on 1st August. 
It's been a particularly long wait after test-driving a McLaren 720S GT3 car back in March, with months in lockdown since dedicated to physical fitness and practising on simulators. 
"I feel very prepared," Baldwin says. "It feels like the longest year of my life for some reason - the same for everyone I suppose.
"We had the car test back in March where I did 20 laps, and that feels ages ago. With that test, I struggled in certain areas physically to drive the car as well as other professional drivers, so I've been focusing on various areas to make sure I'm on that level. 
"Primarily my left leg - I couldn't really hit the brake pedal with the same force as some of the pros, so I've basically got a bit more muscle on me now which should hopefully bode well."
How much his career with simulators has prepared him for real driving is the obvious question, and while acknowledging his prior history with karting, Baldwin believes they've taught him an enormous amount about competing in real races. 
"If I'd just jumped from the karting and the Formula Ford into the car I'm driving this year, I don't think I'd be that good to be honest," Baldwin says. 
"The sims have taught me a lot in various areas, not just driving - how to set up a car, how to adapt to different conditions, how to deal with pressure. I'm a much better driver now than I was before because of sim racing."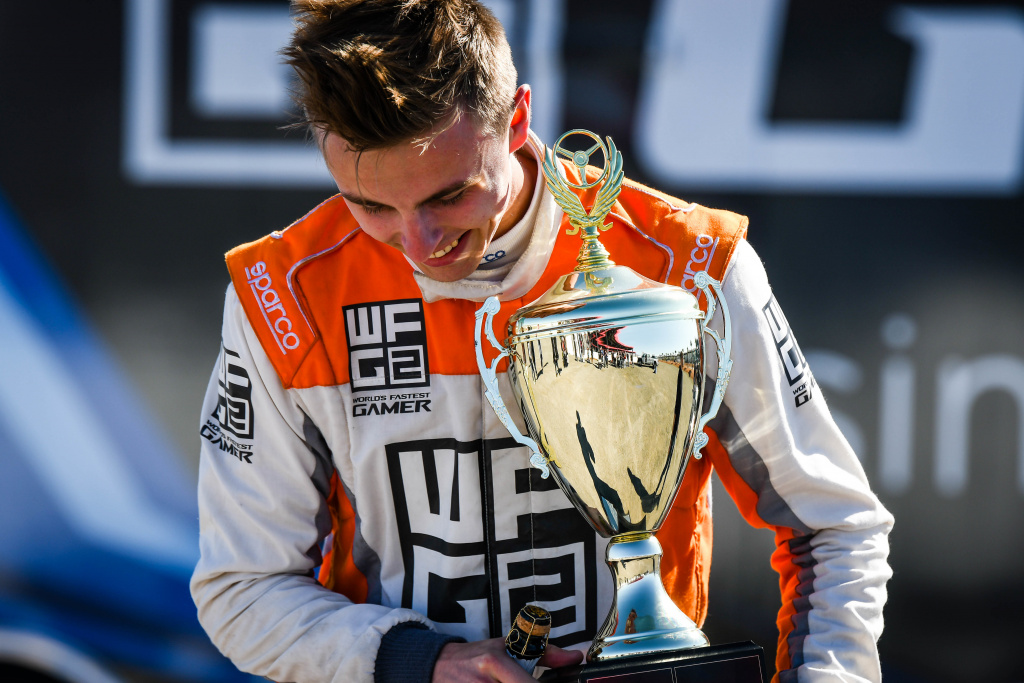 James Baldwin won last year's World's Fastest Gamer (Picture: WFG) 
He does however appreciate the differences in jumping from sims to real cars, adding: "The way you drive a sim is slightly different and the mentality is different slighty. One is a sim and one is a car, you can't get away from that. 
"The thing that got me on pace in the sim is practise - I think that goes for everyone. No one jumps on a sim and is amazing the first time they get on it. They have to put in a lot of time and dedication."
Baldwin isn't the first to make the transition from gamer to real-life racer. GT Academy, established in 2011 by Nissan and Sony Interactive Entertainment, created the first pathway via Gran Turismo - with their most noted success, Jann Mardenborough, 28, now a racing driver competing in the Japanese Super GT series. 
Rudy Van Buren from the Netherlands also won World's Fastest Gamer prior to Baldwin, and started his first full season this year competing in the Porsche Carrera Cup in Germany. 
Baldwin doesn't plan to leave sim racing behind though, competing in this year's Formula One Esports Series despite the tight schedule with his GT commitments. For him, his pathway from gaming is a badge of honour rather than a potential stigma to overcome. 

Baldwin is on Jenson Button's McLaren team (Picture: WFG) 
"I don't want to shake off the gaming thing, I like it," Baldwin says. "I think a lot of people in the past have laughed, some drivers see gaming and maybe have a little bit of fear - they realise how good the sims can make you. I want to keep it.
"I just want to get the status of a good racing driver that's proven and has raced for a few years. I don't want to be a prize winner which at the moment I am. But it's an opportunity, not a prize."
Discussing players who have made this transition, Baldwin is aiming for an even higher trajectory, adding: "I still think someone can do more and go further; someone can be a gamer and go to be one of the best racing drivers in the world. That would be amazing.
"So I guess that's what I'm trying to do. If I don't, I'm sure someone will in the future."
You can watch James Baldwin compete in the Intelligent Money British GT Championship at Oulton Park across Saturday 1st August and Sunday 2nd August. The series will be streamed live on British GT's website.