French organisation TrainHard Esports announced it was "closing its doors" on 28th June 2021.
The announcement comes to the surprise of plenty, amassing over 100,000 followers across their media platforms.
"After many years in esports and unforgettable moments, it's time for us to let go mostly because of economical reasons", their statement offered as explanation.
Whilst the interactions pile up for both the English and French announcements, both tweets have been set to followed-or-mentioned reply only mode.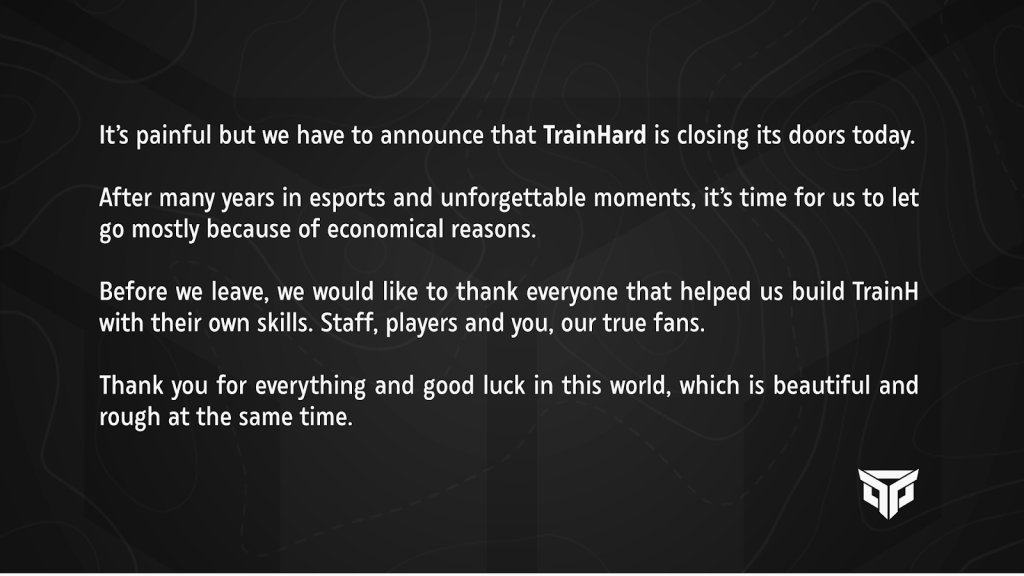 (Picture: @TrainHard/Twitter)
"We would like to thank everyone that helped us build TrainH with their own skills. Staff, players and you, our true fans."
Founded in 2016, the French org ran teams in Rainbow Six Siege, Call of Duty, Rocket League and Fortnite; the latter of which brought them the biggest bag.
Despite accumulating around $350,000 during their existence according to EsportsEarnings, TrainHard is shutting down most likely due to the well-known meta of orgs not taking big, if any, cuts from the prize pools.
The announcement makes all their rosters across all titles free agents effective immediately. Here at GINX, we wish the staff and pros the best in their future endeavours.