From witnessing legendary moments in the server to the visible emotion on the faces of players in the aftermath of victory or defeat, the visuals of esports exist in numerous forms.
One of the most underappreciated areas of esports are those armed with cameras who capture the moments we would not get to see otherwise.
Last year's Esports Photographer of the Year winner at the Esports Awards was not broadcast on stream and was one of just three left out of the live show alongside Breakthrough Game of the Year and Live Event of the Year. This meant Stephanie "Vexanie" Lindgren, the photographer of this article's featured image, wasn't able to be celebrated or have work showcased in front of the live and viewing audiences while categories much looser in their esports connection such as Cosplayer of the Year were still included.
Scene synergy
Finding images as a writer or content creator while wanting to provide credit can sometimes be a minefield, especially for Counter-Strike: Global Offensive.
Every single outlet knows not to use images from HLTV.org despite it being an unmatched source of historic and iconic imagery from CS:GO's history. Photographers that work DreamHack events are familiar names to many as their photos are a vital resource for writers looking for images.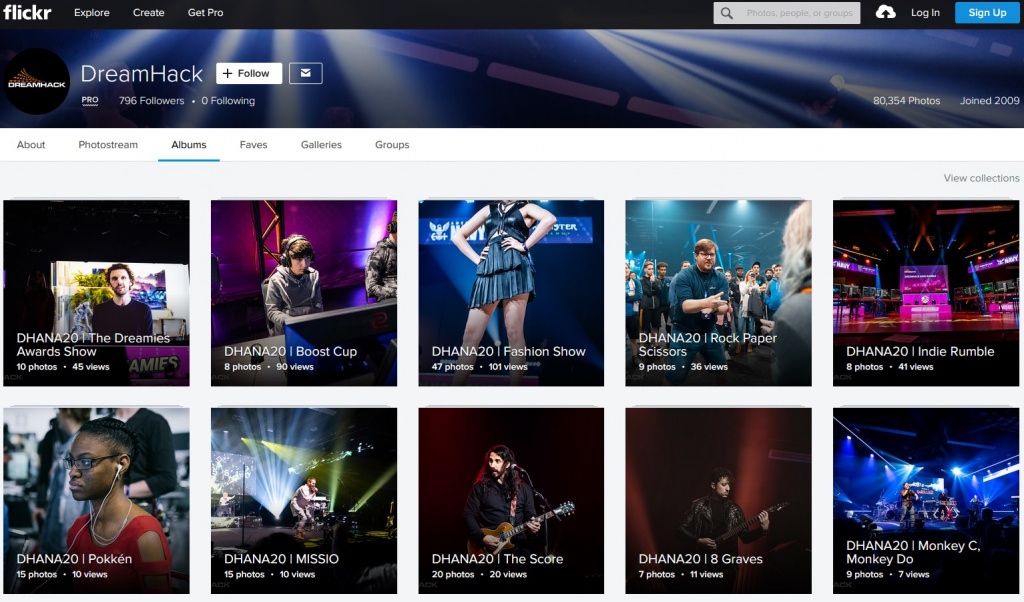 Being able to use these images is a godsend but not every outlet provides credit. While some websites simply don't have captions as a built-in feature, others don't see credit as part of their writing habits or routine. Many simply don't care or value images and will use whatever they can find to push an article out.
Players may use an image as their profile picture or share it on social media with no attribution. This makes it hard for others to know if it was taken by a team photographer, event photographer or freelancer.
While a current trend for those in esports is a 'challenge' to share their favourite images is a positive at a time where the future of multiple LAN tournaments is unknown due to the coronavirus outbreak, this once again sees the majority share content without credit.
Social spread
Igor Bezborodov is an esports photographer and commentator for StarLadder and was the primary photographer throughout the StarLadder Berlin Major 2019. A collection of images showing G2 Esports' Kenny "kennyS" Schrub being comforted by friend and former teammate Dan "apEX" Madesclaire were some of the most memorable and powerful from the event.
The images were naturally reshared across multiple platforms without credit despite the source being easy to find. Fans not in the media space might not understand how important linking back to the original photographers is but it is a particularly rough deal for freelancers who aren't necessarily paid to cover events like those working directly for organisations are. 
Often, when players share photographs on their personal social media without credit, smaller photographers feel powerless to gain recognition or request for their own post to be retweeted or a line of credit given to the image as they lack the contacts or reputation to get in contact.
I had one of my pics used by a player whom I won't name and I couldn't even contact them to get it credited :/

— Jackson 📸 (@JacksonLeibach) October 22, 2019
When initially shared, Nick "nitr0" Cannella uploaded this image with just the caption before adding credit to photographer Jamie "PalmtopPitbull" Wert after a series of Tweets and a comment on the image itself and it is clear players aren't failing to acknowledge photographers deliberately nor maliciously. The proof of that is on all Team Liquid players' social media.
Access some areas
Considering the volume of press and the difficulty in tracking or regulating photographers, it is understandable why many large tournament organisers will not hand out accreditation for events to those calling themselves photographers with no outlet. Freelance photographers often unite with writers at events in order to have an outlet vouch for them and enable them to get much needed experience.
Looking to work more esports events in the coming weeks. If any team/TO/sponsor/publication needs a photographer for these upcoming events, hmu in my DMs!

- CDL London
- IEM Katowice
- Starladder Dota2 Minor
- PGS: Berlin - EU Finals

my portfolio: https://t.co/vvblod0Jcb pic.twitter.com/FfJLVcAuAp

— Dom. (@domphoto_) January 29, 2020
Other photographers write in order to gain media access and use this to get photos they need while using the money earned from doing interviews to cover costs.
While esports is open and allows this, it raises questions as to whether the lack of stringent rules, requirements and standards is still the best approach as esports continues to mature as an industry.
There are some that use media as a glorified VIP pass to access professional players for selfies and personal bragging rights, but how can people who not only lack training but are also not actually journalists or interviewers worried about professionalism or reputation in that area be expected to naturally behave or adhere to the same ideas and norms?
Photographers, like new writers, deserve a way into the industry to grow and learn but the channel of general press can naturally lead to some issues of its own in the scene. An event shouldn't have dozens of people using the label of 'photographer' to go to events for free but the same can be said for those who label themselves interviewers without actually producing that content either.
Climate
At a time where esports events are going online and there is no set end in sight, the climate is harsh for photographers needing to pay bills and get their names out there.
Compared to other industries, esports photographers are often expected to provide all of their photos immediately, making it difficult to go through the sorting and editing process when working for weekends or entire weeks at a time with very little downtime.
When LAN events fully return, it would be good to see more appreciation for the things that are missed during online tournaments. Those that work behind the scenes that are often overlooked or forgotten will be as important as ever after a time that will have been undoubtedly tough for those with livelihoods tied to events.
Photographers have provided the scene with some of the most iconic images that capture the essence of key parts of esports history and giving credit and celebrating them is the least everyone could do.