Ultimate Gamer has announced the Ultimate Gamer Worldwide Open, a free global competition to crown someone the greatest gamer on the planet. 
The Ultimate Gamer Worldwide Open will start on 1st March 2021 and span several months of competition. To win a share of the $1 million prize pool, players will have to compete in at least six different games across multiple genres, with choices including League of Legends, Rainbow Six Siege, Call of Duty Warzone, Madden 21, Fortnite, NBA 2K21, Valorant, and Tekken. 
Each player's ranking in each game will be added together and then divided by the total number of games to determine their final score. 
All two hundred competitors will receive a chunk of the prize pool too, with the winner taking $300,000 and the runner up $150,000. 
You can sign up for the Ultimate Gamer Worldwide Open through the Ultimate Gamer Arena.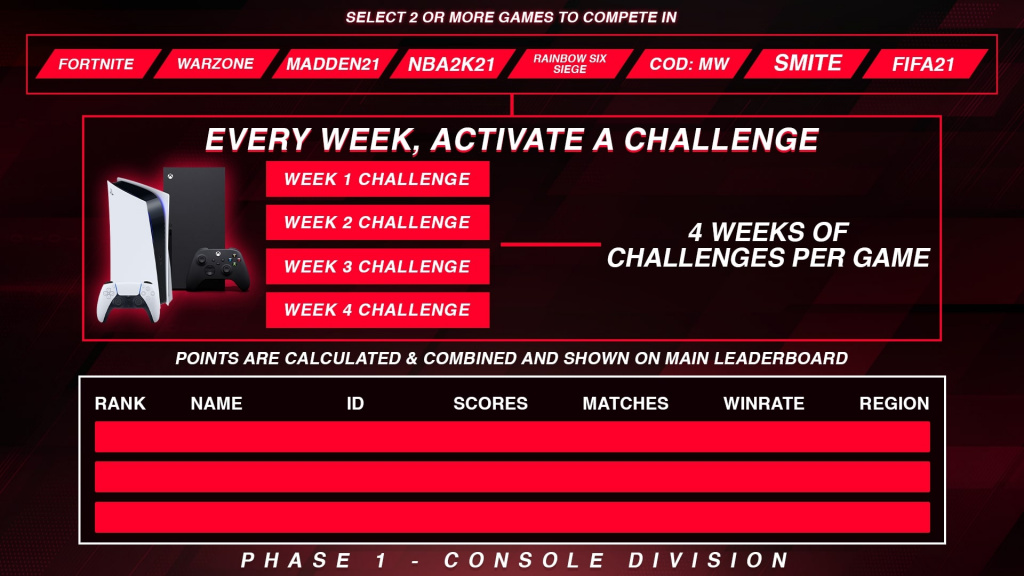 There will be a console and PC phase (Picture: Ultimate Gamer) 
Ultimate Gamer CEO Steve Suarez said: "At Ultimate Gamer, it's our mission to give everyday gamers who are normally not supported a place to test their skills in a variety of titles, play against gamers from all over the world, and celebrate gaming on the largest scale possible.
"I'm proud to be building one of the world's largest and most inclusive gaming communities, completely agnostic of whether you play on PC, console, or mobile, or whether you like sports, MOBA, Fighting, or FPS games. If you want to find like-minded people, or just want to play for the love of gaming, Ultimate Gamer is where you need to be."
Before the Ultimate Gamer Worldwide Open, organisers will also be running the Ultimate Gamer Champion Series kicking off on 20th February. The first challenge will be in Call of Duty: Warzone with content creator Hollywood TW, with registered players, for a $10 entry fee, able to compete for the $5,000 prize pool and the chance to be seeded into Phase II for the Worldwide Open. 
You can find more information about both competitions on the Ultimate Gamer website.