EA Sports is trying to reward the most dedicated FIFA Ultimate Team players and has recently announced the FGS Player Swap Tokens for those that tune in to the FIFA Global Series of tournaments.
Introducing the FIFA Global Series Swaps!

🔗 Link your EA and Twitch accounts
👀 Watch an eligible #FGS21 tournament for at least 1⃣ hour
📥 Receive an FGS Player Token
♻️ Redeem tokens for #FUT rewards.

Details ➡️ https://t.co/5XbVOHXimHpic.twitter.com/2wD8ODTV8I

— EA FIFA esports (@EAFIFAesports) October 26, 2020
"The FIFA Global Series Swaps will offer one guaranteed FGS Player Token Item during each eligible event to a viewer who watches 60 or more minutes of that event. Once you earn at least two separate tokens from two separate events, you can then redeem your FGS Player token items for pack rewards in repeatable SBCs," EA Sports mentioned in a blog post. 
FIFA 21 FGS - SCHEDULE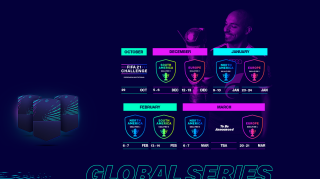 (Photo: EA Sports)
The FIFA 21 FGS is being broken down into regional tournaments this time around, and we got all the official dates and streams down below for you to check out:
FIFA 21 FGS - How to get rewards
Here's a quick rundown on how to link your Twitch and EA accounts to start earning Tokens.
Link your Twitch and EA accounts on ea.com/twitchlinking.

Watch an eligible FIFA 21 Global Series Event on Twitch for at least 60 minutes
Receive an FGS Player Token Item in-game 
Tune into more eligible events to earn more FGS Player Token items. You can earn only one FGS Player Token Item per eligible event. 
Redeem your FGS Player Token items in-game for FGS Pack Rewards.
The Repeatable Pack Rewards & Player Token Requirements for FGS Swaps 1 are:
2 Tokens: Premium Gold Pack
3 Tokens: Prime Electrum Players Pack
4 Tokens: Mega Pack
5 Tokens: Jumbo Rare Players Pack
We'll give you more info of the FGS Swaps 2 when EA Sports reveals it.
Want all the latest FUT and FIFA 21 info? Follow us one our dedicated FIFA 21 Twitter so you don't miss a thing!