EA Sports is trying to keep the FIFA Ultimate Team experience fresh for veteran players while enticing those on the fence to jump into the frantic world of card collecting and squad building in FIFA 21, unveiling the new Rulebreakers card as a result.
Described as cards for players that "leave behind their previous styles of play and transform into different kinds of stars with game-changing stat updates," these brand-new special cards will definitely be highly sought after by the community.
We've had multiple Rulebreakers SBCs already, with the last one featuring Mainz's CDM Pierre Kunde Malong, and now players have the opportunity to earn Anderson Talisca's card, an attacking midfielder playing for Chinese club Guangzhou Evergrande.
Let's take a look at the requirements and cheap solutions for the Anderson Talisca Rulebreakers SBC with the help of FUTBIN.
Anderson Talisca Rulebreakers SBC - How to get
First off, this is not a cheap SBC to complete, as one of the requirements dictates players build up a squad with a minimum rating of 85. At the moment, the cost of creating this team will see you spend somewhere between 61,000 and 69,000 Coins.
This is the list of full requirements:
Number of players from Brazil: Min 1
Squad Rating: Min 85
Team Chemistry: Min 60
Number of players in the Squad: 11
Now, let's take a look at the cheapest option for completing this challenge:
(Photo: FUTBIN)
Anderson Talisca Rulebreakers SBC - Stats
As you can see, Anderson Talisca hits all the right notes you want to see in a CAM. Great speed, quick on his feet, impressive shooting, and finishing as well, making this an amazing card.
The huge problem for many will be the fact that he plays for a Chinese team, making stats like chemistry hard to acquire with him on the pitch, and players would want to look elsewhere if this is a major turn off for them.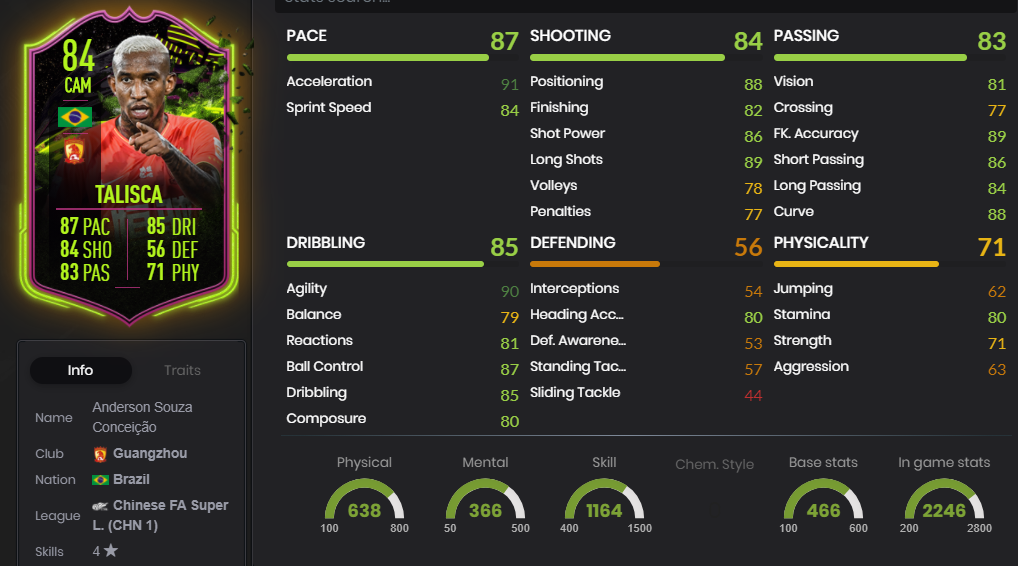 (Photo: FUTBIN)
Want all the latest FUT and FIFA 21 info? Follow us one our dedicated FIFA 21 Twitter so you don't miss a thing!