It's been a fantastic season thus far in Ultimate Team as FIFA 22 has delivered so much content for players to enjoy. The world's favourite game mode allows for users to build out their fantasy squads and play as that team en route to raising trophies.
Ultimate Team has become famous for exciting promos in recent years, dropping boosted player cards into the game mode for users to spice up their squads. Promotion events can feature based on stellar individual performances, major world football competitions, as well as Ultimate Team landmarks.
The latest promotion celebrates the inception of Ultimate Team as the game mode is now in its 13th year. Free unlocks are on the table, so here's everything you need to know about the FIFA 22 FUT Birthday Swaps including how to get the rewards.
FUT Birthday Swaps & Rewards - FIFA 22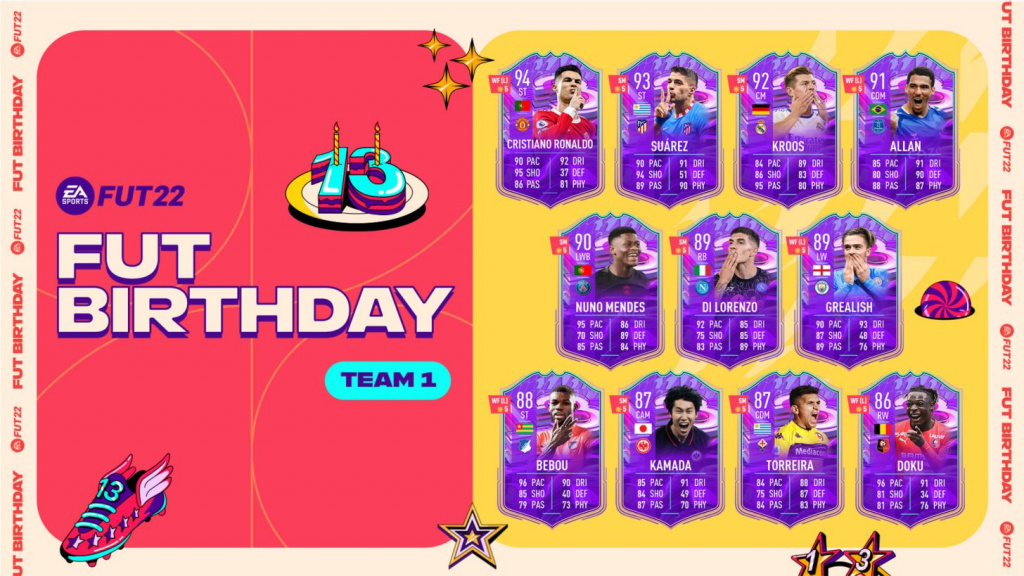 FIFA 22 FUT Birthday features tons of boosted content for Ultimate Team players and squads of all levels. Two official FUT Birthday teams will feature over the two-week period and will be available for unlocking in packs before trading on the FUT Transfer Market.
On top of the official teams, more FUT Birthday players will be available for unlocking via SBC and Objectives challenges, so it's not all down to pack luck. Though FUT 22 Birthday features an additional rewards program for players willing to grind out the challenges, check out the details on the FIFA 22 FUT Birthday Swaps.
FUT Birthday Swaps
FIFA 22 FUT Birthday Swaps allows players to earn tokens that can later be exchanged for exclusive rewards. There are 24 tokens total available for unlocking in a multitude of ways ensuring players will have a chance at the awesome FUT Birthday gifts.
The first FUT Birthday Swaps token is available for unlocking by simply logging in to Ultimate Team between 4th-18th March. Most of the remaining FUT Birthday Swaps tokens will be made available across various Squad Building Challenges and Objectives challenges, as well as one additional token offered in a pack in the FUT Store during the FUT Birthday campaign.
FUT Birthday Swaps tokens can be redeemed between 11th-24th March for the following rewards:
22 Tokens - FUT Birthday Team 1 Player Pick (2 players shown)
17 Tokens - FUT Birthday Ezequiel Ávila 90 OVR
14 Tokens - 86+ x 7 Player Pack
10 Tokens - FUT Birthday Jean-Paul Boëtius 89 OVR
10 Tokens - FUT Birthday Team 1 Pack (one FUT Birthday player from Team 1)
8 Tokens - FUT Birthday Cristian Ansaldi 88 OVR
5 Tokens - Ultimate Pack
3 Tokens - 83-90 x 6 Player Pack
2 Tokens - Rare Players Pack
Make sure to check out the rest of our dedicated FIFA page for all the best Ultimate Team information and more.
Featured image courtesy of EA Sports.