This is shaping up to be one of the greatest Premier League seasons ever. From Ronaldo's return to Manchester United, Salah taking the crown of the no.1 player in the world, to Man City (and Guardiola) showing once again that you don't really need to field a striker and that is to say nothing of the three potentially four-horse race we look likely to have for the Premier League title.
There has been so much to enjoy, so many players playing at new levels, that it makes awards like the Player of the Month feel truly special.
In August, we had Mikhael Antonio, and in September that man, Cristiano Ronaldo, and now voting his now opened for October.
Of course, the award doesn't just have ramifications in real life but is also intimately connected to EA Sports' FIFA titles, with fans of the game asked to vote on who they feel should win, with those that day being awarded a special POTM card.
Here are your nominees for October's @premierleague#POTM 🔥

Vote now ➡ https://t.co/p5a7hHYUWi#FIFA22#FUT#PLAwardspic.twitter.com/Rut7DB0KfZ

— EA SPORTS FIFA (@EASPORTSFIFA) November 4, 2021
The best part about Player of the Month cards is that they are available through Squad Building Challenges (SBCs), so that means you don't have to go opening packs in hope, you can simply build the squads and get these superstars into your team.
As mentioned, the nominees have just been released for October's award, and the voting window is now open. Here's everything you need to know so you can cast your vote.
FIFA 22 POTM Premier League - October nominees
The most notable aspect of September's POTM nominees is how many homegrown, and more to the point, English players are in the running.
We have Chelsea's Ben Chilwell, Man City's Phil Foden, West Ham's Declan Rice, and Arsenal's previously much-maligned 'keeper Aaron Ramsdale. Even Southampton's 18-year-old right-back, Tino Livramento, has earned a place.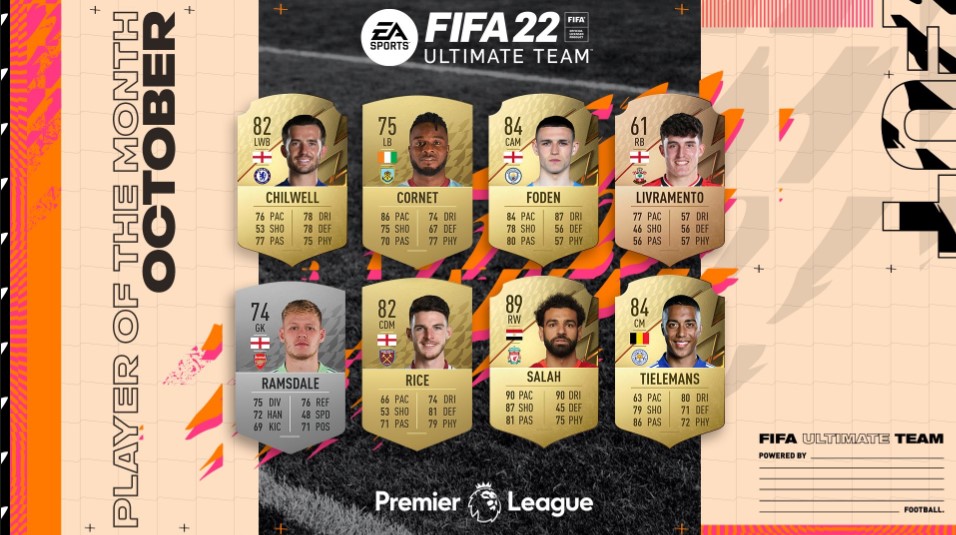 They join Maxwel Cornet, Youri Tielemans, and Mohammed Salah, the latter of which is likely to spoil the jingoism after scoring five goals throughout October including a record-breaking hattrick against Manchester United at Old Trafford.
How can I vote?
To cast your vote, head over to the FIFA 22 website and select from the nominees to lock in your pick for the October Premier League POTM.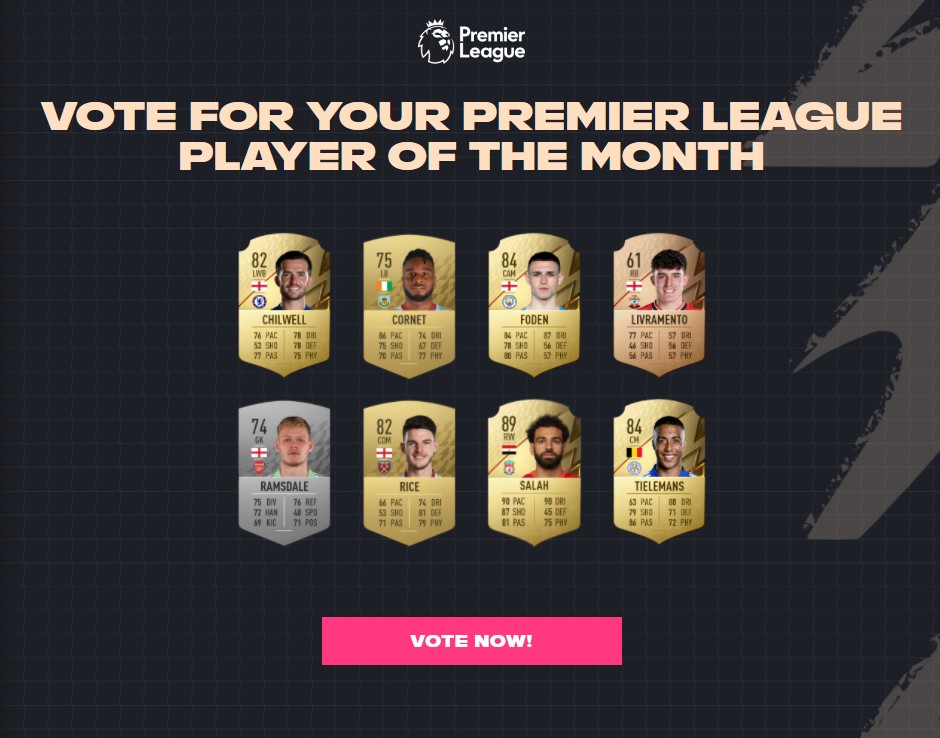 Make sure to stay tuned with our FIFA 22 tab to see who wins and how you can get the card for your Ultimate Team.
Featured image courtesy of EA Sports.