Throughout Fortnite Chapter 2 Season 6, the Battle Royale went primal. As a stark contrast, at the end of Fortnite Chapter 2 Season 6, an alien invasion event will occur which will usher in Season 7, as per information gathered by dataminers. Before the end-of-season event takes place in Fortnite, there will be at least five Foreshadowing quests to complete. Here's what we know so far about the Fortnite Foreshadowing quests, as well as the rewards players will be able to earn.
Fortnite Foreshadowing quests & rewards
Dataminers have found a total of five Foreshadowing quests in the v16.50 update files. While these quests are not active at the time of writing, you can expect them to appear soon, as Fortnite Season 6 will come to an end on 7th June, with Season 7 expected to begin on 8th June 2021.
With that in mind, a character named "Mari" will provide players with information via radio messages.
The image from dataminer HYPEX below showcases all five Fortnite Foreshadowing quests.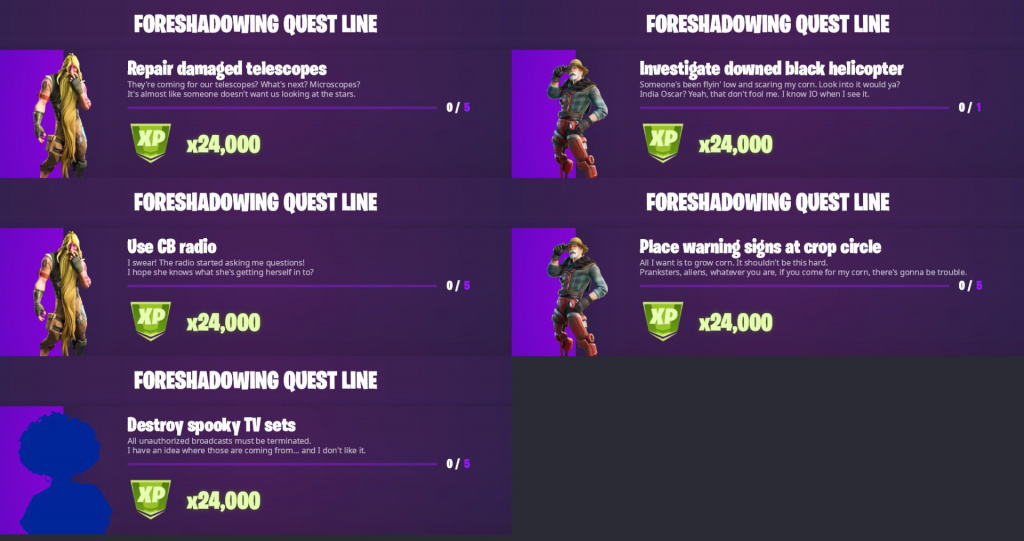 (Picture: HYPEX)
At the time of writing, it is unclear when the Foreshadowing quests will appear in Fortnite. However, since these quests lead up to the end-of-season event, the wait should be over soon.
As you can see, the rewards are all XP, and there's a whole lot of it for completing these tasks.
For those who don't mind some spoilers, dataminers also found voice lines for the Mari character, who will provide players with some context about these new quests via a radio.
According to iFireMonkey, the first two quests might appear sometime before the end of 25th May 2021.
Check out our dedicated section for everything Fortnite, from news to leaks, guides, drama and more.