Fortnite Season 3 Chapter 1 enters its 9th week with the addition of new weekly quests, new story beats, new items in the item shop, and more. The latest season continues to be a busy affair, bringing in surprising collabs such as the Vi from Arcane in the item shop or the Tones and I concert.
Needless to say, there has been plenty to keep everyone busy in Fortnite. Furthermore, a new leak suggests that the Uncharted collab is happening in week 11, just in time for the launch of the Uncharted movie.
But until that happens, you can use the downtime to complete the week nine challenges that just went live. One particular challenge requires you to destroy hiding places. Surprisingly, Season 3 Chapter 1 map doesn't reveal where exactly you can find these hiding places. As such, here's our guide on finding and destroying hiding places in Fortnite.
Destroy hiding places in Fortnite
To complete this weekly challenge, you need to find dumpsters or port-a-potties. Thankfully, these easily missable objects are present all over the map, so finding one shouldn't be too difficult.
You can find dumpsters at any of the named locations on the map in the gas stations. Similarly, port-a-potties are also present all over the map. In fact, you can find three port-a-potties standing side by side at the Devoured next to Tilted Towers.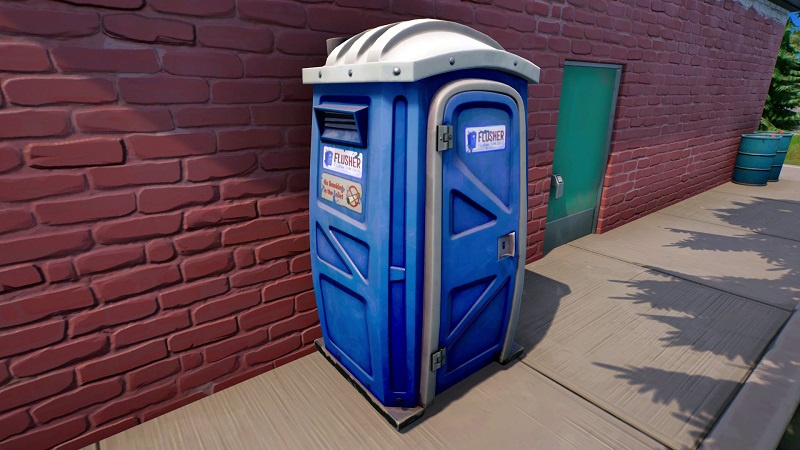 Once you have found a hiding place, destroying them is easy. Simply switch to your harvesting tool and smash the hiding place. It is possible that there's another player hiding inside one of the dumpsters so be ready for a surprise attack.
You need to destroy five hiding places to complete the challenge. Repeat the process until it's done to earn 25,000 XP. Destroying the hiding places across the Fortnite island is quite easy, and you can get a nice haul of XP towards battle pass progression by completing this simple task.
That was all for our hiding places guide in Fortnite. You can check our guide on other Fortnite weekly challenges or everything Fortnite in general on our dedicated Fortnite page.
Featured image courtesy of Epic Games.
---
For more Fortnite news be sure to check out our dedicated section, or some of our Guides & Tutorials, just below:
Fortnite Guides - All Fortnite Redeem Codes | When Does Fortnite Chapter 3 Season 5 Start?|All Fortnite Twitch Drop Rewards| How To Make Your Own Fortnite Skin |
Fortnite Events - Fortnite Winterfest 2022 | 
The Best Fortnite Creative Codes - Best Edit Course Codes|Best Prop Hunt Codes|Best Zombie Map Codes
Featured image courtesy of Epic Games.