Fortnite esports fans got to watch the best players in the world compete in their respective regions for some great prize pools at the
Fortnite Championship Series (FNCS) Season 4 Grand Finals
. Now, we know the winners of three regions, with Reverse2K taking down NA East, 100 Thieves' team winning, and the trio of Mongraal, Mitro and TaySon claiming the European crown.
FNCS Grand Finals: All the winners
There have been some highly-impressive matches in the FNCS Grand Finals but possibly one of the biggest achievements was where Reverse2K (who used to play with Ninja), as well as Deyy and Miro managed to win the European FNCS Grand Finals (NA East) without scoring a Victory Royale.
No Victory Royales needed for @MeroFN@DeyyFN and @Reverse2k! Congratulations to our NAE #FNCS Trios Champions. pic.twitter.com/kvr228XJ6g

— Fortnite Competitive (@FNCompetitive) November 2, 2020
We also saw Mongraal, mitr0, and Tayson claim the first place at the European finals winning three of the six games, while in NA West, 100T Arkhram, 100T Rehx, and NRG Epikwhale dominated the competition.
With three FNCS regions now complete, we have the full list of results, as well as the prizes these teams won in one of the biggest Fortnite esports tournament series' to date.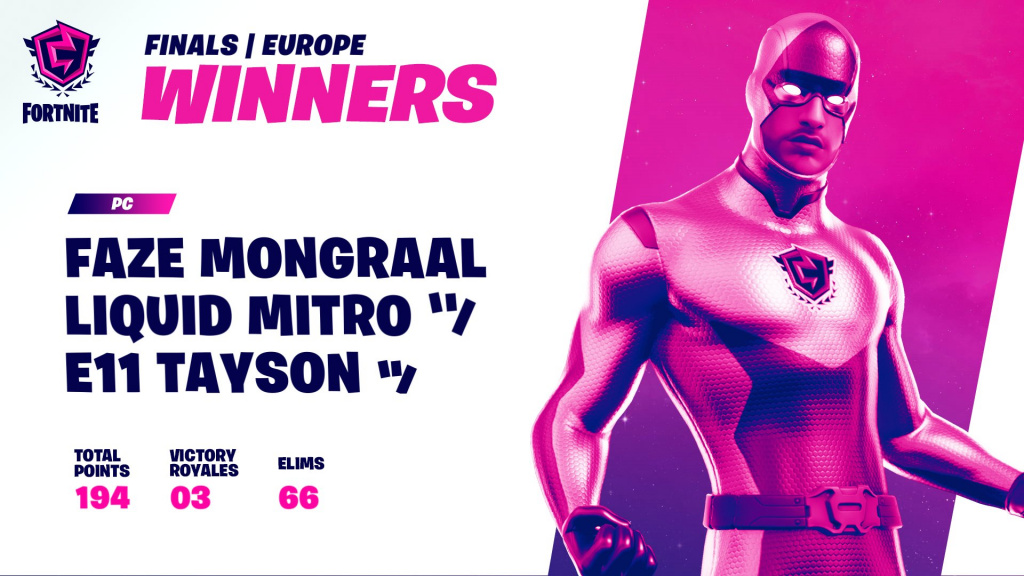 (Picture: Epic Games)
Check out the results and final standings for the FNCS in each region below.
FNCS Grand Finals: Europe results
1st place - Mongraal, mitr0, tayson wins $111,000
2nd place - Andilex, JannisZ, Xsweeze wins $93,000
3rd place - Flikk, Anas, Th0masHD wins $75,000
4th place - Rakso, Kami, artor wins $60,000
5th place - FlowiS, Endretta, Louis wins $45,000
6th place - K1nzell, Wolfiez, crr wins $36,000
7th place - Floki, Clement, naekoz wins $28,500
8th place - Benhiyfishy, MrSavage, LeTsHe wins $22,500
9th place - Hen, Decyptos, Putrick wins $16,500
10th place - Dave, Nate, Bobo wins $13,500
11th place - ZQ, Robabz, Blacky wins $9,000
12th place - Umplify, Adn, Matsoe wins $9,000
13th place - Not Hellfire, IboooHai, etq wins $9,000
14th place - Kiraah, Starkma4k, Nuarix wins $9,000
15th place - Safik, Siberiajkee, iRezUmi wins $9,300
FNCS Grand Finals: NA West results
1st place - 100T Arkhram, 100T Rehx, NRG Epikwhale wins $45,000
2nd place - Little, Temple B, CLG Pelican wins $30,000
3rd place - Kenshi, Maken, TD Dog wins $27,000
4th place - 100T Falconer, Turtletavern, 4DRStorm wins $22,500
5th place - Xtra Reet, WavyDFavS13, EP Dwavy13 wins $16,500
6th place - CLG Symetrical, Norcal Mony, Jayrosez wins $10,500
7th place - SlimXX, Nitrix, Z WNL wins $7,500
8th place - Xtra Caleb, Xtra Bumbo, Xtra Vert wins $4,500
FNCS Grand Finals: NA East results
1st place - TNA Deyy, TNA Mero, Reverse2K wins $66,000
2nd place - TSM_Comadon, Liquid ilililil, NRG Edgey wins $51,000
3rd place - LG Jamper, Bugha, C9 Avery wins $45,000
4th place - NRG Zayt, TSM Saffy, Liquid Stremon wins $36,000
5th place - LG Slackes, Acorn, Vanish Jahq wins $27,000
6th place - Sen Demonspect, Xoonies, OA Npen wins $18,000
7th place - TSM Zexrow, BBG Yungcalc, TSM Mackwood1x wins $15,000
8th place - Xset Knight, Xset Shark, Xset AV wins $12,000
9th place - Ghost Nittle, Mikey, Ghost ClarityG wins $9,600
10th place - BBG Kremon, BBG Bucke, TSM Demonada wins $7,800
11th place - FaZe Megga, Liquid Riversan, FaZe Dubs wins $6,300
12th place - Vanish Bully, TNA Slick, Outcast Iciev wins $6,300
13th place - Zum, Skqttles, NRG Ronaldo wins $6,300
14th place - NRG Clix, Illest, FaZe Bizzle wins $6,300
15th place - E11 Grazca, Posick, Xccept wins $6,300
Congratulations go out to all the winners from the FNCS Grand Finals.