Instead of releasing the Fortnite v17.20 update, Epic Games has unexpectedly released the v17.10 hotfix update and actually added some content to their ever-popular Battle Royale title as well. With the latest Fortnite update released at roughly 15:00 BST on 6th July 2021,  The most exciting thing about the new update has to be Alien Nanites, a new Fortnite item to use. Here's how you can find this new item type, its effects, as well as crafting recipes to enjoy
Fortnite Alien Nanites - How to find and effects
First and foremost, you will want to know where or how to find Alien Nanites to get an edge in your next Fortnite match. 
Well, it's quite simple really, you can find Alien Nanites via the following avenues:
Abducters Chest & Floor Loot
Normal Chests & Floor Loot
Mothership Chests Loot
Abducters and Mothership chests have the highest drop chance for Alien Nanites. This new item is multi-purpose, as you can craft weapons using it (more in the next section) or throw them.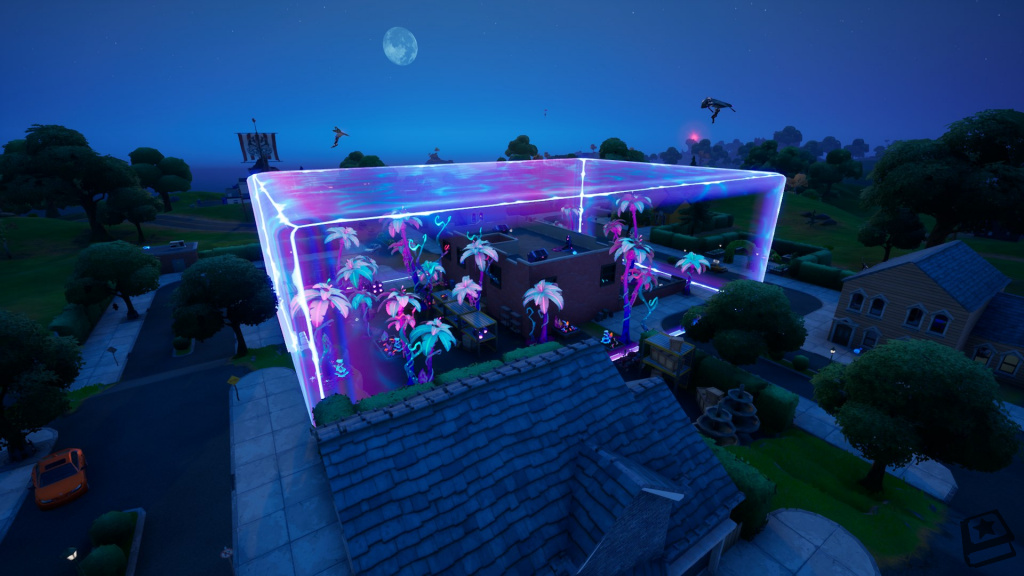 Epic Games explains: "Throw one down to create a low-gravity biome that you can exit and enter. It's as thick as gelatin (their planet's probably super humid), so you'll practically start swimming when you jump. To descend faster in the biome, try crouching. Also: you won't get hurt if you jump out of one from a high place."
New Fortnite crafting recipes using Alien Nanites
There are a total of three new crafting recipes where you can use Alien Nanites to get yourself some shiny new equipment, and one unreleased recipe.
Check out the image from famous dataminer and leaker HYPEX below: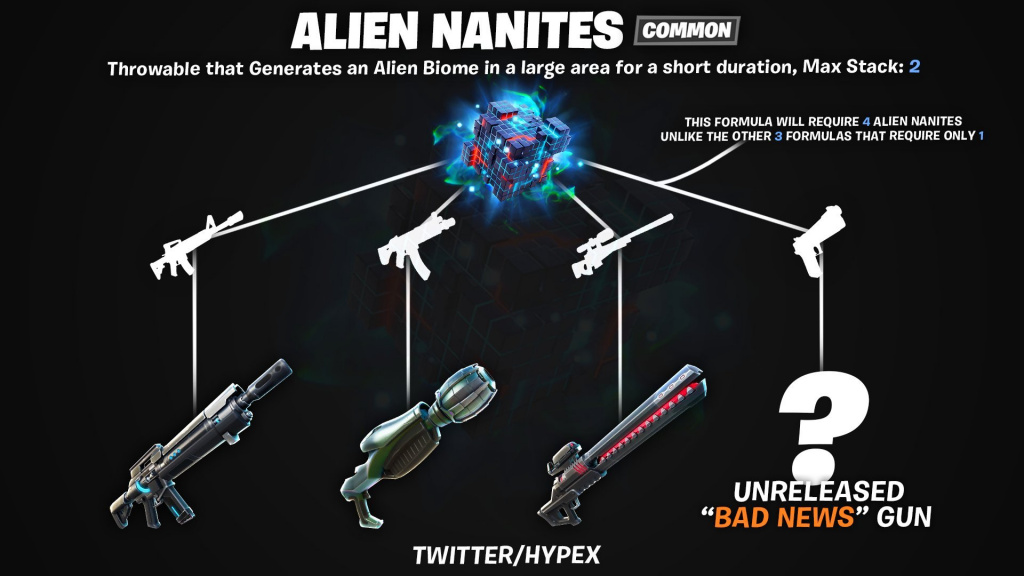 Fortnite Alien Nanites recipes include:
Rare+ Submachine Gun combined with 1 Alien Nanite = Kymera Ray Gun.
Rare+ Assault Rifle combined with 1 Alien Nanite = Pulse Rifle.
Rare+ Sniper combined with 1 Alien Nanite = Rail Gun.
Xenoforming of Holly Hedges has begun with the new update as well, and you should head over there to experience low-gravity in this alien biome, with new flora to be discovered, as well as some alien weapons if you are up for the task. 
This area will spread throughout the rest of Season 7, growing in size as the alien invasion continues.
For now, go ahead and find some Alien Nanites on the Fortnite island, and enjoy the surprising mini-update.
Don't forget to check out our dedicated Fortnite section filled with guides, news, leaks and more.
---
For more Fortnite news be sure to check out our dedicated section, or some of our Guides & Tutorials, just below:
Fortnite Guides - All Fortnite Redeem Codes | When Does Fortnite Chapter 3 Season 5 Start?|All Fortnite Twitch Drop Rewards| How To Make Your Own Fortnite Skin |
Fortnite Events - Fortnite Winterfest 2022 | 
The Best Fortnite Creative Codes - Best Edit Course Codes|Best Prop Hunt Codes|Best Zombie Map Codes
Featured image courtesy of Epic Games.