Epic Games unveiled Fortnite Chapter 3 Season 2: Resistance which sees new characters battle for the Zero Point in a stunning new trailer. The latest chapter also marked the arrival of two more Marvel characters, The Prowler and Doctor Strange and new Battle Pass content.
The Battle Pass for the new season includes eight new cosmetics with alternate styles and additional items. Nevertheless, one alternate style has created debate over its similarities with a prominent gaming character from HoYoverse's gacha RPG, Genshin Impact.
Genshin Venti lookalike Erisa skin causes a frenzy in Fortnite
Epic Games unveiled all the content available for the Chapter 3 Season 2: Resistance Battle Pass, including Doctor Strange and the Prowler, plus new cosmetics featuring Kiara, Gunnar and Tsuki.
However, one cosmetic caught players' attention as some speculated it resembles one of Genshin Impact's notable characters.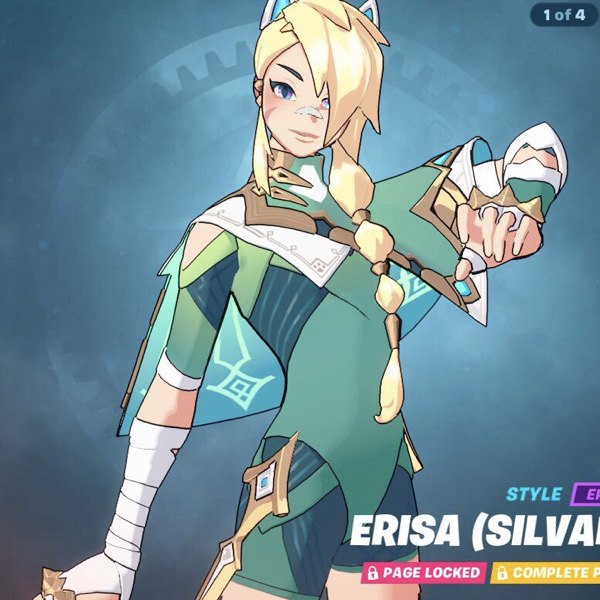 The Erisa cosmetic features six various styles with additional items, including a spray, glider, loading screen and a pickaxe. Nonetheless, that's not why it has been at the centre of debate within the Genshin Impact community, as the cosmetic design resembles Venti's free-spirited bard.
To be more specific, the Erisa Silva style cosmetic looks quite similar to Venti's original in-game costume, from the colour palettes and the costume design. According to its in-game description, the Silva Style cosmetic is about "a lost princess from a forgotten realm of warriors", which forms part of the Wish Guardian set.
One Twitter user provided side-by-side comparisons between Erisa's Silva Style cosmetic and the Anemo user, Venti and how similar the designs are. Given how widely popular Genshin Impact has been since its launch in September 2020, especially with Western audiences, there are possibilities that it may be a homage to the game itself.
Additionally, Epic Games likely drew inspiration from other anime projects, given the success of the Naruto cosmetic set in recent times. One Reddit user also compared the Erisa Silva Style cosmetic to that of Leafa from the popular anime Sword Art Online.
We could even plead that the cosmetic vaguely resembles Link's costume design from The Legend of Zelda games; however, whether Epic Games had plagiarised HoYoverse doesn't warrant much merit.
What do you think, though? Be sure to share your thoughts with us on Twitter.
Featured image courtesy of Twitter / FortniteNewsBR & HoYoverse.
---
For more Fortnite news be sure to check out our dedicated section, or some of our Guides & Tutorials, just below:
Fortnite Guides - All Fortnite Redeem Codes | When Does Fortnite Chapter 3 Season 5 Start?|All Fortnite Twitch Drop Rewards| How To Make Your Own Fortnite Skin |
Fortnite Events - Fortnite Winterfest 2022 | 
The Best Fortnite Creative Codes - Best Edit Course Codes|Best Prop Hunt Codes|Best Zombie Map Codes
Featured image courtesy of Epic Games.