The Fortnite v15.30 update has arrived, as Epic Games continues to keep things fresh in Season 5.
The v15.30 update has brought a lot of new things, including a new POI, Mando's Bounty LTM, and a few exotic weapons.
These new exotic weapons are a Burst Quad Launcher, Chug Cannon, and Frozen SMG.
And because everyone, naturally,  loves rockets and explosions the most, players are particularly excited about the Burst Quad Launcher and his quad-launching capabilities.
If you are like us, and you can wait to try this new rocket launcher, here's how to get it.
Fortnite v15.30 Burst Quad Launcher: Where to find

Fortnite Burst Quad Launcher locations (Picture: Epic Games)
The Burst Quad Launcher can not be found as a loot regularly in chests scattered across the map.
It can only be obtained by purchasing it from an NPC called Fishstick.
Fishstick has two different spawning locations, so you will never know for sure when the game starts where to find them exactly, but the good thing is that both locations are in the northern parts of the map, so you will not be forced to wander around too much if it happens that you missed the location in the first try.
You will find Fishstick either walking around Coral Castle or at the restaurant in Craggy Cliffs.
Head to any of these locations.
Locate Fishstick (they will have a mark above the head which indicates that you can speak with them).
Speak to them you will be offered the Burst Quad Launcher option.
Select the Burst Quad Launcher option.
Confirm the purchase.
And that's it, you now have the Burst Quad Launcher at your disposal.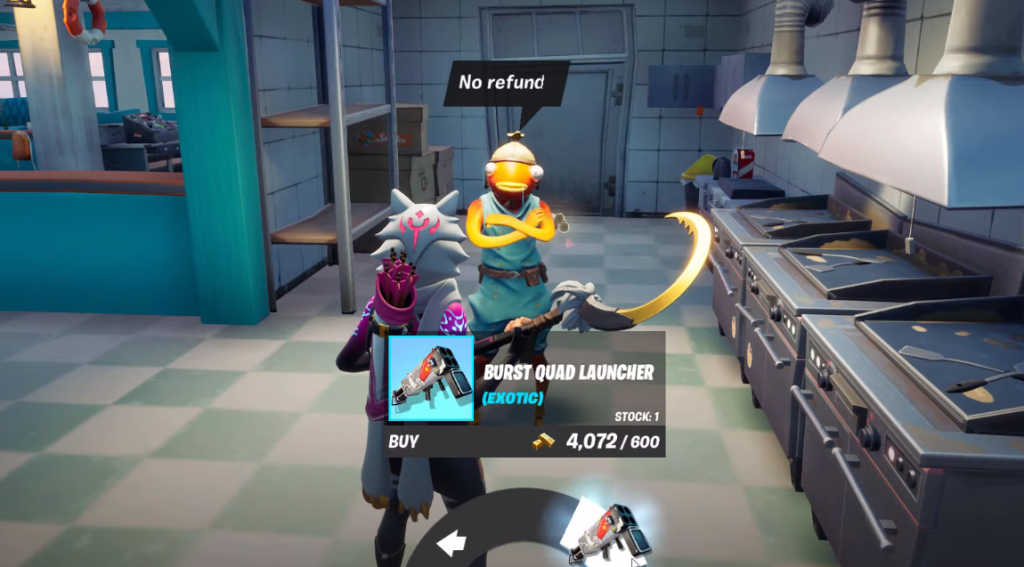 Fishstick will offer you to buy Burst Quad Launcher (Picture: Epic Games)
Keep in mind that the Burst Quad Launcher cost 600 Gold Bars, so you will need to have them ready before going to meet with Fishstick.
The Burst Quad Launcher has a 4-rocket magazine and it fires two rockets at once, dealing 42 damage to the players. Its reloading time is quite long though, 5.4 seconds, so make sure that your rockets are hitting the targets, and make sure to be well-protected while reloading. 
If you are interested in some other fancy items from the v15.30 update, check our guide on how to get the Mandalorian Beskar Umbrella.