Epic Games released the Fortnite v15.30 update on 2nd February 2021, including a brand-new Limited-Time Mode (LTM) called Mando's Bounty. Players can now also get another piece of the Beskar Armor set in the form of a glider called "Beskar Umbrella". 
Fortnite Beskar Umbrella: How to get
The Fortnite Beskar Umbrella is part of the Mandalorian Beskar Armor set, and if you don't have the other pieces yet, you can check out our full challenge guide.
A description of the Beskar Umbrella reads: "Bears the signet of a clan of two. Part of the Mandalorian set. Introduced in Chapter 2 Season 5."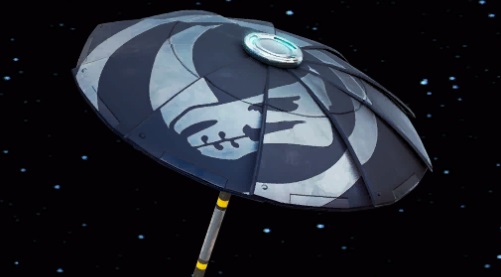 (Picture: iFireMonkey)
To get the Beskar Umbrella in Fortnite, you need to win a match of Mando's Bounty LTM, which might sound easier than it is.
How does Mando's Bounty LTM work?
The Mando's Bounty LTM went live with the v15.30 update. At the time of writing, there's no exact end date for this LTM in Fortnite.
To win a Mando's Bounty match and get your hands on the Beskar Umbrella might prove a bit difficult. 
Players will be thrown into a match with others, where they need to see who can score the most credits the fastest. You can get credits faster by eliminating bounty targets for extra credits.
Further, players will have to eliminate specially-marked hunters for high-tier loot, giving themselves a better chance to win at the Mando's Bounty LTM. 
There's another twist, however, as The Mandalorian himself will enter the match. His target: The player with the most credits currently in a match.
This LTM takes place in a new POI, the Cantina.
(Picture: STORMSCAR)
Players will need to outwit their opponents, as well as The Mandalorian to win a match of Mando's Bounty and get their hands on the Beskar Umbrella. The player who reaches the target number of credits first wins the match.
Good luck to everyone who jumps face-first into the Mando's Bounty LTM trying to get the Beskar Umbrella glider in the process. It might take some practice before getting a win in this new, fast-paced LTM.