On 20th July 2021, Epic Games unleashed the Fortnite v17.20 update, filled with new content, from the Preferred Item Slots feature to the new ICON series skin based on the Fortnite World Cup champion Bugha, and much more. As always, there are also weekly challenges to complete. However, what was not expected is the Fortnite x Ferrari collab, as Epic Games deployed a hotfix on 22nd July to change some challenges (whiplash) to Ferrari ones. Yes, there are now Ferrari 296 GTB's on the island. If you are trying to find one, we've got all the locations of Ferrari's in Fortnite, as well as a guide on how to complete the Time Trials right here!
Fortnite Ferrari 296 GTB locations
Players can now fulfil their dreams of driving a legendary Italian sports car, the Ferrari 296 GTB. 
We won't beat around the bush with this one, as we know you are probably eager to jump into a Ferrari in Fortnite and put the pedal to the metal. The image below via Fortnite.gg showcases all the locations where you can get your hands on a Ferrari 296 GTB in Fortnite right now.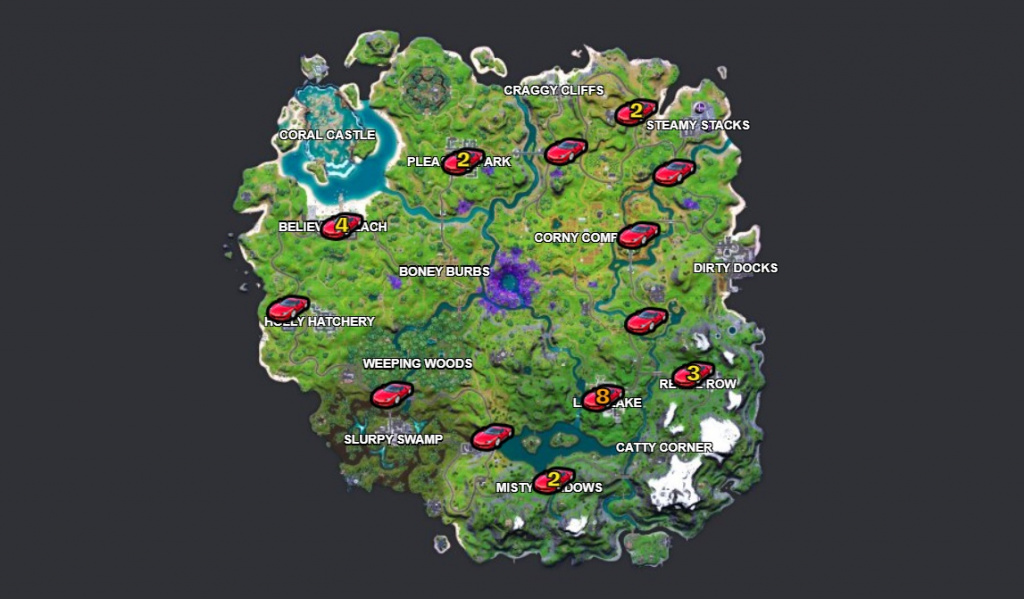 Keep in mind that these locations of the Ferrari 296 GTB in Fortnite might be highly contested. There's also the Ferrari Bundle in the Fortnite item shop, which includes the Modena Icon and Maranello Racer Outfits, as well as the Ferrari Turbo Back Bling.
There's more to the Fortnite x Ferrari collab than just enjoying an iconic Italian sports car. Players can complete the following challenges and earn XP towards their Battle Pass:
Complete Ferrari Time Trials
Reach Maximum Speed in A Ferrari
Drive a Ferrari through the Storm
While the last two are very self-explanatory, as you simply need to drive the Ferrari 296 GTB as fast as you can, and drive through the Storm, the first one might need a bit of explaining.
How to complete Ferrari Time Trials in Fortnite
The Time Trials players need to complete in Fortnite for some tasty Battle Pass XP might need some explaining.
First off, you need to find one of the Ferrari 296 GTBs in Fortnite. Then, you need to head to one of the three locations where Time Trials take place.
In the map via Fortnite.gg below, you can see where the Time Trials are located.
i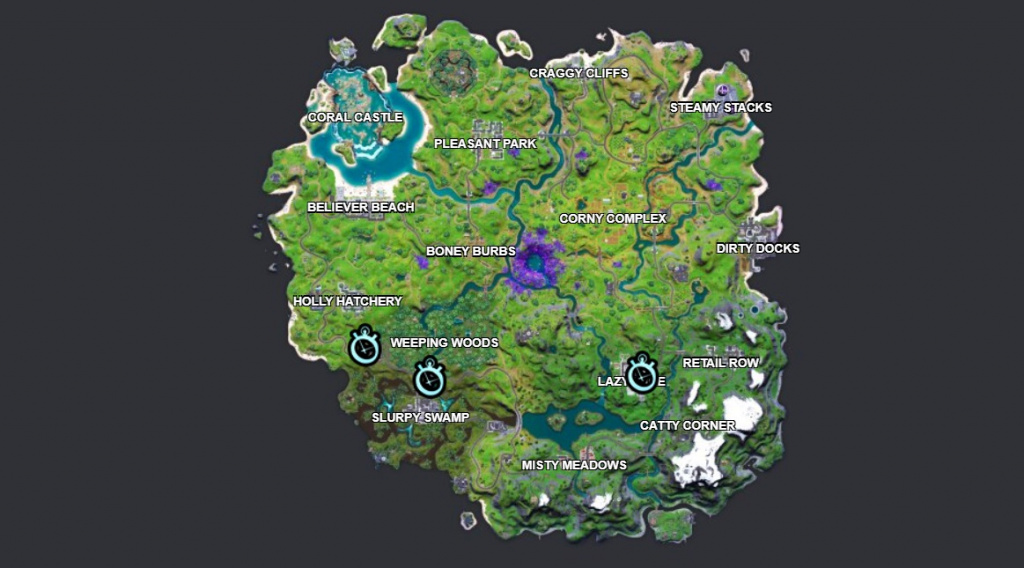 You will only need to complete one Ferrari Time Trial in Fortnite to get the XP for your Battle Pass.
Simply ensure that you drive through the Time Trial holograms and stay on the road! Each of these Time Trials should only take one minute to complete and are relatively easy once you got some time behind the wheel of the Ferrari 296 GTB.
Don't forget to check out our dedicated Fortnite section, where you will find guides, news, esports tournaments, leaks and more.