12/1/2020 - 22:35
Ok, lots of random leaks but this is EXACTLY what they want us to do so we are going to sign off and take this back up when Season 5 arrives.
12/1/2020 - 21:40
Donald Mustard aka Mr Worldwide (read: 20:36) has just changed his Twitter bio location to "The Bridge".
WHAT DOES IT ALL MEAN!?
12/1/2020 - 21:35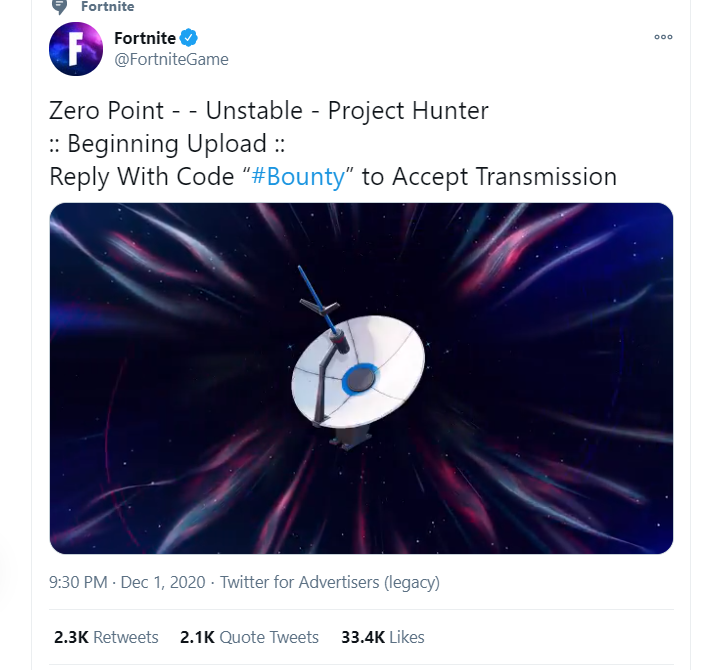 12/1/2020 - 21:32
Was the event good? Nickmercs and co feel it was well worth their time however in the Twitterverse people are feeling a little more negatively about it (would it ever be any different?)
12/1/2020 - 21:22
And that's it! 
Well kind of... We have just found out that Fortnite Season 5 will come out in eight hours!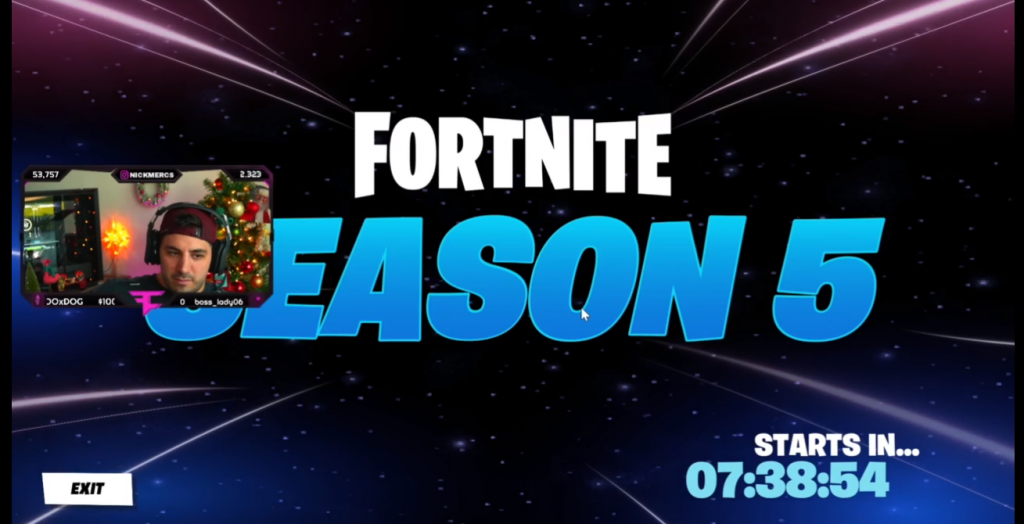 12/1/2020 - 21:17
Nickmercs has just complained about the lack of aim assist as he controls the battlebus. Twitch streamers have been forced to mute the audio which is a real low point for the event...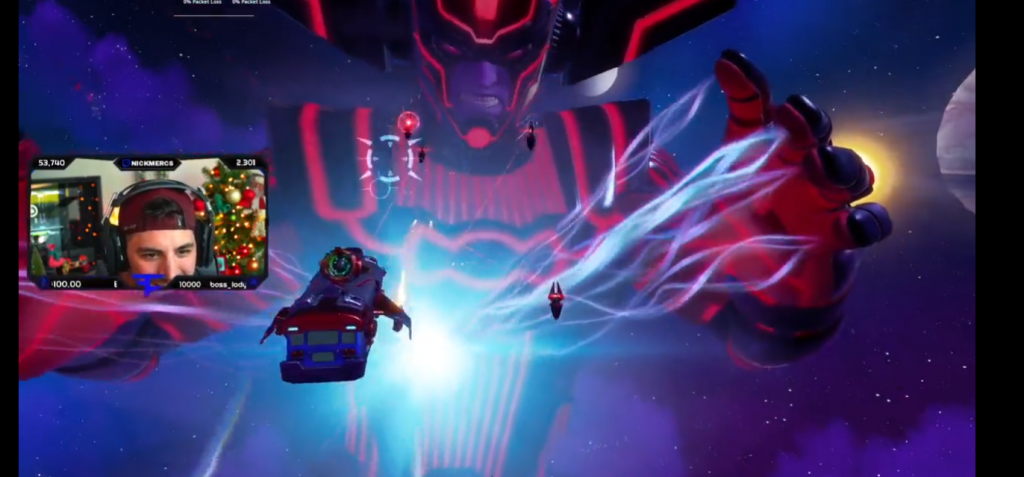 12/1/2020 - 21:14
Iron-Man has just thrown everyone a jet pack and now we are all on our own battle buses!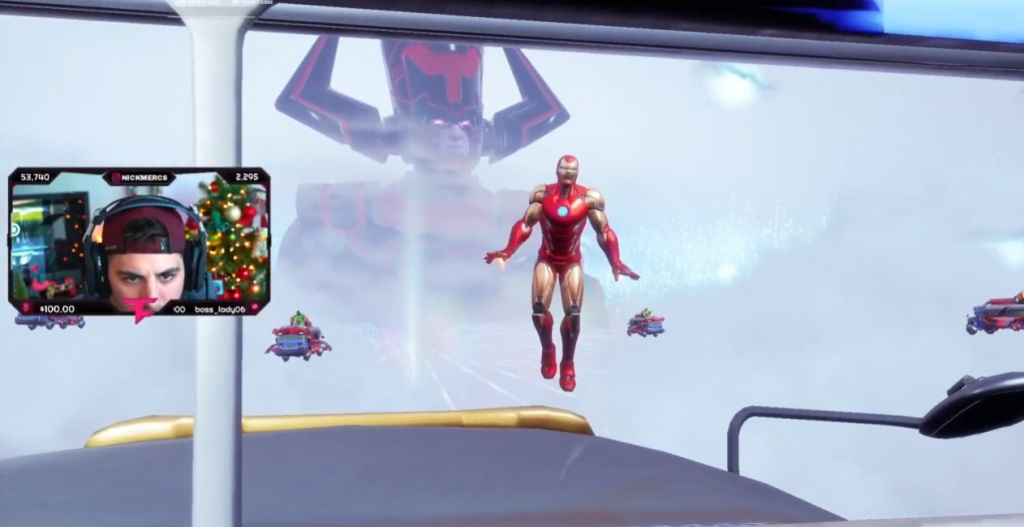 12/1/2020 - 21:11
Galactus is on the move. 
Looks like we are on the Travis Scott end of the epic scale with this one...
12/1/2020 - 21:06
Okay, apologies to all our Spanish reading viewers because TheGrefG's Twitch numbers were merely sleeping - he is now up at 480K and growing. He could
set a platform record today
.
He is currently in 4th most viewed streamers behind Ninja, himself and shroud. 
It is very possible!
12/1/2020 - 21:02
NICKMERCS is up to 150K and growing. The Grefg is at a steady 244K, can the FaZe man further close the gap?
Four minutes to go.
12/1/2020 - 20:49
An easier question to answer is who is the king of Twitch. 
The quick answer is NICKMERCS who is currently rocking 88K viewers, with TimTheTatman - who was also a big beneficiary in Ninja's move from the platform - on 48K.
The longer answer is Spanish language streamers. TheGrefG has the most viewers of anyone with 244,000 viewers with elRubius behind him on 110,000. 
15 minutes until the event starts.
12/1/2020 - 20:46
Quick poll for readers:
Will we be getting the old map in Fortnite after this event?
You can send your votes by closing your eyes and telepathically sending it to me.
Answers just before the event begins.
12/1/2020 - 20:43
Approx 28 mins to go and Ninja has just posited he "might have time for a game of Valorant." 
Seems to have gone off the idea but you'd be forgiven for thinking Epic had paid some of these streamers to be here.
12/1/2020 - 20:36
Epic's Donald Muster - the Worldwide Creative Director at Epic Games - is asking his followers what they will wear in a fight to save "Reality".
Mr. Worldwide himself is going for an Iron Man-inspired look: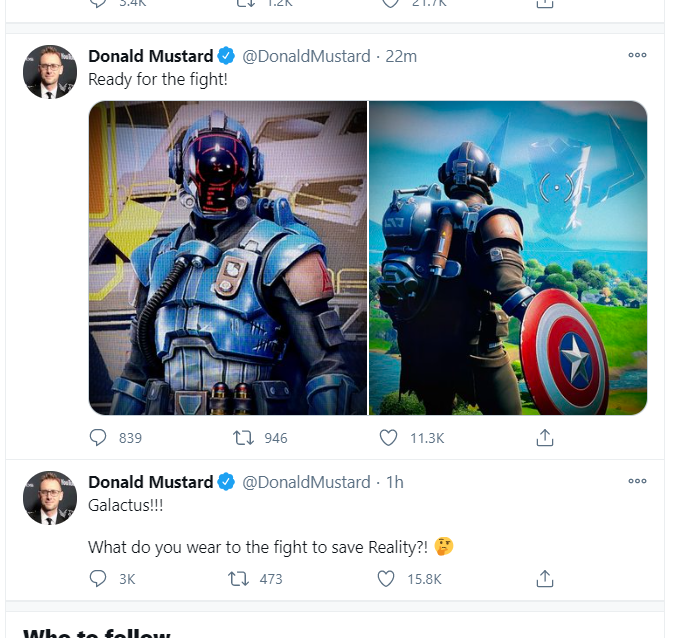 12/1/2020 - 14:07
Here's a quick reminder from Epic Games:
"Heroes, get ready to take on the Devourer of Worlds. Doors to the event will open at 3:30 PM ET but we suggest you jump in game now and start preparing for battle."
It's almost time!
12/1/2020 - 13:38
Remember that Epic Games recommends you log in to Fortnite an hour before the event. Time's running out!
If you can't make it, just stick around and enjoy the show alongside us.
12/1/2020 - 12:19
As the hype for the arrival of Galactus builds, the biggest names on Twitch are gearing up to see the events unfold. Here are some of the streams where you'll be able to watch all the action:
12/1/2020 - 18:14
While we can't confirm that Ninja is dropping in with Guy we do know he intends to be taking part in the event. 
Numbers ain't been what they were since he returned to Twitch. You can say Valorant (the game he's been grinding) isn't as streamer friendly but it doesn't matter how many millions you have, going from 150K+ every stream to less than 10K must hurt pride if nothing else.
Could tonight be a return to past glories for Fortnite's biggest star?
12/1/2020 - 18:04
Is Ninja partying up with restaurateur/professional goatee Guy Fieri?
The OG Fortnite star retweeted Guy's enquiry about a potential drop zone.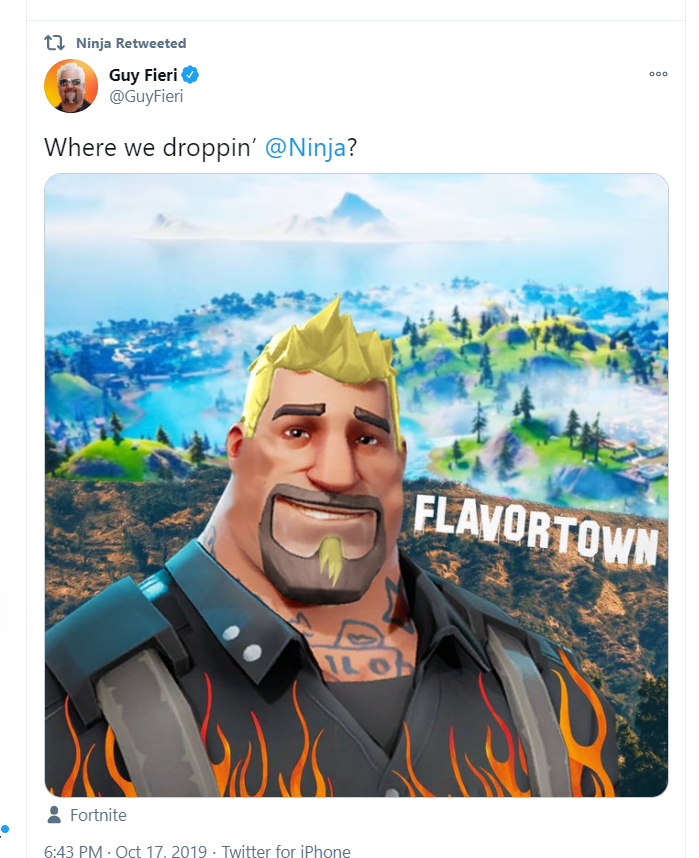 12/1/2020 - 17:54
If you are wondering what are all these live updates about just imagine it like election night but more important.
12/1/2020 - 17:53
Oh, probably should mention you can get in touch on Twitter @daniel_conlan throughout the night!
12/1/2020 - 17:52
Epic is asking players to get into the game an hour as spaces are "limited", check out the schedule below to see where that is in your part of the world.
12/1/2020 - 17:50
Daniel here, editor of Ginx.TV, and the man who is going to take you through tonight's events. It truly feels like Fortnite is back on the menu. I mean
even Nick "Warzone" Mercs is back
.
Fortnite Chapter 2 Season 4 is slowly coming to an end, and what an end this will be!
Nexus War will come to its conclusion with Galactus entering the battle royale, which Epic says it will be the biggest Fortnite event to date, and players will be able to participate in this epic battle.
The hype train is truly in motion with many players, long gone from the game, coming back to see what all the fuss is about.
We are going to be following all the action throughout the day, including reactions from our favourite content creators and picking up any hints at what might be coming after. 
Fortnite Galactus Nexus War Starts Time
The Galactus Nexus War event marks the end of Fortnite Season 4 and it is scheduled to begin on 1st December 2020.
The Galactus event starts at 4 pm ET / 1 pm PT / 9 pm GMT / 10 pm CET
Galactus Nexus War Leaks
Some leaks suggest that players will be able to actually play as Galactus, Devourer of Worlds, himself!
Fortnite leaker Ximton has recently revealed Galactus outfit character model, but it is not yet sure if it is only for the purpose of the event, or will the players be able to use him as a character skin.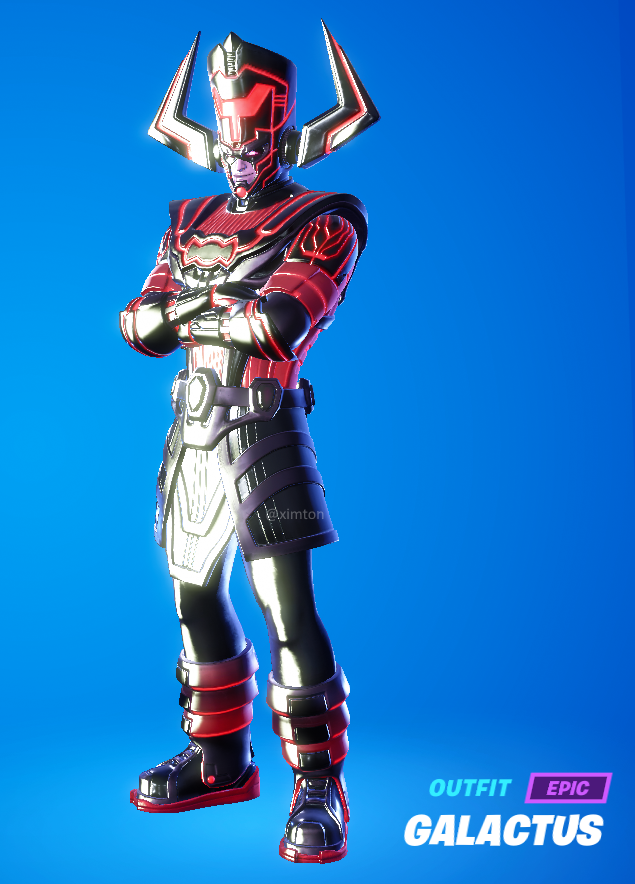 Fortnite Season 4 conclusion will be a huge battle where players will be joining the Marvel superheroes to stand against an invasion of Galactus and his minions.
Epic has teased that the players will gain control of Battle Buses as part of this battle, as well as jetpacks and even some special weapons.
Fortnite Nexus War: How to join
This will be the first time ever that Fortnite players will participate in one huge battle, so this will definitely be an event you don't want to miss! 
Prepare for war.

The Devourer of Worlds arrives at 4:00 PM ET (21:00 UTC). Space is limited, so we recommend logging in at 3:00 PM ET (20:00 UTC) or earlier.

Creative mode, Party Royale, and Battle Lab are currently disabled.

— Fortnite Status (@FortniteStatus) December 1, 2020
Since this will be a huge event, Epic Games recommends you to log in at least an hour earlier to make sure you get in, because the space for the event is limited.