Over the years, Fortnite has made a reputation for collaborating with famous brands and personalities, in a way making it an epitome of pop culture. The ongoing Chapter 3 Season 2 continues a long collaboration with Marvel, as the current battle pass offers multiple characters from the Marvel universe, like the Prowler and Doctor Strange. 
Another long-running collaboration Fortnite has held is with the Air Jordan brand. The ever-popular American Basketball shoe brand got its own item shop bundle in 2021 called Cool Grey Bundle. It was a co-promotion as the vaunted Jordan Cool Grey 11 sneakers were released for sale (at retail pricing) once again.
This bundle is now back in the item shop, and players who make the purchase can earn extra rewards by completing Trickshot Challenges in the Jumpman Zone creative mode. As such, here's a step-by-step guide for how to access the Jumpman Zone and how to complete the Trickshot challenge.
How to complete Trickshot challenges in Fortnite Jumpman Zone
Fortnite Jumpman Zone island code
To access Jumpman Zone in Fortnite, you must hover to the Island tab in the main menu and enter the island code. The code for Jumpman Zone is 5519-3138-2454.
As mentioned, to earn extra Cool Grey Bundle rewards, you must complete the set of Trickshot challenges in Fortnite's Jumpman Zone creative mode. They're not all too difficult, and there doesn't seem to be a time limit on the creative mode availability.
First things first, you must collect enough pairs of Jordan sneakers scattered across the map to access the MVP rooms where the Trickshot challenges take place. Every MVP room requires a certain number of Jordan sneakers to access, so make sure to collect a lot of them.
Trickshot challenge glitch in Fortnite Jumpman Zone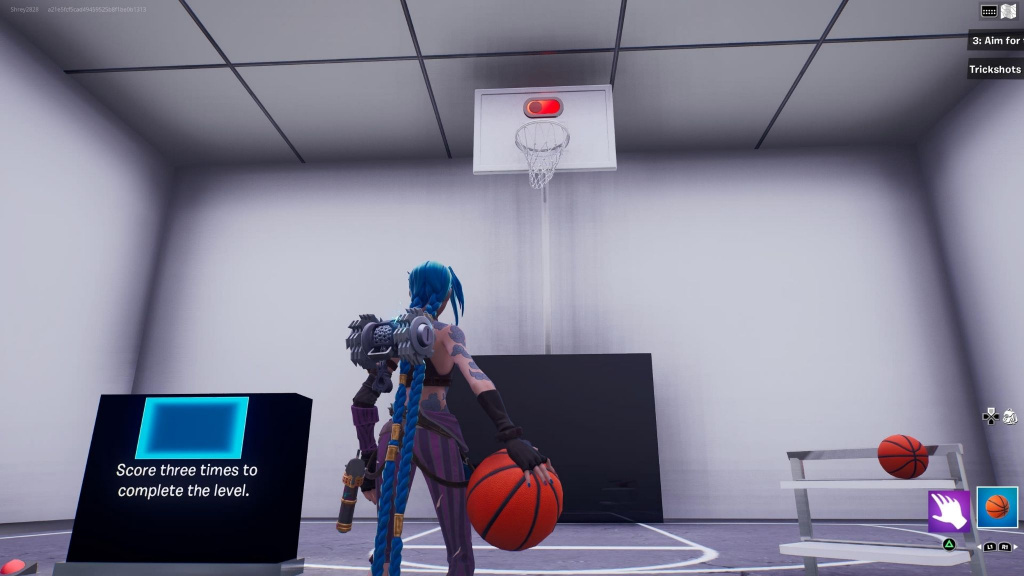 Try as you might, the Trickshot challenge in the Jumpman Zone is currently bugged. The challenge requires you to shoot hoops, but you will notice that no matter how much you try, you won't be able to successfully score. 
This problem might have arisen with the latest Fortnite 3.50 stability patch that went live on 24th March, though Epic has yet to acknowledge and address it. There's a possibility that it will drop a hotfix soon but at the time of this writing, there's no way to complete the trickshot challenges in Jumpman Zone creative and unlock those extra Jordan Cool Grey bundle rewards.
That's everything you need to know about Fortnite  Jumpman Zone and Trickshot challenge. Make sure to check our dedicated Fortnite section for more news, guides, and features.

Featured image courtesy of Epic Games.
---
For more Fortnite news be sure to check out our dedicated section, or some of our Guides & Tutorials, just below:
Fortnite Guides - All Fortnite Redeem Codes | When Does Fortnite Chapter 3 Season 5 Start?|All Fortnite Twitch Drop Rewards| How To Make Your Own Fortnite Skin |
Fortnite Events - Fortnite Winterfest 2022 | 
The Best Fortnite Creative Codes - Best Edit Course Codes|Best Prop Hunt Codes|Best Zombie Map Codes
Featured image courtesy of Epic Games.